Electric "air taxis" are set to arrive in NYC and LA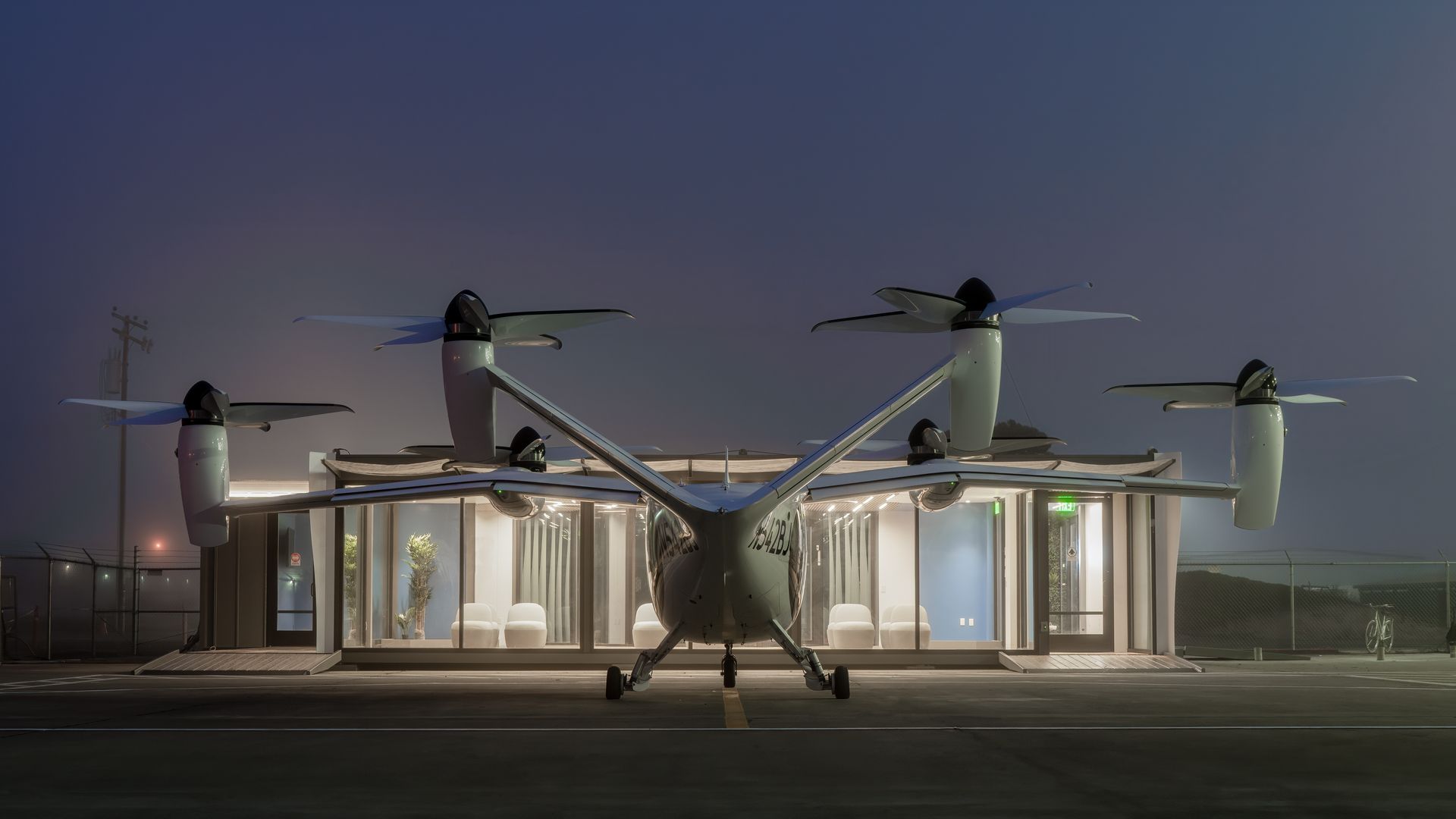 Gleaming new Delta Air Lines terminals at airports in New York and Los Angeles could soon add another feature: convenient "vertiports" for passengers commuting by electric air taxi.
Why it matters: Multibillion-dollar makeovers in some of America's biggest airports have made flying more pleasurable, to be sure. But for many people, the worst part of air travel is just getting to the airport.
Electric air taxis could solve that hassle by whisking customers over congested roadways so they arrive at their gate in a fraction of the time.
Plus, they offer a reprieve for noise-afflicted urban residents because the whoosh of an electric, multi-propeller air taxi is far quieter than the thump-thump-thump of a traditional helicopter.
The big picture: Once seemingly far-fetched, flying taxis are only a year or two from reality, with companies like Joby Aviation, Archer Aviation and Beta Technologies beginning to ramp up production as their aircraft get closer to certification by the Federal Aviation Administration.
Another key hurdle, however, is figuring out where these electric aircraft will land, take off and recharge.
What's happening: Joby and Delta (which has a $60 million stake in its partner) are working with the Port Authority of New York and New Jersey on delivering a seamless experience for Delta customers who hitch a ride in one of Joby's electric vertical takeoff and landing (eVTOL) aircraft.
That includes permitting and construction of easy-access vertiports, and installing charging equipment for quick turnarounds.
Driving the news: The CEOs of Delta and Joby appeared together this week at a fireside chat in New York City to lay out their vision for a new air taxi service, operated by Joby, that could begin at New York's LaGuardia and John F. Kennedy airports (and at Los Angeles International Airport) as soon as 2025.
"Some people spend more time on the journey from their home to their seat than they do on the flight itself," said Delta CEO Ed Bastian. "We want to give people their time back."
"To us, this is another way to cement our role as a premium airline."
It makes sense to start the service in New York and LA, Bastian said, because that's where the biggest demand is, given the size of the markets and the existing traffic congestion.
The service will begin slowly and initially target "premium" customers. Longer term, the goal is to increase the number of aircraft and lower their cost so it's comparable to hailing an Uber Black car to the airport from downtown — roughly $200.
Customers would be given the option of adding a Joby air taxi when they book their Delta flight.
Of note: Besides the convenience for travelers, eVTOLs stand to make cities more livable even for those who aren't flying, Joby founder and CEO JoeBen Bevirt told Axios in an interview.
As he spoke at a Brooklyn hotel, helicopters whirred overhead, making it difficult to hear at times.
"The quality of the sound is significantly different," he said. "NASA came and did acoustic recordings of our aircraft. They put out a huge field of microphones and flew our aircraft over and recorded the acoustic profile," and then compared it to other aircraft in the same environment, he said.
"What they showed was the noise footprint when our aircraft flies over is 100 times smaller than a traditional helicopter."
Plus, the electric whooshing sound blends into the background, rather than bouncing off buildings like a helicopter's sound. "We think that people will find it substantially less annoying."
Meanwhile, some of Delta's rivals, like United Airlines, are also experimenting with eVTOL service.
What to watch: There are still many "ifs" to figure out before flying taxis become commonplace.
Adoption will depend on how soon the FAA allows them to fly, how quickly companies can ramp up production and whether the service is affordable enough for average travelers.
Go deeper