Biden asks Congress for $106 billion for Ukraine, Israel, U.S. border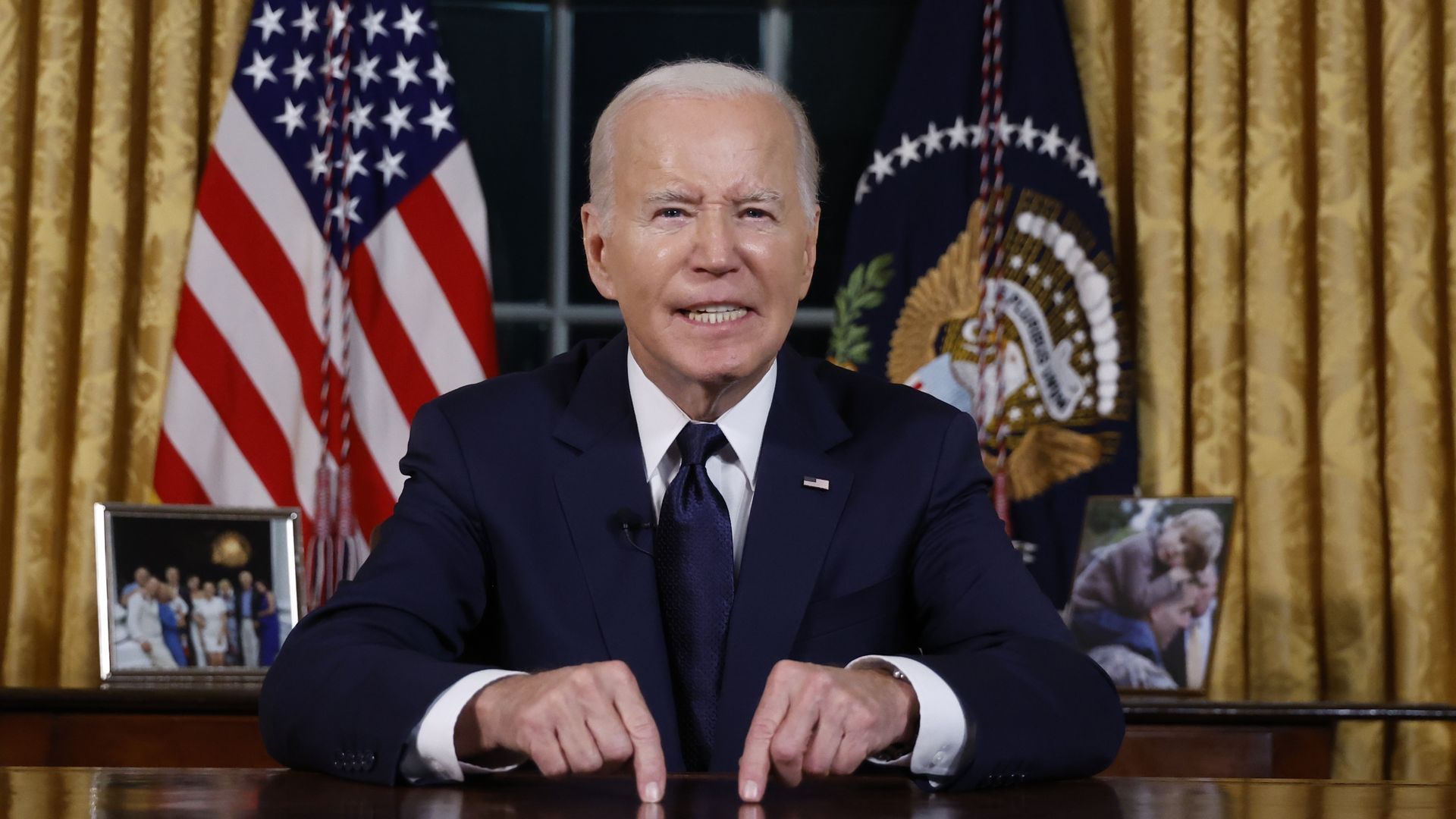 The Biden administration is asking Congress for $106 billion in emergency funding on Friday, which combines aid to Israel and Ukraine with money to bolster U.S. border security.
Why it matters: It is a critical time of global crisis. President Biden is tasked with supporting multiple allies at war, confront China's growing influence and addressing unprecedented regional migration. He'll need Congress — even without a speaker of the House.
Office of Management and Budget director Shalanda Young addressed a Friday letter detailing the funding request to House Speaker Pro Tempore Patrick McHenry (R-N.C.).
By the numbers: The White House is asking for $61 billion in aid for Ukraine for military equipment and intelligence as well as support for Ukrainians arriving in the U.S. through Biden's parole program.
$14.3 billion is earmarked for Israel, including money for air and missile defense and bolstering the security of embassies in the region.
Nearly $14 billion in the package is designated for U.S.-Mexico border needs, including hiring additional border patrol, immigration judges and asylum officers.
Roughly $3 billion is for the U.S. submarine industrial base.
Funds would help state and local officials with migrant shelter shortages, better stop fentanyl trafficking, assist foreign countries' deportations and spur on investigations into child labor operations.
$2 billion would be used to counter China's financing efforts in developing countries and another $2 billion to bolster security in the Indo-Pacific.
In total, $10 billion will be used for humanitarian response in Israel, Ukraine, Gaza and elsewhere.
What they're saying: "Hamas and Putin represent different threats. But they share this in common: They both want to completely annihilate a neighboring democracy," Biden said in his Thursday address.
"We cannot and will not let terrorists like Hamas and tyrants like Putin win, I refuse to let that happen," Biden added.
"Let me be clear, something Congress has said a lot about doing something on border security, while refusing to take up the $4 billion request we sent," Young told reporters on Friday morning.
"We will not be lectured by those who refuse to act," she added.
Go deeper