Medicare's plan to fix major drug shortages has big gaps, experts say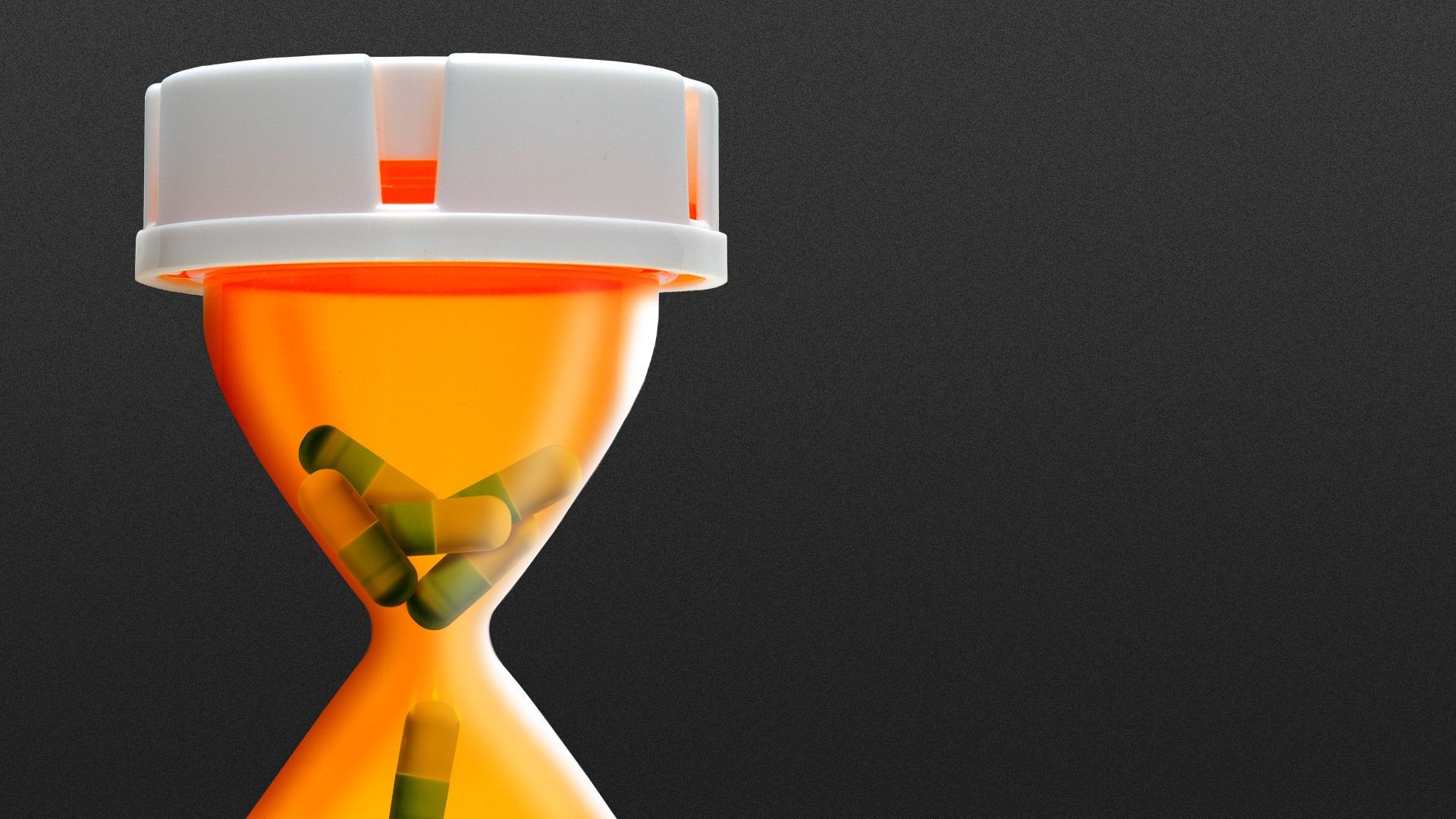 A Medicare proposal to help alleviate major shortages of cancer drugs and other essential medicines could disadvantage facilities serving vulnerable populations and instigate new supply issues, experts and hospital groups say.
Why it matters: Over 300 drugs have been in shortage this year, nearly the highest amount in a decade, and many health care providers report having to ration drugs or medical equipment in short supply. Despite heightened attention on the issue in Washington, there are few easy fixes.
Driving the news: The Centers for Medicare and Medicaid Services is considering reimbursing hospitals for some of the cost of creating and keeping a three-month stockpile of up to 86 critical medicines.
The initiative comes in response to a slew of executive orders from President Biden on strengthening the public health supply chain that was strained by the pandemic.
CMS may finalize the policy in the next month as part of its annual update on Medicare reimbursement to hospitals. Payments for stockpiling drugs could begin as early as Jan. 1, the agency wrote in its proposal.
In its proposal, CMS said it was necessary to financially support measures that could help hospitals curtail shortages, including maintaining extra supply of critical medicines.
What they're saying: The policy's intent is admirable, and maintaining an inventory is part of making supply chains more resilient to shock, but the proposal won't help hospitals most in need, said Marta Wosińska, a senior fellow at the Brookings Institution, and Emily Tucker, an industrial engineer at Clemson University.
The proposal would cover less than half the costs of keeping an effective buffer for most hospitals, and does not compensate hospitals for purchasing the drugs themselves, the researchers noted in a letter to CMS. This could prevent small and rural hospitals from taking advantage of the policy, they said.
Additionally, it could create further supply pressures as hospitals build up their stockpiles, the researchers said.
It would cause "a massive demand shock to the system," Tucker told Axios. "Wholesalers and manufacturers couldn't meet this new demand, even though it's not true patient need [and] we're just building up these buffers."
Hospitals and drug distributors shared similar concerns.
The American Hospital Association also flagged that it would create extra administrative burden for hospitals, and said many hospitals wouldn't even have the space to keep three months' worth of supply.
To help the most resource-strapped hospitals, CMS should cover investments to store drugs onsite and upfront drug purchasing costs, industry trade group America's Essential Hospitals wrote to CMS.
Funding a longer six-month buffer stock would reduce — but not eliminate — hospitals' need to panic buy, Wosińska and Tucker said. Staggering implementation so buffer stocks are built up in different places at different times would also help, Tucker added.
CMS could also focus on incentivizing hospitals to purchase drugs from manufacturers and wholesalers that are less likely to have production issues, the researchers said.
Reality check: Congressional Medicare advisers also threw some cold water on Medicare's plan.
"Medicare payment policy is neither a sufficient, nor the best suited, mechanism to support adequate supplies of essential medicines for all patients," the Medicare Payment Advisory Commission wrote to CMS.
Instead, the federal government could consider making direct purchases of essential medicines, MedPAC said.
Wosińska and Tucker also noted that other federal agencies can address drug allocation issues at the wholesaler or manufacturer level.
Of note: There's bipartisan interest in Congress to tackle drug shortages, but Democrats and Republicans don't agree on how to do it.
Go deeper