America's drug shortages reach new heights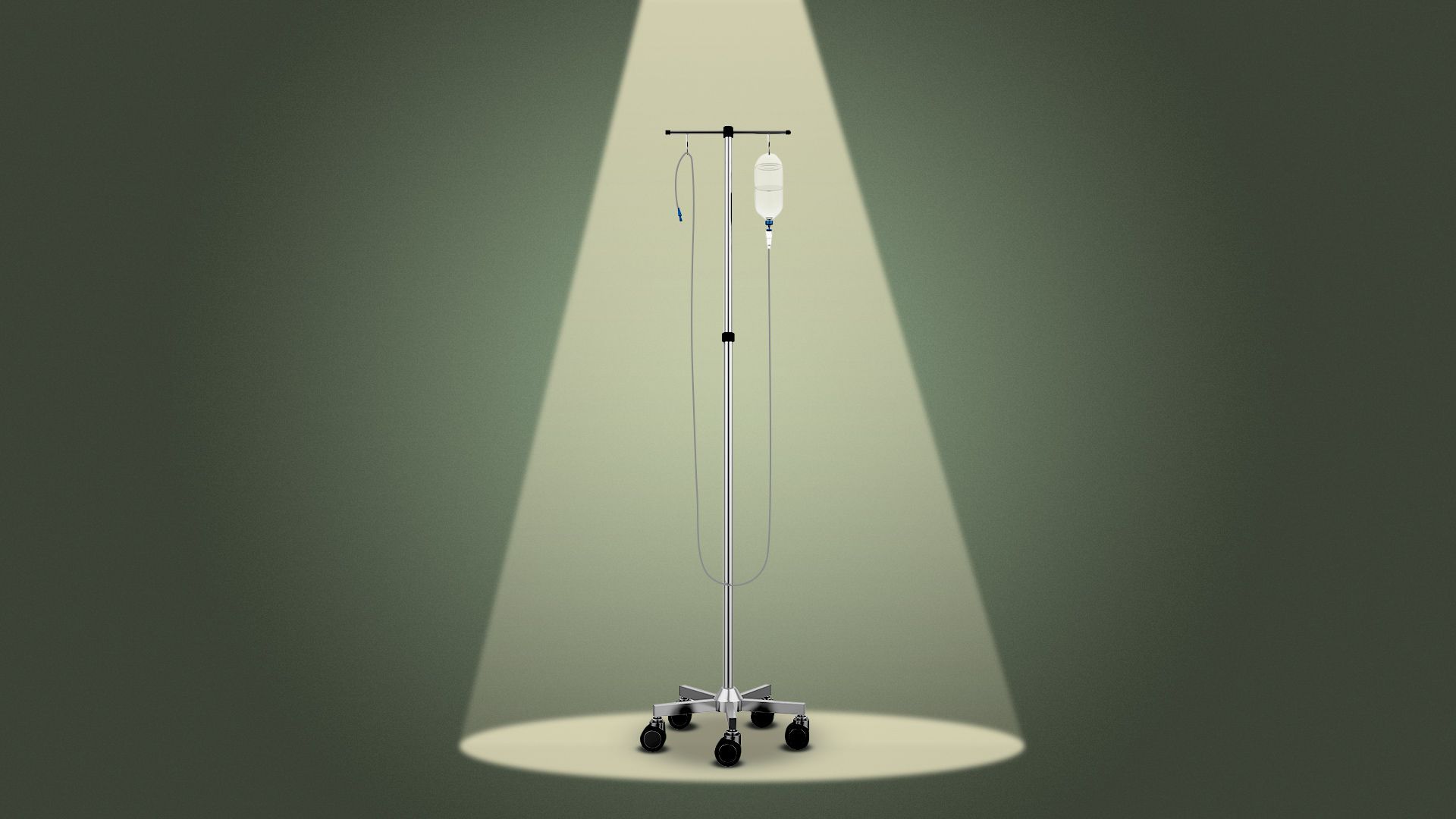 Shortages of cancer drugs and other life-saving medications are reaching their worst point in a decade, forcing physicians to develop workarounds and the Biden administration to mount an all-of-government response.
Why it matters: The shortfalls are surfacing deeply entrenched problems in America's drug supply chain, particularly around commonly-used generic drugs. A recent House hearing examined a "race to the bottom" in price that chills investment in manufacturing and can leave just one or two companies actively producing a drug in shortage.
What they're saying: "This generic business, particularly for these complex drugs, these complex formulations, is not a healthy business right now," Scott Gottlieb, former FDA commissioner and a Pfizer board member told CBS News on Sunday.
"There are things the government can do but most of them are going to cost money. We're going to have to look for ways to provide more reimbursement for these hard-to-manufacture drugs," he said.
Driving the news: There are more than 300 drugs in shortage, the highest since 2014, per the American Society for Health-System Pharmacists.
The American Cancer Society warned earlier this month about potentially "life-threatening" supply problems of chemotherapy drugs which "don't have an effective alternative."
"As first-line treatments for a number of cancers, including triple-negative breast cancer, ovarian cancer and leukemia often experienced by pediatric cancer patients, the shortage could lead to delays in treatment that could result in worse outcomes," CEO Karen Knudsen said in a statement.
The Society of Gynecologic Oncology this month outlined strategies for allocating limited supplies of drugs for gynecologic cancers and warned that without planning, disparities in care could worsen.
Heart drugs like adenosine, which is administered intravenously for emergency treatment of an irregular or a rapid heartbeat as well as cardiac stress tests, are also in short supply and may require hospitals to limit use to emergencies, the health-system pharmacists say.
IV antibiotics such as penicillin used in hospitals have also been running low across the country.
Between the lines: Experts are quick to point to the challenges faced by generics makers in a low-margin business that has driven much of the manufacturing to consolidate to just a few players or move overseas.
On Friday, Teva Pharmaceutical Industries — one of the makers of Adderall, which has been in shortage — announced plans to scale back its generics business, citing low profitability, Bloomberg reported.
Generics manufacturer Lannett Co. — which makes a number of drugs including a form of lidocaine that is in short supply — announced a financial restructuring earlier this month, saying it plans to file for Chapter 11 bankruptcy protection.
Akorn Pharmaceuticals, an important manufacturer for many generic drugs, shuttered earlier this year contributing to shortages of the heart drug adenosine, as well as albuterol shortages. The company's products were then recalled because there was no one on hand left to address potential quality concerns, the New York Times reported.
A "disastrous" FDA inspection of an Intas Pharmaceuticals manufacturing plant in India that turned up quality-control problems was the key contributor to chemotherapy drug shortages, Gottlieb said.
"It all boils down to how many players do we have manufacturing this drug, are they able to sustain their production of these medications economically?" Emmanuel Ayanjoke, an assistant professor of pain management and palliative care at Cedarville University told ABC News.
Between the lines: Gottlieb, who was FDA commissioner during the Trump administration, pointed to efforts to curb drug costs included in the Inflation Reduction Act as contributing to underinvestment in safe and sustainable generic supplies.
A generic drug maker might be manufacturing a sterile injectable drug for $500 and losing money on it, he said. If they were to invest in upgrading their manufacturing, they might want to increase the price to $1,000.
"At $1,000, even though it's a lot of money, it might be cheap relative to the value that drug is providing, but under the Inflation Reduction Act, it's an increase you might not be able to take," Gottlieb said.
Be smart: While many of the shortages are affecting generics, they are also impacting some brand-name drugs such as a growth hormone drug made by Novo Nordisk called Norditropin, NPR reported.
Some shortages are being blamed on old-fashioned supply and demand challenges such as what has been seen with Children's Tylenol during the convergence of flu, RSV and COVID cases in the fall and winter months.
What to watch: While the Biden administration and Congress are both examining ways to address what has been dubbed a national security issue — including via a reauthorization of the Pandemics and All-Hazards Preparedness Act, or PAHPA.
The White House has a team aimed at addressing the ongoing shortages and quality issues plaguing the drug supply chain, Bloomberg reported.
The House Energy and Commerce Committee held a hearing to examine the root cause of the shortage problem with promises to work for solutions to the ongoing supply issues.
But solutions could be expensive and disruptive. The FDA can identify problems and work with manufacturers, but lacks the expertise and, in some cases, authority to address bigger economic issues around the industry.
Energy and Commerce Chair Cathy McMorris-Rodgers (R-Wash.) broached options like increasing reimbursement for generics and scrutinizing the business practices of pharmacy benefit managers.
Rep. Frank Pallone of New Jersey, the ranking Democrat on Energy and Commerce, last week called for more transparency around drug ingredients made overseas and expanded reporting when there are unexpected spikes in demand for drugs, along with making it easier for FDA to safely extend the shelf life of critical medications in shortage.
The bottom line: America's drug shortage problem could get worse as generics makers cut back on manufacturing, but it's unclear whether the government is capable of responding.
Go deeper