Congress comes for drug shortages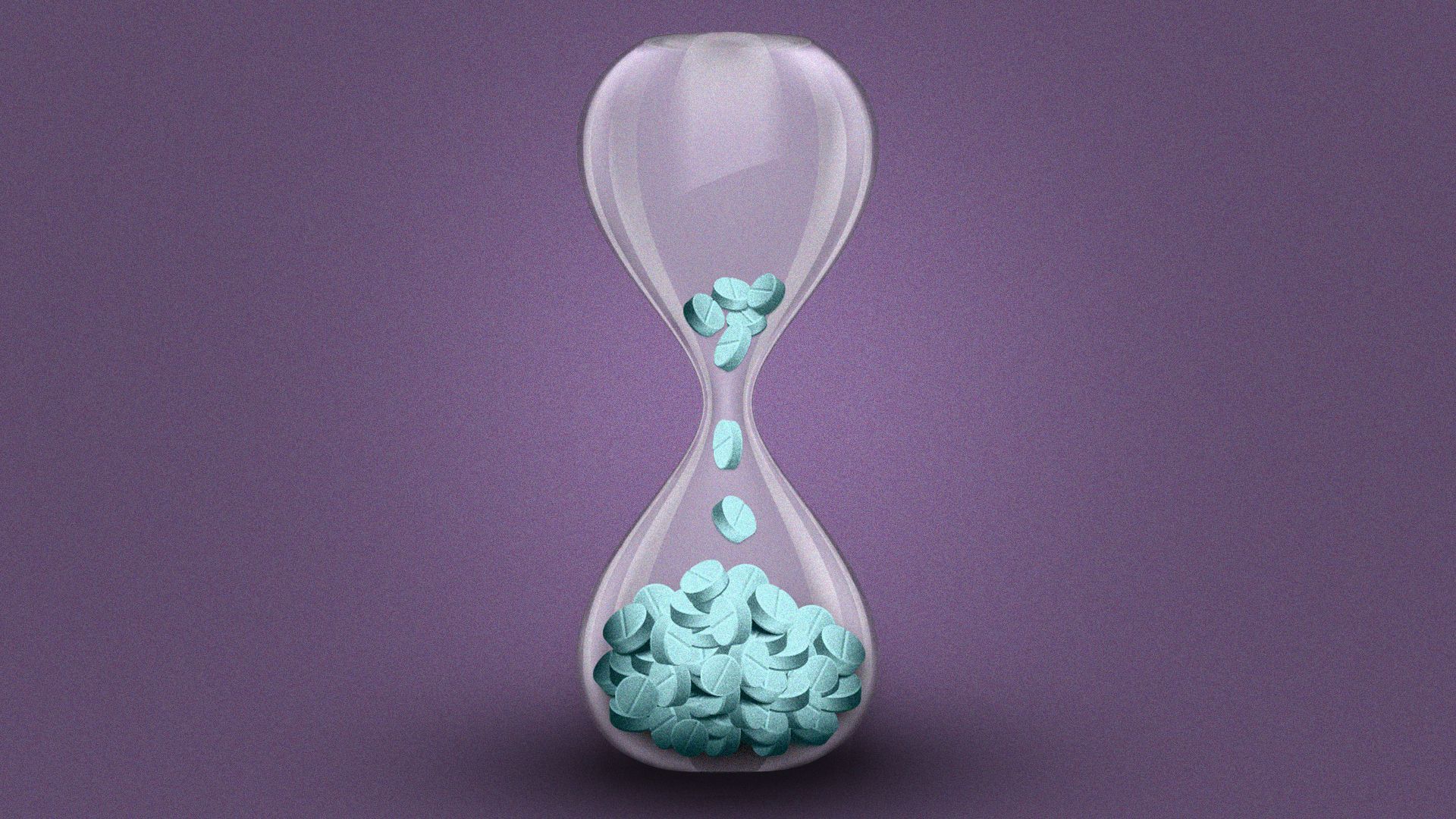 The prescription drug shortage crisis has caught the attention of Congress — but key committees are just starting to look at potential solutions and haven't settled on their action plans yet.
Why it matters: The shortages involve some of the most widely used drugs on the market — including cancer drugs, asthma treatments and antibiotics — and any missed doses can have a big impact on the patients who need them.
A convergence of factors seem to be contributing to the current drug shortage, including supply chain issues, quality control of drugs, reliance on drug manufacturers outside the U.S. and the COVID pandemic.
What they're saying: In the Senate, Homeland Security and Governmental Affairs Committee Chair Gary Peters told Axios the committee is planning legislation, though he didn't discuss details.
"We're working on legislation and a variety of policy ideas that we have that we'll be rolling out in the near future," Peters said.
In the House, the Energy and Commerce Committee is mostly in the information gathering stage. It fired off an oversight letter to the FDA asking for information on drug supplies and shortages, and the FDA responded with some details in May.
"We're very concerned about the drug shortages, and increased reports of drug shortages and dependence upon China supply chains, whether it's generic drugs or antibiotics, cancer medications," said E&C Chair Cathy McMorris Rodgers. "We're trying to get some more information from the FDA at this point."
Between the lines: E&C subcommittee Chair Brett Guthrie said a group of lawmakers had recently gotten together to "figure out exactly what legislatively we can do," but noted that "we don't have a solution in place."
He said the executive branch has "all the authority to make things happen. And if they need additional authorities from us, then we want to give whatever assistance we can. We've got to address it."
Rep. Kathy Castor, ranking member of the E&C Oversight subcommittee., said "we've got to look at the economics of the issue" and that "members on both sides of the aisle are interested in, in what tools does FDA not have to do that? And how can we be creative?"
The other side: The FDA said in a statement that the agency is "fully engaged in cross-government discussions to identify potential policies and provide input on proposals informed by our current authorities, resources and industry knowledge to ensure meaningful solutions."
An agency official noted that the FDA asked for additional authority through the PAHPA reauthorization to improve drug shortages, including the power to require manufacturers to report drug demand surges and require facilities to maintain master files of information.
In addition, the FDA started coordinating last week with a Chinese manufacturer, Qilu, to temporarily import cisplatin, a cancer drug. However, Qilu's version of the drug is not approved in the U.S.
Where it stands: Last week, Sen. Dick Durbin sent a letter to the FDA urging the agency to import cancer drugs from other countries or extend expiration dates in order to make sure there's more of a supply of these essential cancer drugs.
On Monday, Sen. Ron Wyden sent a letter to FDA and the Drug Enforcement Administration asking for an explanation for the shortage in ADHD medications.
Michigan Democrats, including Peters, sent a letter on May 25 to FDA Commissioner Robert Califf asking the agency to do everything in its power to address the current shortage of certain cancer drugs.
Both E&C and Senate HSGAC also held hearings on drug shortages this spring, and HSGAC released a comprehensive report on the issue in March.
What we're watching: Durbin has a bill that would require HHS to produce a report on the security of the medical supply chain, with a focus on looking at dependence upon other countries.
Reps. Buddy Carter, Elissa Slotkin, Chrissy Houlahan and Gus Bilirakis launched the Domestic Pharmaceutical Manufacturing Caucus in March, which aims to encourage domestic production of critical drugs.
Carter also has a bill that would provide a stockpile of generic medicines that are at risk of shortage.
And two House members — Cory Mills and Sara Jacobs — introduced the bipartisan "Drug Shortage Prevention Act" in April, which would require drug manufacturers if they've experienced six consecutive weeks of an increase in drug demand, to notify the FDA.
Go deeper