Updated Oct 13, 2023 -

World
Austin says Hamas attack "worse than ISIS" in Israel visit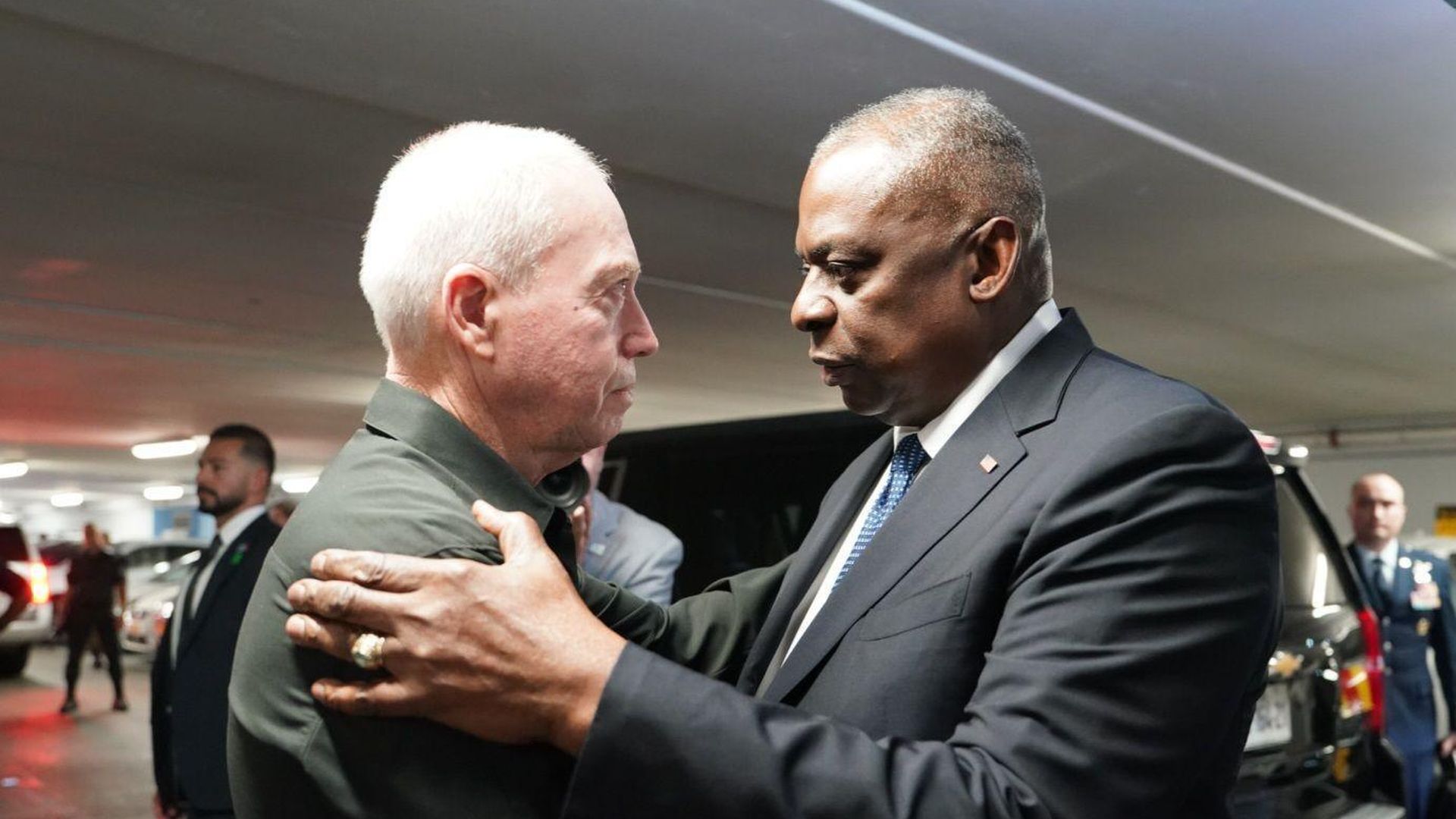 Secretary of Defense Lloyd Austin arrived in Israel on Friday and discussed with Prime Minister Benjamin Netanyahu and Defense Minister Yoav Gallant further U.S. military assistance to Israel amid the fighting in Gaza.
Why it matters: The Biden administration has already delivered two initial ammunition shipments to Israel but is working with the Israeli government on a larger military aid package that will require the approval of Congress.
Driving the news: Austin landed in Israel on Friday morning and held a meeting with Gallant and Israel Defense Forces (IDF) senior leadership in the IDF command bunker in Tel Aviv, where they followed some of the military operations in Gaza, Israeli officials said.
Austin also met with Netanyahu and told him that, as the military commander who led the war on ISIS, he can say that what Hamas did was "worse than ISIS".
Details: An Israeli defense official said the main issue Gallant and Netanyahu discussed with Austin was Israel's security needs going forward and what kind of assistance the U.S. can give.
Austin said at a press conference with Gallant that the Biden administration will make sure Israel has everything it needs to defend itself.
He also said the U.S. supplied Israel with munitions, air defense capabilities and interceptors for the Iron Dome system. "U.S. military assistance to Israel is flowing in at the speed of war", he said.
After the press conference, Austin and Gallant visited an Israeli air force base where U.S. weapons were delivered today.
What they are saying: "I wanted to be here in person. There is something personal here. Our support for Israel is ironclad. What a friend needs to do sometimes is just show up," Austin said at the press conference.
Austin called on countries around the world to condemn and isolate Hamas and stressed the militant group doesn't represent the Palestinian people's aspirations for freedom and security.
Israeli minister of defense Gallant said at the press conference that Israel "will topple Hamas rule in Gaza. We will eliminate its military capability. We will make sure this threat doesn't exist on our border. It will take time, and it will be lethal, powerful and forever."
Austin expressed support for the Israeli military operation but stressed "it is time for resolve and not for revenge." He said that unlike Hamas, democracies need to fight according to the rule of law and try to avoid civilian casualties.
The big picture: Austin said the Biden administration will stand by Israel at the same time it stands by Ukraine and will give military assistance to both. "We can walk and chew gum at the same time", he said.
Go deeper