Video game footage used to spread misinformation about Israel-Hamas war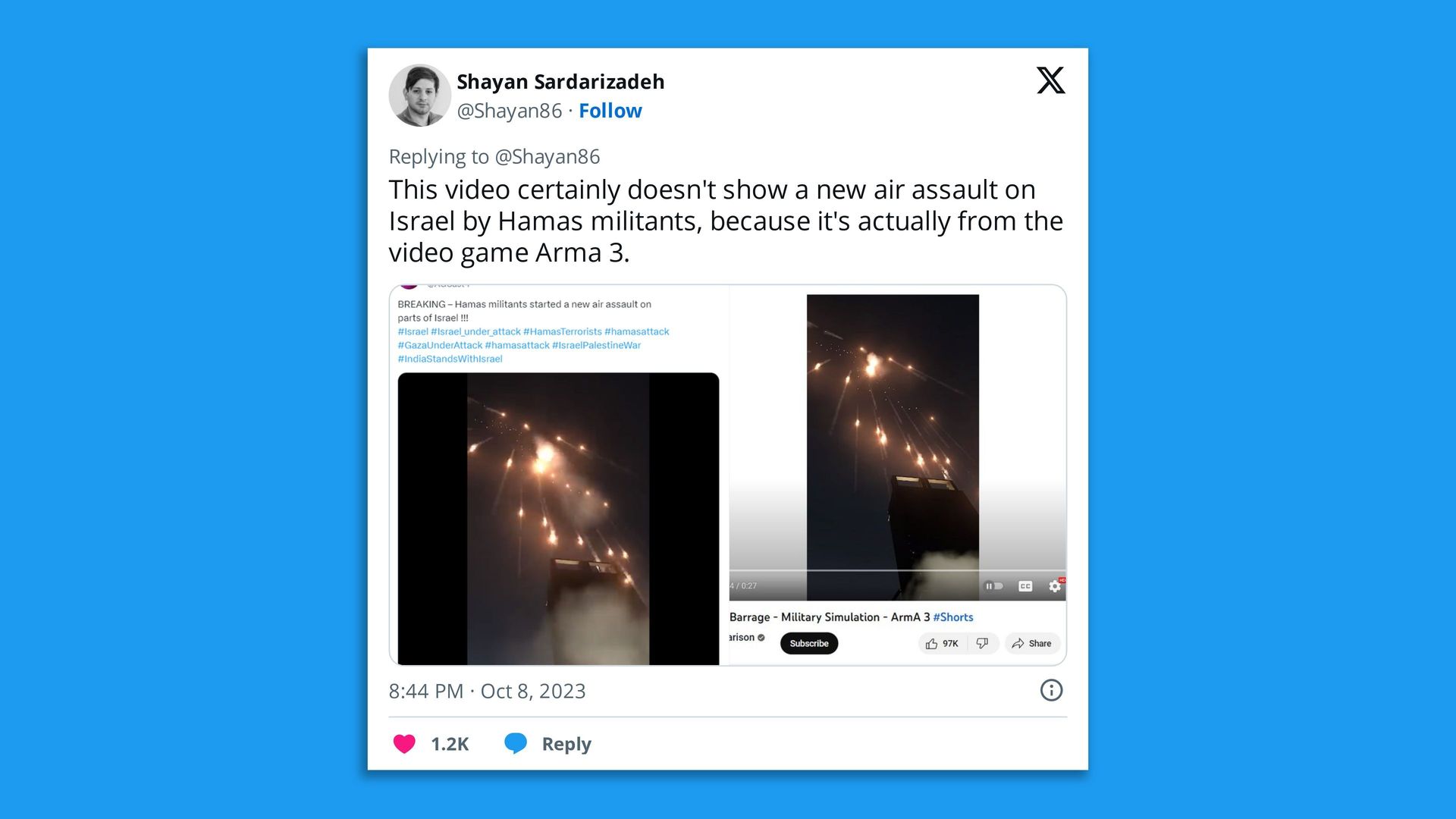 Some viral posts purporting to show military engagements in the conflict between Israel and Hamas are actually just clips from video games, mainly the 2013 PC game Arma 3.
The big picture: Misinformation about the conflict has been rampant on social media this week.
Driving the news: Czech game studio Bohemia Interactive said on Tuesday that its game was being "falsely used as footage" from the Gaza conflict.
Be smart: Bohemia suggests people can spot fakes by looking for specific tells, including oddly low resolution video quality, lack of movement from people in the clip or the unnatural behavior of smoke, fire and dust, which are hard for games to depict accurately.
The studio re-posted a note from last year describing how clips of the game were spreading social media purporting to be footage of Russia's invasion of Ukraine.
Details: Throughout the week, multiple posts on X, formerly Twitter, showed footage pulled from Arma 3, including one debunked clip with nearly three million views that supposedly showed Hamas fighters downing an Israeli helicopter.
"Another day, another viral video game video," BBC reporter Shayan Sardarizadeh, who covers online disinformation, posted on Tuesday. His tweet showed an Arma 3 clip with more than three million views on TikTok that was being passed off as footage of an Israeli attack.
Between the lines: A Bohemia Interactive rep said last year that social media platforms were unable to keep up with the spread of faked videos and that flagging such content has been "very ineffective."
"With every video taken down, ten more are uploaded each day," Bohemia PR manager Pavel Křižka wrote at the time.
"We found the best way to tackle this is to actively cooperate with leading media outlets and fact-checkers (such as AFP, Reuters, and others), who have better reach and the capacity to fight the spreading of fake news footage effectively."
State of play: X has been slammed this week for enabling the spread of misinformation around the Israeli-Palestinian conflict, a debacle blamed on owner Elon Musk's dismantling of the service's trust and safety team and elimination of manual verification of trusted accounts.
On Tuesday, European authorities demanded answers from the platform, and on Thursday they did the same with TikTok, citing the exposure of graphic footage to minors as well as "instances of fake and manipulated images."
Of note: It's unclear the extent to which the proliferation of Arma footage during military conflicts is the work of propagandists as opposed to online trolls.
Sign up for the Axios Gaming newsletter here.
Go deeper