UAW reports "significant progress" in negotiations with Detroit Three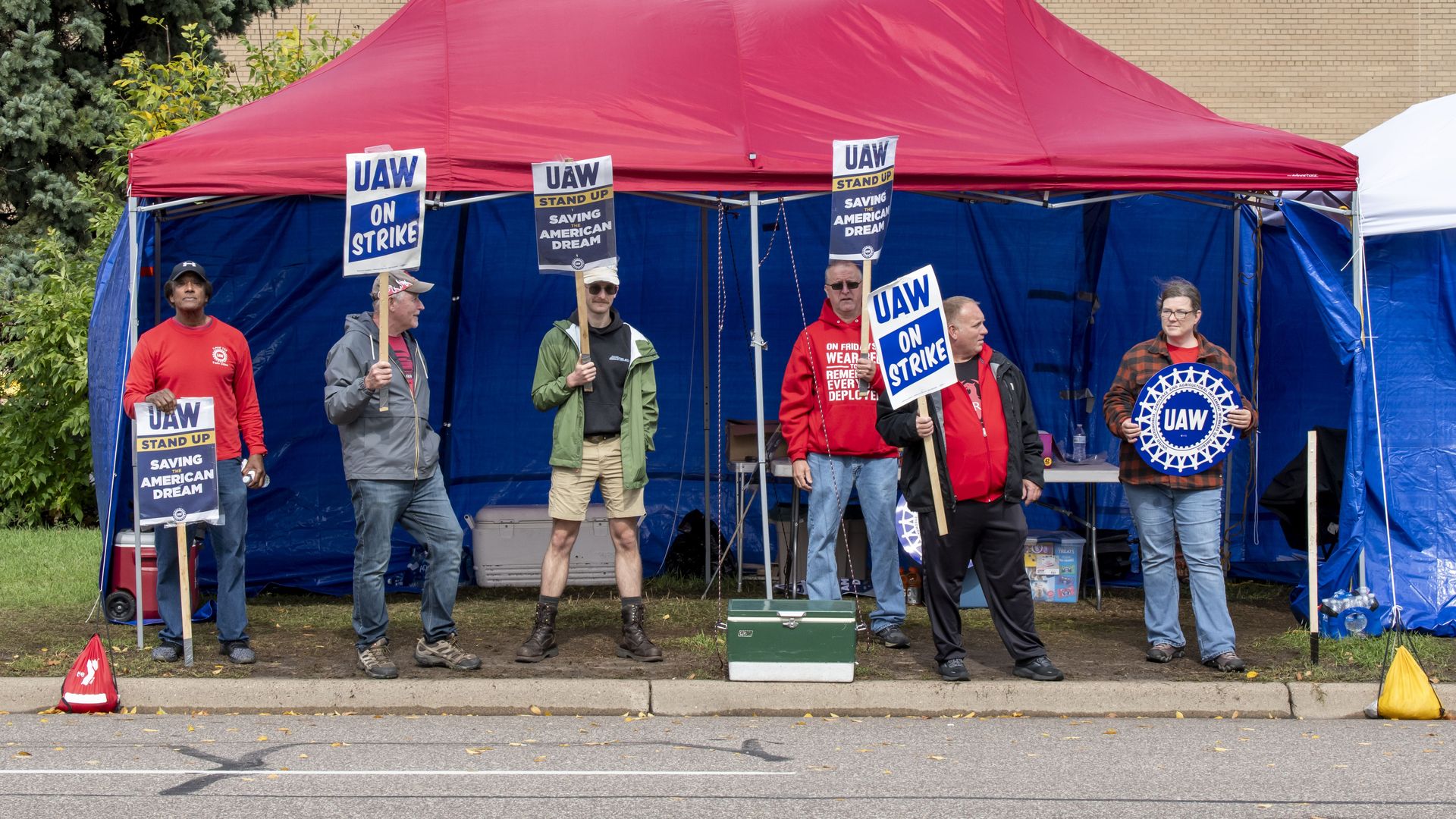 The United Auto Workers president on Friday reported "significant progress" in contract talks with the Detroit Three automakers and said the union would hold off on expanding its strike for now.
Why it matters: The decision signals that the union and the automakers are moving closer to deals that would put an end to a historic, weeks-long strike that currently involves about 25,000 workers at General Motors, Ford and Stellantis.
Driving the news: UAW President Shawn Fain said Friday that General Motors had agreed — moments before his livestream remarks — to subject all of its EV battery plants to national collective bargaining in a concession he described as monumental for the union's objectives.
Fain said GM made the concession after he threatened to expand the strike to include GM's crucial truck plant in Arlington, Texas.
"We've been told for months that this is impossible. We've been told that the EV future must be a race to the bottom. Now we've called their bluff," he said.
The other side: "Negotiations remain ongoing, and we will continue to work towards finding solutions to address outstanding issues," GM said in a statement. "Our goal remains to reach an agreement that rewards our employees and allows GM to be successful into the future."
Catch up quick: When the strike began last month, the UAW was demanding wage increases of 40%, traditional pensions, retiree health care and 40 hours of pay for a 32-hour workweek, among other things.
Negotiators have made progress on narrowing the wage gap at all three companies, with each company offering bumps of at least 20%.
Evercore ISI analyst Chris McNally this week predicted each side will settle for an increase in the range of 27% to 30%: "Just a question of WHEN they get there."
"In just three weeks we have moved these companies further than what anyone thought was possible," Fain said Friday, adding "it's not where we need to be, but it's a hell of a lot further along."
Zoom in: The UAW is on strike against two Ford plants, two GM factories, one Stellantis plant and all 38 parts distribution facilities at GM and Stellantis.
The automakers say they can't afford what the union is demanding, while the union says the automakers should deliver "record contracts" after reaping "record profits."
The big picture: Among those who say they are familiar with the strike, 83% of Americans believe the automakers "should provide greater fairness in auto worker wages," according to a Harris Poll survey of 2,087 adults conducted Sept. 22-26.
Yes, but: 56% say what the UAW is demanding is unsustainable for the automakers.
Fain on Friday said the union had won key concession on cost-of-living adjustments (COLA), temporary workers, job security and retirement.
He said the union "successfully beat back the concessionary demands being made by GM and Stellantis" on profit sharing.
Of note: Wearing an "eat the rich" T-shirt, Fain blasted auto executives who say the union is engaged in theatrics during the strike.
"It's not about theatrics, it's about power — the power we have as working class people. We've shown the Big Three that we're not afraid to use it," he said.
"They look at me and they see some redneck from Indiana," said Fain, who grew up in Kokomo. "They look at you and see somebody they would never have over for dinner or let ride on their yacht or let fly on their private jet. They think they know us. But us auto workers know better."
He added that the strike has been designed strategically to achieve specific result: "We may be foul-mouthed, but we're strategic. We may get fired up, but we're disciplined. And we may get rowdy, but we're organized."
"Not everything is about pulling out the bazooka. We've been very careful about how we escalate this strike, and we have designed this strategy to increase pressure on the companies — not to hurt them for its own sake but to move them."
Go deeper: UAW boss Shawn Fain's union tactics, explained
Editor's note: This story has been updated with additional details.
Go deeper