How weight loss drugs like Ozempic could radically reshape the food business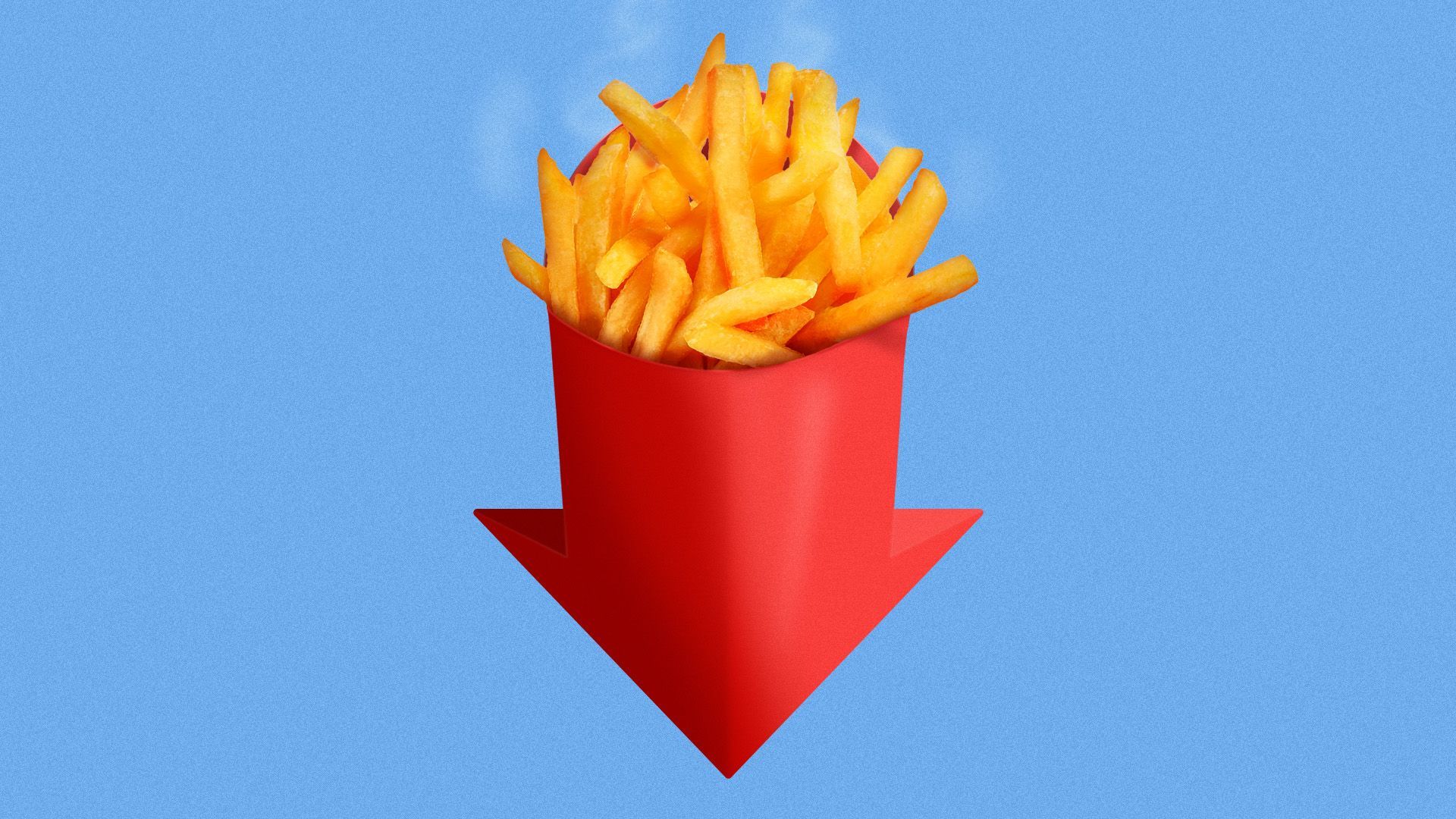 As Ozempic and similar weight loss drugs become more popular, Americans might start buying less food, particularly high-calorie snacks and fast food.
Why it matters: That could radically reshape the food industry, and investors and food industry executives are starting to pay attention.
Ozempic is approved by the FDA to treat diabetes but is also prescribed for off-label use by doctors for obesity.
Driving the news: Earlier this week, Walmart's U.S. CEO told Bloomberg that customers taking Ozempic buy less food. (Walmart mined its own pharmacy and grocery data to pinpoint customer buying patterns, per Bloomberg.)
"We definitely do see a slight change compared to the total population, we do see a slight pullback," John Furner said. "Just less units, slightly less calories." But he added that it's still early days for Ozempic.
The drug itself has boosted sales of other items at Walmart — folks on the drug "tend to spend more with us overall," another company exec said this summer.
Meanwhile: Steve Cahillane, CEO of snack maker Kellanova, told CNBC this week that his company — a Kellogg spinoff that makes Pringles and Cheez-It — is watching the Ozempic trends. "But it's just far too early to forecast this is a headwind."
The big picture: It's early, yes, but investors are paying close attention. In an 82-page note this summer, a team of 17 Morgan Stanley analysts, strategists and associates laid out how obesity medicine could dampen demand for food and reshape the "food ecosystem."
The firm projects that over the next 10 years, 7% of the U.S. population — 24 million people — could be taking these drugs.
Folks on the drug will likely consume 20% fewer calories, they say.
In 2035 that would represent 1.3% of overall calories consumed. Analysts also modeled out a bullish scenario where calorie consumption falls by 1.7% and a bearish one at 0.9%
Increased use of these weight-loss drugs could hurt demand for high-calorie, high-fat and sugary foods — at home or at fast-food outlets.
Products made by Pepsi and McDonald's — and even Altria, as some users say Ozempic curbs cravings for cigarettes — could take a hit, according to a note from Barclays this week cited by Bloomberg.
The upshot: Americans' consumption of soda, baked goods and salty snacks might be around 3% lower, the Morgan Stanley analysts write.
Reality check: It's compelling to think Ozempic will change the food economy, but "right now these drugs are still being understood," Peter Bonis, chief medical officer at Wolters Kluwer Health, tells Axios. There are questions about how users will do on them long-term — or how long they'll even stay on the medication.
Plus, he points out, that the food industry is adaptable and is used to changing tastes.
Companies can shift product mixes and packaging sizes to preserve profitability, food company executives told the WSJ.
Editor's note: This story has been updated to clarify that Ozempic is only approved for treatment of diabetes.
Go deeper