College-educated Latinas still paid significantly less than white male peers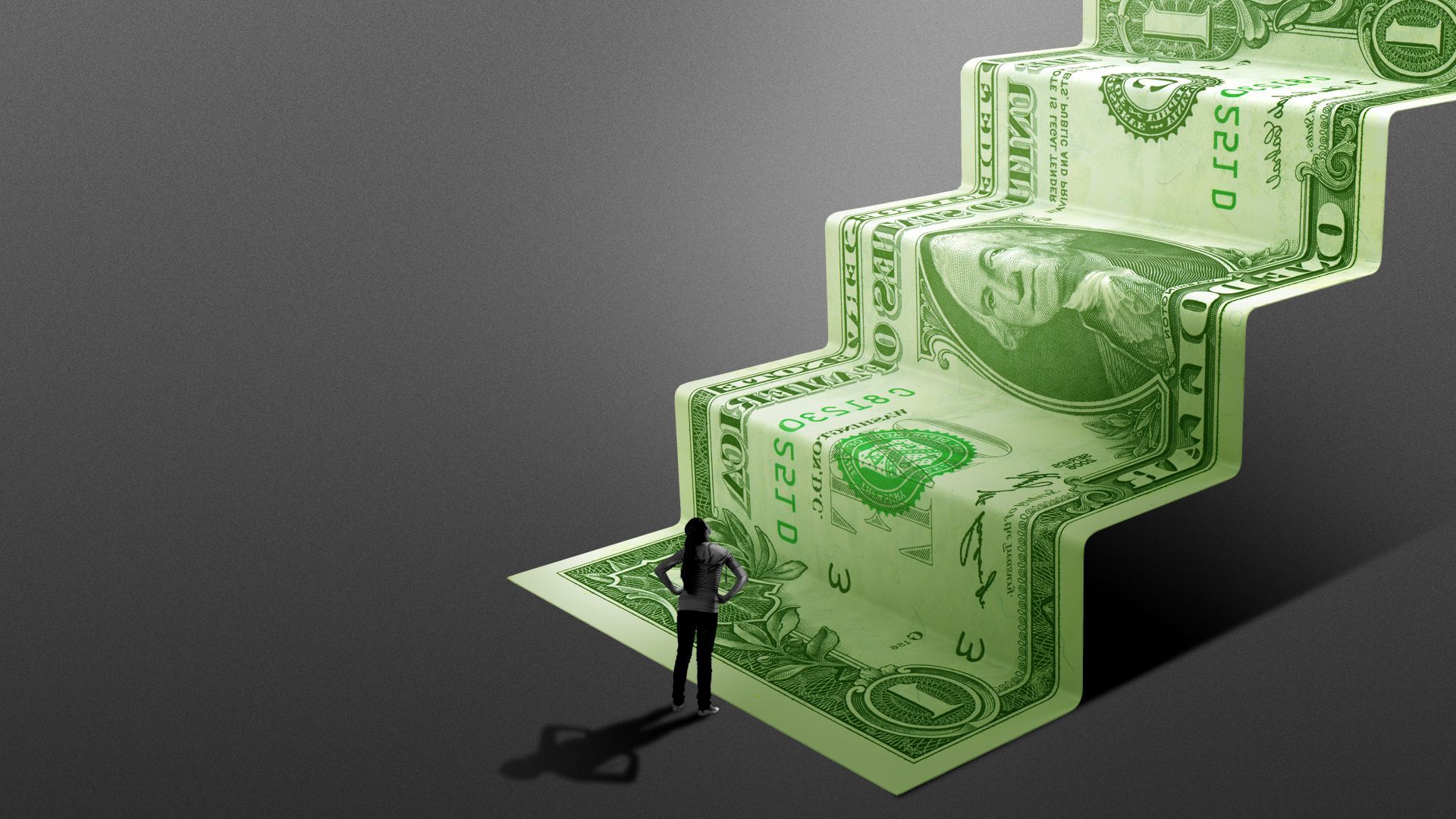 Latinas with bachelor's or professional degrees have to contend with a wider pay gap between them and their non-Hispanic white male peers than do other working Hispanic women, per a National Women's Law Center analysis.
The big picture: Although educational attainment is seen a means to economic stability, college-educated Latinas are still paid less than their white male peers and in some cases less than white men with less education.
Thursday is Latina Equal Pay Day, marking how far into the year Hispanic women had to work to earn what non-Hispanic white men earned in 2022.
Latinas are projected to make up 25% of the female population in the United States by 2060.
By the numbers: Latinas with a bachelor's or professional degree made 59 cents per every dollar paid to a non-Hispanic white man with the same level of education in 2022, according to the analysis of Census data.
Latinas without a high school diploma earned 62 cents per dollar, while those who graduated from high school earned 67 cents.
Latinas with an associate's degree or some college but no degree earned 66 cents per every dollar earned by a white man with that educational attainment.
The National Women's Law Center estimates that highly educated Latinas lose out on nearly $2.5 million in earnings over their lifetimes.
Overall, Latinas earn 57 cents per dollar earned by a white man.
What they're saying: Taking time off to be a caregiver, a lack of pay transparency in job postings and "old fashioned racism and sexism" contribute to the gap between white men with bachelor's and professional degrees and their Latina counterparts, says Diana Ramirez, senior manager of policy and coalitions on workplace justice for the NWLC.
Ramirez says more states need to adopt laws that require employers to post salary ranges.
"Don't ask me how much money I'm making, and tell me how much you're willing to pay for this job because that eliminates some of the racism and sexism behind these employment practices," Ramirez says.
She adds that even when educated Latinas earn high salaries, they are likely to have parents who need financial assistance.
To make sure high-earning Latinas do well financially, "we have make sure the lower-paid Latinas are doing OK, that they can advance," Ramirez says.
Zoom in: Two Latino members of Congress on Friday introduced a resolution recognizing the heritage, culture and contributions of Latinas in the United States and drawing attention to pay disparities.
U.S. Rep. Andrea Salinas (D-Ore.), a co-sponsor, tells Axios the resolution uses Hispanic Heritage Month to draw attention to the economic inequities facing Latinas.
"I think we have disproportionate barriers that sometimes prevent us from realizing our full potential... whether it's money or access, or just somebody telling you that you can't do it," she says.
Salinas adds that places like her district are at risk if inequalities aren't tackled since Latinas are increasingly becoming a larger share of the overall population.
U.S. Rep. Lou Correa (D-Calif.), the other co-sponsor, tells Axios the federal government can do more like make small business loans more available to Latina small business owners.
He says Congress should also look into making student loan debt as part of bankruptcy proceedings since it puts Latinas at a disadvantage even when they are facing financial hardship.
"So education, absolutely, is the key to the middle class. We can't live without it. And that means making sure tuition stays low for everybody."
Zoom out: Latinas continue to face disproportionate representation in both the private and public sectors.
Today, Latinas represent 1 in 6 women and own 18% of all women-owned companies, Correa's office said.
Subscribe to Axios Latino to get vital news about Latinos and Latin America, delivered to your inbox on Tuesdays and Thursdays.
Go deeper