Autoworkers' anxiety, distaste for politics could weigh on Biden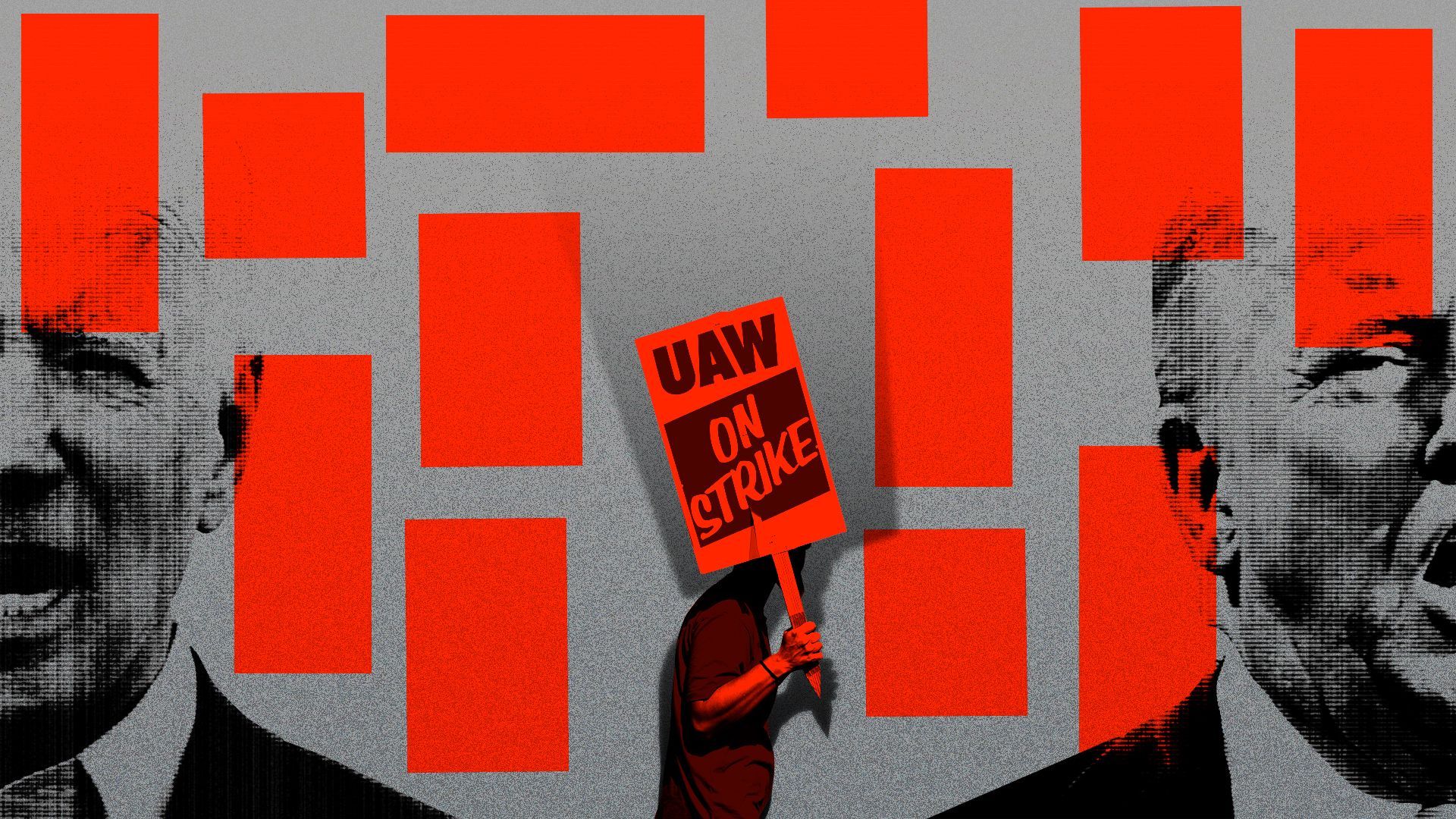 DEARBORN, Mich. — Detroit-area autoworkers tell Axios they're deeply worried about the industry's future — and some resent both President Biden and former President Trump for using the UAW strike as a campaign backdrop last week.
Why it matters: That dissatisfaction — along with anxiety about inflation and apathy about the 2024 elections — are particularly bad signs for Biden, who won Michigan in 2020 and desperately needs a repeat to win re-election.
State of play: Michigan is one of seven or so swing states widely expected to decide the election.
Zoom in: Axios' interviews with two dozen autoworkers and others who've depended on the auto industry weren't a scientific survey. But they provide anecdotal insight into the hurdles both parties face with Michigan's working-class voters.
Again and again, autoworkers and others pointed to the rising cost of living, even though wages have increased.
"I grew up in a trailer but my dad could afford to take days off when I was growing up," said Jay Fuller, 51, who delivers completed vehicles for the Big Three automakers and is a member of the Teamsters union, which supports the United Auto Workers strike.
"I couldn't take any time off for my daughters. A job that involved working with your hands used to be well-paying job," he said.
The big picture: Inflation and the economy — not politics — were top of mind for those interviewed. In suburban areas that typically have voted Democratic, many seemed more politically adrift than pro-Biden or pro-Trump.
Some were particularly focused on the expanding autoworkers' strike and appreciated Biden's support of the UAW — but wished he hadn't injected politics into the equation by briefly joining a picket line in Wayne County, Mich., even as a symbolic gesture.
Biden and Trump "shouldn't be coming in here! It's between the unions and the automakers!" Jimmi Myers, 75, a retired autoworker from Warren, Mich., said outside a burger joint in Dearborn.
"I think it's political fodder," Fuller said of Biden and Trump's appearances in the area last week. "Not like any of them will actually help working-class folks."
"I know politicians have to make their presence known anywhere they can to capture hearts and minds," said Brooke Patterson, who works for one of the Big Three automakers.
"But we know they're just here for the politics."
Between the lines: In Marshall, Mich. — where Ford has paused construction on a $3.5 billion electric vehicle battery plant as automaker-labor tensions escalate — many workers are torn between the promise of EV jobs and concerns about auto jobs that could disappear.
Biden's enthusiastic support of EVs has tied him to some of the anxiety those in the auto industry have about them.
What they're saying: One employee who builds exhaust systems for hybrid Jeeps and the F-150 pickup at the auto parts manufacturer Tenneco said that "as long as it's not full-blown all electric, [parts suppliers] can adapt."
"The electric vehicle transition would create a different industry but we'll build something else for the EVs," said the Tenneco worker, who like many of those interviewed did not want to be quoted by name. "Maybe you're not building exhaust systems but you're building semiconductors and wiring harnesses."
Another Tenneco employee had mixed feelings.
"The EV plant would be bad for us because it would hire workers away" from Tenneco, this employee said. "The people in town don't want it for [local] environmental reasons, but it would bring jobs here — and they'd be good-paying jobs."
Go deeper