Trump dodges threat: States resist 14th Amendment ballot ban push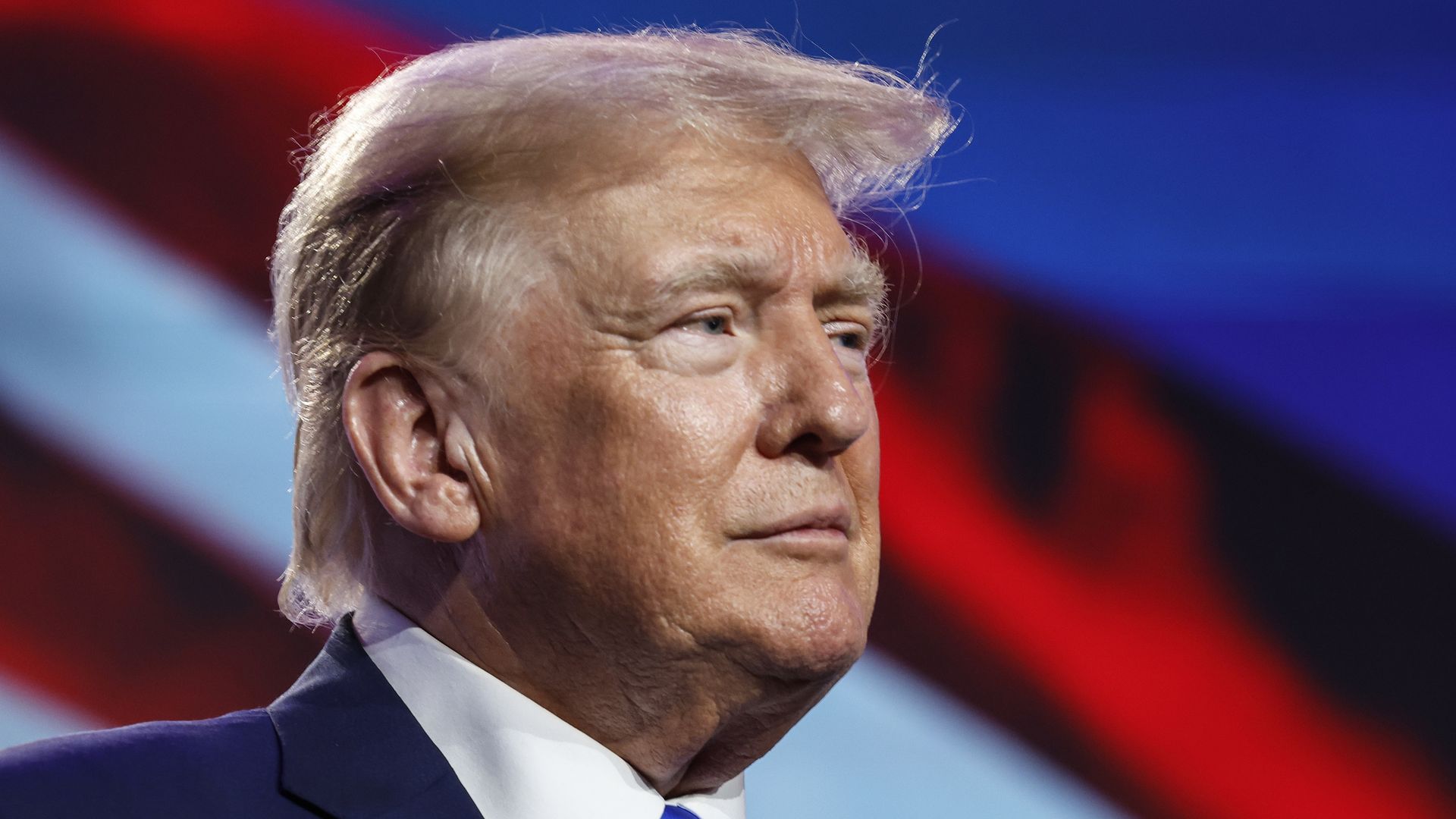 Activists' push to block Donald Trump from being on the presidential ballot in several states hasn't gained traction, as state elections officials have been reluctant to act without courts weighing in first.
Driving the news: "We're not the eligibility police. We are responsible for ensuring that basic facts are met to get someone on the ballot," Michigan Secretary of State Jocelyn Benson (D) told Axios.
Groups in at least eight states have urged elections officials to disqualify Trump based on Section 3 of the 14th Amendment, which bans anyone who's taken part in a rebellion against the government from holding a state or federal office.
As secretaries of state have resisted acting unilaterally to ban Trump, they are looking to the courts to rule on whether his actions leading to the Capitol riot on Jan. 6, 2021 are disqualifying.
This month, a group called Citizens for Responsibility and Ethics in Washington filed a lawsuit in Colorado seeking to ban Trump from that state's 2024 ballot. The group Free Speech For People brought a suit in Minnesota a few days later.
Last month, a federal judge in Florida dismissed a similar lawsuit filed by three individuals, saying they lacked legal standing.
Zoom in: Free Speech For People also has sent letters to elections officials in Florida, Ohio, Wisconsin, New Hampshire and New Mexico, asking them to use their authority to exclude Trump from state ballots.
But like Michigan's Benson, many secretaries of state who oversee elections have been reluctant to take on such a politically divisive issue, in part out of concern they'd appear partisan.
What they're saying: "If we become political actors instead of election administrators, then we risk being a part of, even innocently a part of, the deterioration of democracy in our country," Benson said.
Benson, author of "State Secretaries of State: Guardians of the Democratic Process," said it's not her office's duty to interpret the law "in a way that could impact one's ability to run for office."
New Hampshire Secretary of State David Scanlan (R) said during a news conference this month that a decision by an elections official without a court ruling first could create "chaos, confusion, anger and frustration."
Mark Graber, a University of Maryland law professor, said that "historically, courts often duck tough political questions."
He warned that courts could say "it's too soon, this decision ought to be made by Congress, there are lots of moves courts could make," Graber said.
Trump has pleaded not guilty to felony charges that he tried to overturn 2020 election results and obstruct the certification of the election results on Jan. 6.
What to watch: Graber predicted that if courts do take up at least some of the legal challenges, rulings in those cases could be expedited.
The judge overseeing the Colorado case said this month she plans to decide by Thanksgiving whether the 14th Amendment's language on those who lead an insurrection disqualifies Trump from the state's ballot.
"I would suspect by the time the parties have their big convention(s), it will be known whether Trump is disqualified or not," Graber said.
Go deeper: What to expect from the lawsuit seeking to block Trump from the Minnesota ballot
Go deeper