New Getty AI image maker aims to be lawsuit-safe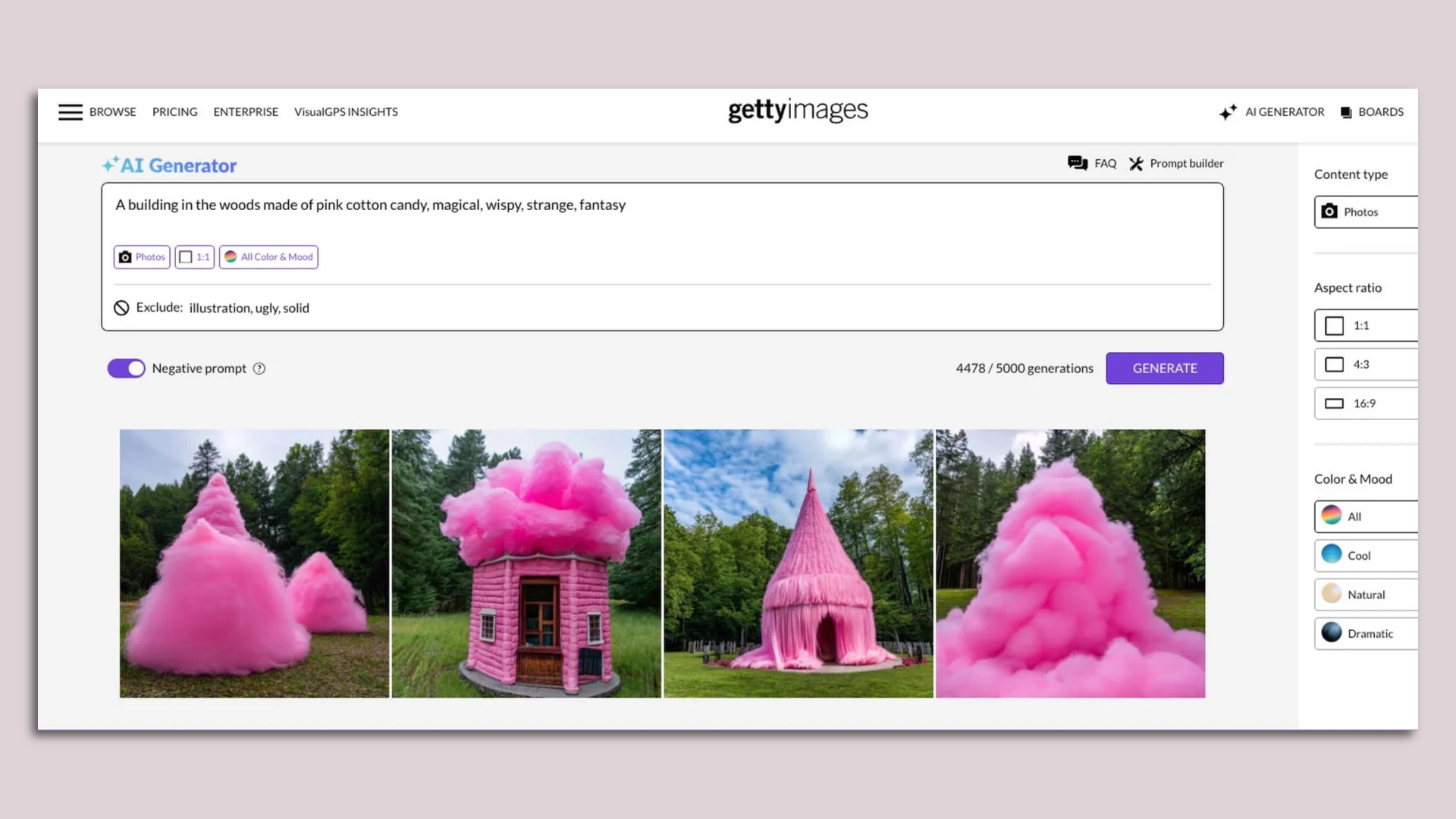 Getty Images debuted a generative AI tool Monday that, in contrast to rival text-to-image engines, was trained only on licensed content from Getty's own vast creative collection.
Why it matters: Getty has sued Stability AI for infringing on its copyrighted works, but says its own new image engine is safe for commercial use. Getty will also indemnify customers buying images, meaning that Getty is on the hook for any legal problems that arise from images created by the tool.
Details: The tool was trained only on Getty's creative images, not the editorial images and news photos that contain famous people, brands and other potentially protected content.
Getty partnered with Nvidia, which provided the processing power and technical expertise needed to train the model.
Getty says customers will pay for each image generated. Those whose images helped train the model will be compensated, Getty said, based on a formula that takes into account both the number of pieces a contributor provided and their popularity.
The big picture: Adobe has pursued a similar approach with Firefly and is also indemnifying customers.
The courts have yet to weigh in on whether the makers of AI software are responsible for compensating copyright-holders for material used to train their models.
OpenAI faces multiple lawsuits from authors, and visual artists have objected to what they view as the appropriation of copyrighted material in large image databases scraped from the internet that have helped train large models.
What they're saying: Getty CEO Craig Peters told Axios that the new software aims to enable more people to create images they couldn't previously make with their lens, brush or software. But, he said, it's not designed to replace professional artists.
"They bring a level of authenticity, they bring the level of creativity, they bring a lot of things in, and this model is not intended to rip that off," he said. "It's intended to sit side by side and enable creators to do something that they maybe couldn't do."
Between the lines: Getty's tool won't generate a Nike sneaker because it doesn't know what Nike is, but it will draw a sneaker, Peters said. It likewise doesn't know famous people, nor can it draw an image in the style of a particular artist.
Peters said the goal is to give customers something they can trust is on safe legal ground and that rewards those whose content is used to train the model.
As for the legal uncertainty surrounding other engines trained on copyrighted content, Peters said he is eager to have the courts weigh in.
"We want to get to clarity," he said. "We're on the right side of this argument and we think the facts are strong in our favor."
Go deeper