Designer Phillip Lim: The pandemic showed that "belonging" is not guaranteed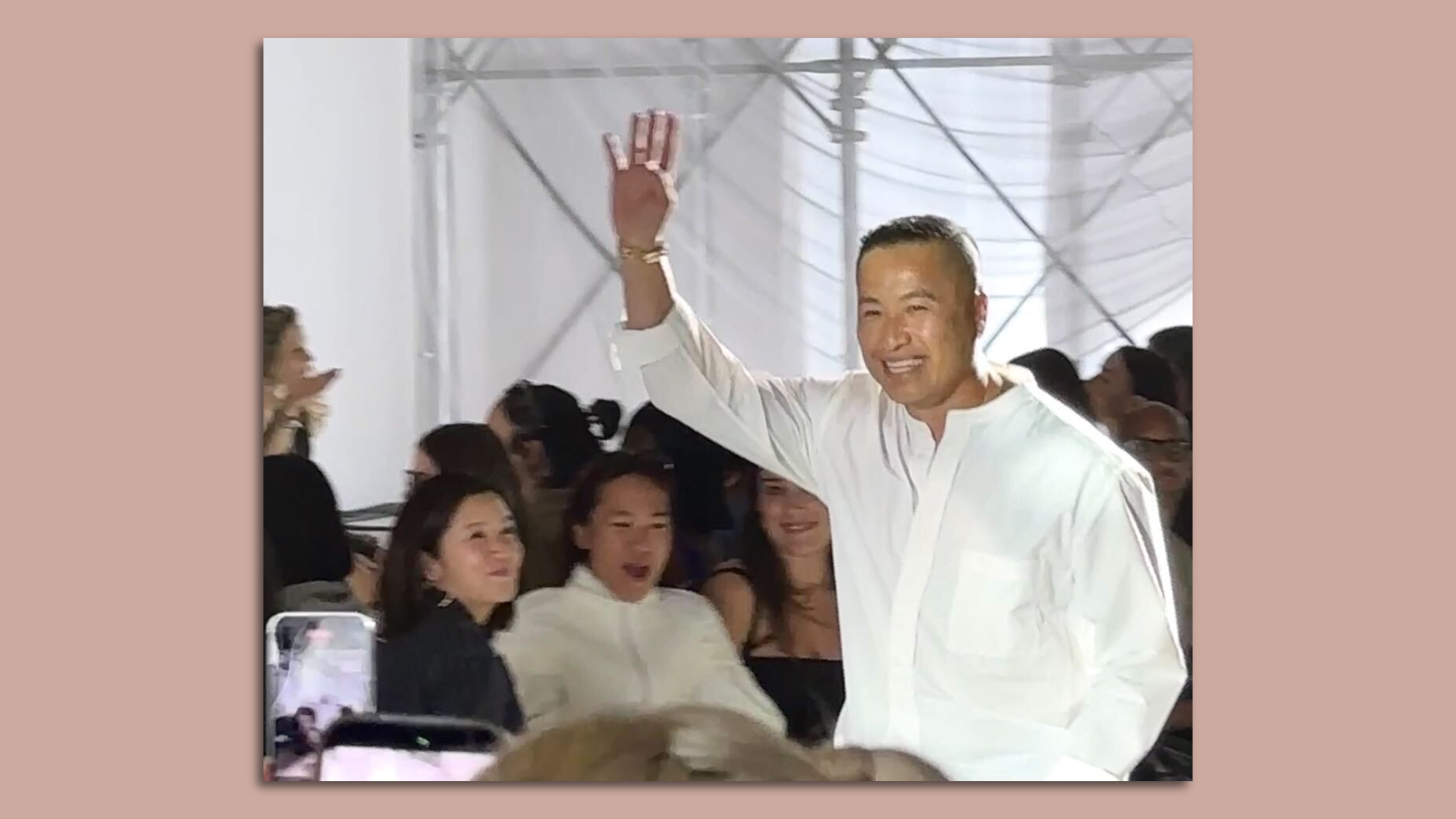 American fashion designer Phillip Lim wants his eponymous label 3.1 Phillip Lim to be an "Asian American brand for change" going forward, he tells Axios.
Driving the news: Lim and his team returned to New York Fashion Week earlier this month after a four-year hiatus.
In a wide-ranging virtual interview from his Manhattan apartment two days after the show, Lim fought back tears as he described the moment he took his bow, pictured above.
"I never want to tread to that place where it feels like we're using our community. But at the same time, these past four years have changed me forever. I've fought so hard for our community and to see them show up this way ... it's the reason we fight so hard," he said.
Context: Lim became a vocal activist for the Asian American community during the pandemic.
He told Axios that racist attacks over the past few years taught him that "belonging" is not guaranteed.
"It took the four years to realize how important it is to come back and rethink what we do. ... To understand [the label's] potential to change minds, to change standards, to really recenter narratives."
Zoom in: Lim says he's intent on using his nearly 20-year-old brand's platform to unite the next generation of Asian American designers.
The fashion industry is still "very closed" — a systemic problem he wants to correct. One step was inviting other designers, like Helmut Lang's new creative director Peter Do, to attend his show as a sign of solidarity.
He also prefers more subtle ways to honor his heritage in his designs and production.
For example, Lim took care to weave the message of community throughout his NYFW show — from the choice of location in Chinatown to opening with back-to-back Asian models and styling Chinese slippers into several looks.
Lim remembers that when he first set out, he was often asked derogatory questions like "Do you think Asians belong in fashion? Do you make Chinese clothes? Are your motifs dragons and phoenix?"
He describes his upcoming spring, summer 2024 line as a "New York uniform" and a "prolific part of that ... is a place called Chinatown."
The intrigue: When asked if former President Trump's racist remarks about Asian people impacted Lim's business, he said no.
"Fortunately for us, we're a niche brand. Our customers, our audience, our patrons, they're quite global and intelligent. They know better, thank goodness."
💭 Hope's thought bubble: I spotted many Asian American celebrities and notable business leaders among the hundreds of guests in attendance at Lim's show, including Awkwafina, Stephanie Hsu and Cote Steakhouse owner Simon Kim.
To me, the turnout signaled just how critical it is to have a figure like Lim to be able to support in full force.
What to watch: Lim and his team are working on a mental health initiative called Creating Space.
An event in Brooklyn in August focused on members of the Asian American community sharing stories about their trauma. A similar event is planned soon for Los Angeles.
Go deeper: Asians in America reach new level of duality
Go deeper