U.S. calls for end to hostilities in Nagorno-Karabakh after Azerbaijan launches attack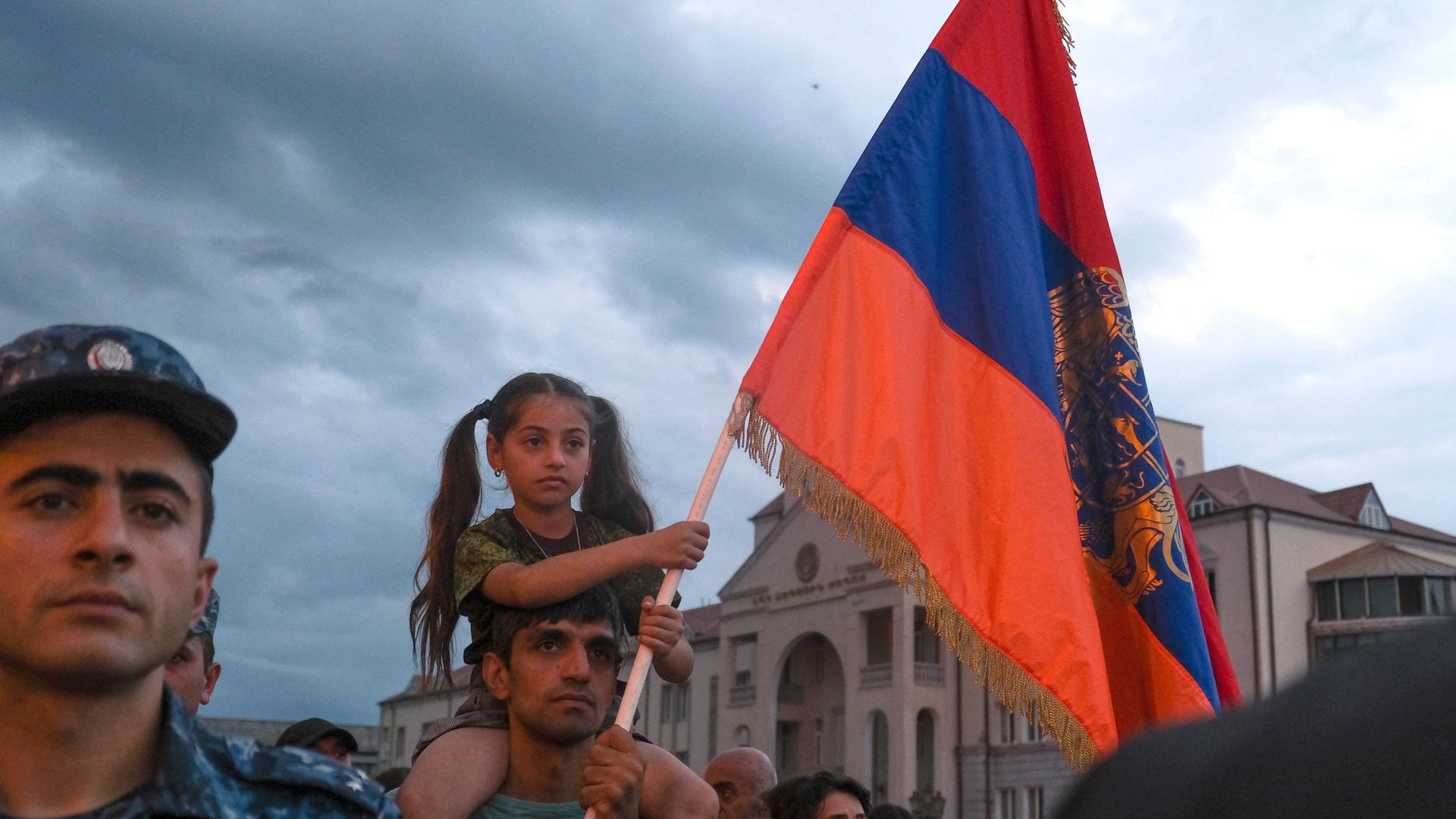 The U.S. condemned Azerbaijan's major military escalation in the disputed region of Nagorno-Karabakh on Tuesday, calling for an immediate end to hostilities.
The big picture: Azerbaijan's declaration of an "evacuation" of the local population Tuesday triggered fears of ethnic cleansing of the predominantly Armenian population in the region, and renewed speculation that the Turkey-backed country may launch another full-scale war.
The contested territory of Nagorno-Karabakh is now within Azerbaijan's internationally recognized borders, but its population is predominantly Armenian and it has its own government that is closely linked to Armenia.
Driving the news: Azerbaijan's Defense Ministry launched what it called an "anti-terrorist" operation Tuesday and demanded "the complete withdrawal of ethnic Armenian troops and the dissolution of the government in Stepanakert."
Azerbaijan insisted it was only attacking legitimate military targets, but local reports said civilians and civilian infrastructure were being attacked with military aviation and artillery.
The latest escalation comes amid a nine-month blockade imposed by Azerbaijan, that has left some 120,000 ethnic Armenians without freedom of movement and without access to food, medicine, drinking water and other essentials.
At least 27 people, including at least one child, and more than 200 others were injured in the fighting as of Tuesday night local time, according to the office of the Human Rights Defender of Nagorno-Karabakh.
What they're saying: Armenian Prime Minister Nikol Pashinyan accused Azerbaijan of launching the operation to subject the local population to ethnic cleansing and urged Russian peacekeepers and the UN Security Council to take action.
He added that Armenia will not intervene militarily, but insisted its goal is to ensure the rights and security of Nagorno-Karabakh's people.
U.S. Secretary of State Antony Blinken said in a statement Tuesday that the U.S. is "deeply concerned by Azerbaijan's military actions" and called for an immediate end to the offensive. 
"These actions are worsening an already dire humanitarian situation in Nagorno-Karabakh and undermine prospects for peace," he said in a statement. "As we have previously made clear to Azerbaijan, the use of force to resolve disputes is unacceptable and runs counter to efforts to create conditions for a just and dignified peace in the region."
Between the lines: The U.S. has been urging Azerbaijan to restore free transit in the region for months but has not taken definitive action.
Meanwhile, Rep. Brad Sherman (D-CA) said in an online statement that the attack, paired with the ongoing blockade, makes clear that "Azerbaijan cannot receive U.S. military aid until it ends the crisis it has created" in Nagorno-Karabakh.
The Senate Foreign Relations Committee called on the U.S. and the international community to act.
"Azerbaijan's brazen assault on Nagorno-Karabakh further proves Aliyev's malicious intention to wipe out the Armenian population there," the committee said in an online statement.
Background: Hostilities between Azerbaijan and Armenia, former Soviet republics, persist despite last year's Russia-brokered cease-fire that came after Azerbaijan launched an attack on Armenia, escalating a decades-long dispute over Nagorno-Karabakh.
The entrance to the Lachin Corridor – a lifeline to Armenia for the people of Nagorno-Karabakh – has been mostly closed since December.
Russian peacekeepers stationed at the entrance to the corridor were supposed to ensure free movement, but months later, the area remains cut off from the rest of the world. Azerbaijan has established a military checkpoint, blocking all traffic, AP reports.
State of play: Luis Moreno Ocampo, former chief prosecutor of the International Criminal Court, concluded in a report last month that the situation in Nagorno-Karabakh is an ongoing genocide.
"Starvation is the invisible Genocide weapon," Ocampo wrote, adding that without "immediate dramatic change, this group of Armenians will be destroyed in a few weeks."
Go deeper: Pressure mounts on U.S., others to stop Azerbaijan's blockade as expert warns of genocide
Go deeper