House GOP pulls another vote as spending fight rages on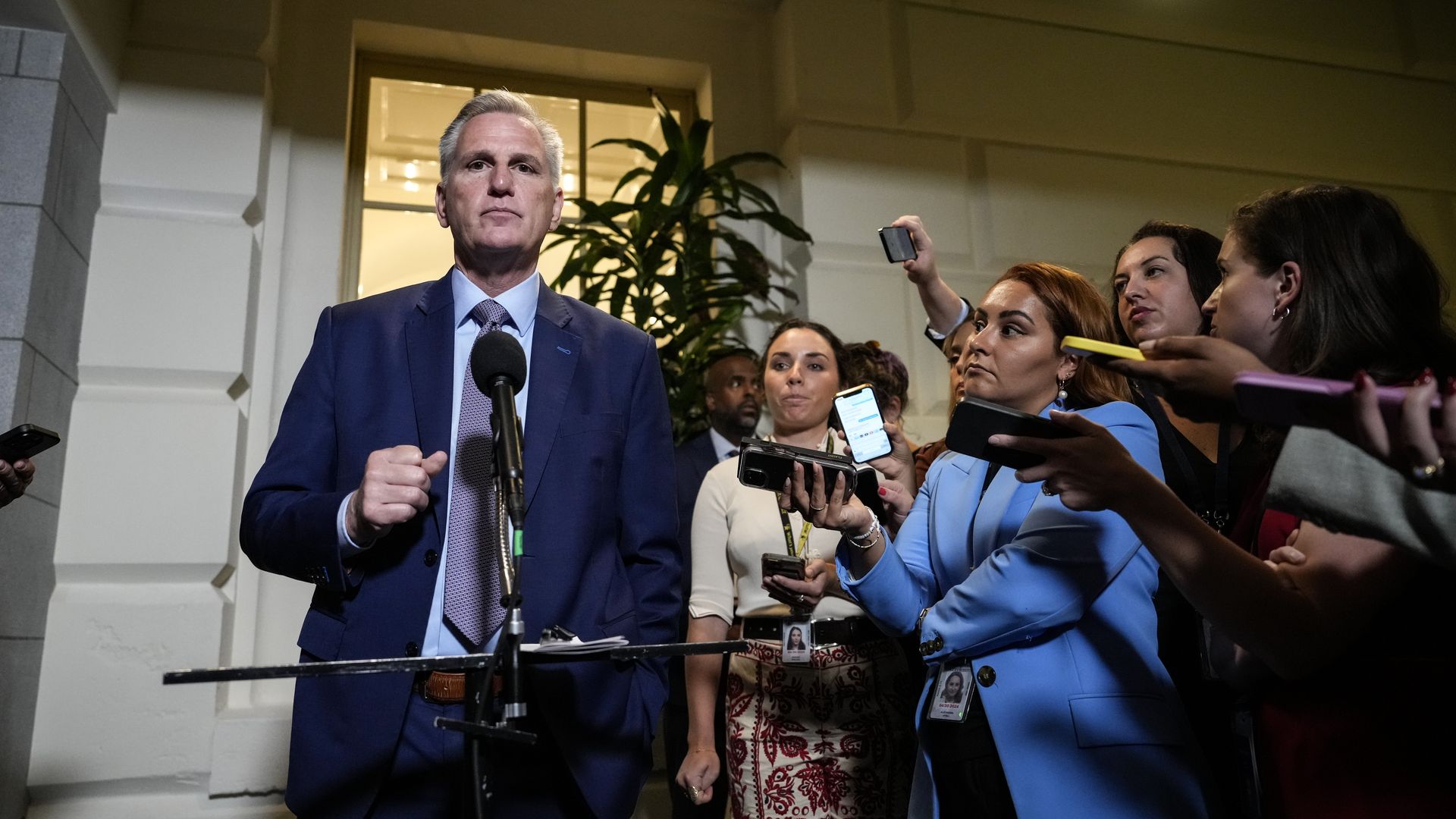 House Republicans are once again scrambling to salvage a desperate effort to temporarily stave off a government shutdown.
Why it matters: With federal funding set to run out on Sept. 30, the House pulled a planned Tuesday vote to advance a spending bill that would keep the government funded for another 30 days — and give lawmakers more time to negotiate.
It's the third instance in as many months that Republicans have had to pull a spending bill due to internal opposition, mostly from the right flank.
Details: More than a dozen Republicans, mostly hardliners, planned to vote against the stopgap bill, which would cut most non-defense discretionary spending by 8% and institute some Trump-era border policies.
Some GOP lawmakers are increasingly pushing for a vote on anything. "Everybody needs to show their hand," Rep. Thomas Massie (R-Ky.) said.
The House is still scheduled to vote on Tuesday to advance a bill to fund the Department of Defense, which was similarly pulled last week.
What we're hearing: Several House Republicans, emerging from a closed-door GOP conference meeting on Tuesday morning, predicted that the short-term funding bill will be tweaked to pacify conservative holdouts.
Rep. Scott Perry (R-Pa.), one of the conservatives who negotiated the bill, said it was just a "proposal," and "of course" it could be subject to change.
"It's clear that this ... deal is going to have to change," said a source who was in the meeting.
Zoom in: Some groups of lawmakers are looking at alternative proposals to break the logjam.
Several right-wing Freedom Caucus members, including Perry, floated a bill that cuts spending to 2022 levels – which is similar to the proposal being drafted by the conservative Republican Study Committee.
The bipartisan Problem Solvers Caucus, meanwhile, is discussing a short-term spending bill that could bypass conservatives by garnering Democratic votes, according to two members of the group.
One Problem Solvers member told Axios that bill would be rolled out when the "failure of the [proposed Republican bill] is imminent."
One significant problem for House Speaker Kevin McCarthy (R-Calif.) is an apparent belief among some on the right that a shutdown is a preferable alternative to passing inadequate spending bills.
"I don't know what 30 days is going to give us," said Rep. Ralph Norman (R-S.C.), a Freedom Caucus member, arguing that the right needs to push hard for more drastic spending cuts.
"Will it take a couple weeks of shutdown? Probably so. That's a fight we need to be willing to have right now," he said. "The odds of not having a shutdown are slim-to-none."
The other side: Establishment Republicans are growing increasingly frustrated towards the intransigence of their right-wing colleagues.
Rep. Dan Meuser (R-Pa.) stood up during the GOP conference meeting and asked conservatives to clarify their objections to the stopgap bill. "The problems, I think, are more figments of their delusion," he told reporters.
"Some people would vote against the Bible because there is not enough Jesus in it," said Rep. Don Bacon (R-Neb.).
The bottom line: "It's going to be dicey. It's going to be interesting," said Rep. Patrick McHenry (R-N.C.), a top McCarthy ally. "We'll figure it out."
Go deeper