Flavored popcorn is ba-a-ack!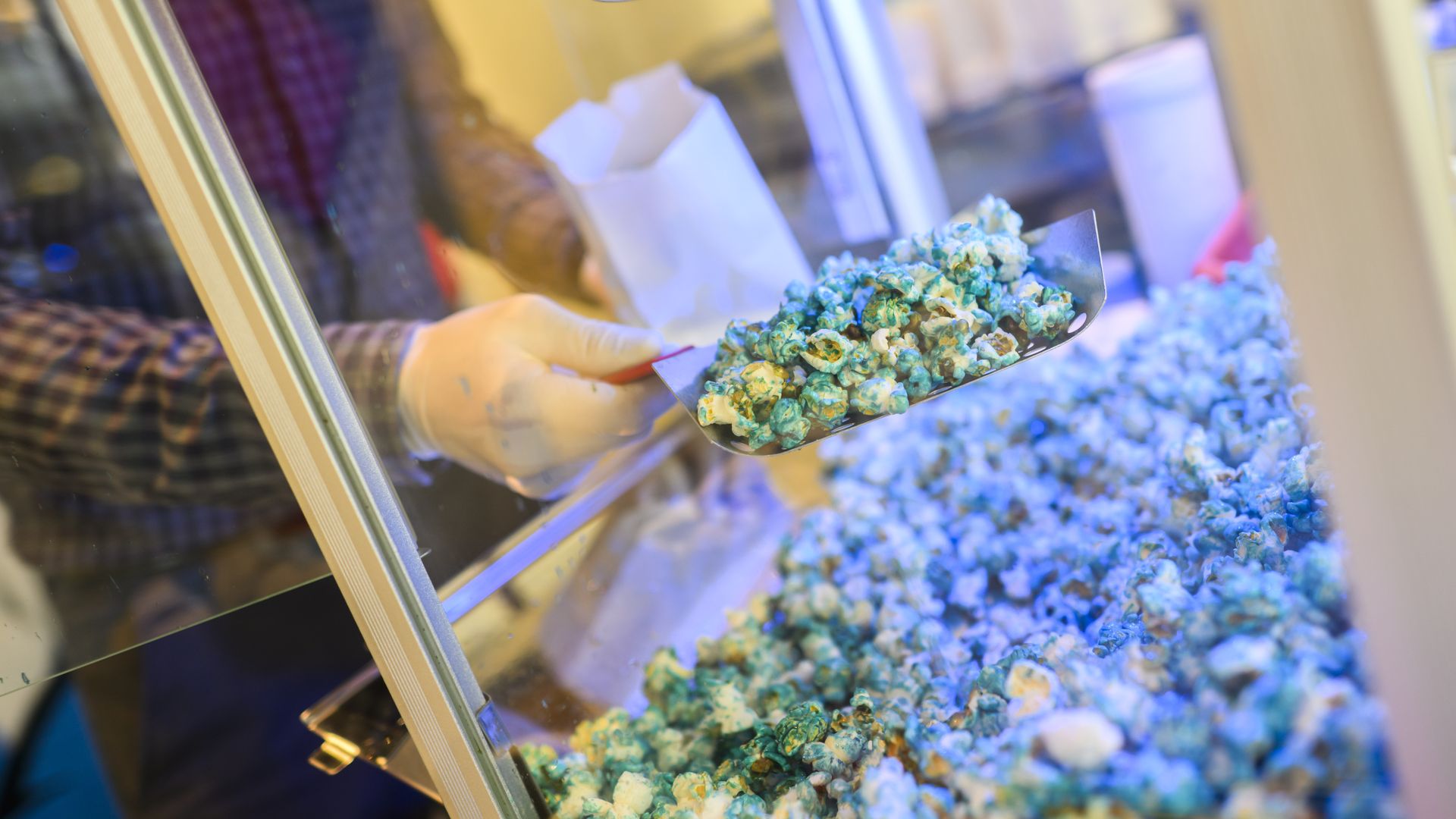 Flavored popcorn, which first burst onto the scene in the early 1980s following the invention of microwave popcorn, is suddenly popping up everywhere again.
Why it matters: Snacks are big business, and Americans are snacking more — so companies that tap into the nation's gustatory enthusiasms can earn a pile.
Driving the news: Mom-and-pop stores and big chains — like Doc Popcorn, Jake's Gourmet Popcorn, Tastebuds Popcorn and many others — are opening rapidly around the country, at the same time that packaged goods companies are introducing new toppings and popcorn accessories.
Orville Redenbacher's just introduced a line of popcorn seasonings in flavors like Cinnabon Cinnamon Roll and Buffalo Wild Wings.
Lots of shops are touting their pumpkin spice popcorn for the fall.
The range of popcorn flavors keeps growing weirder and more exotic — sure, nacho cheese makes sense, but what about French vanilla, hot cinnamon and Irish Cream?
Nav's Popcorn of Syracuse, New York, offers popcorn in pickle and sour patch.
Prospector Popcorn of Ridgefield, Connecticut, has flavors like strawberry ice cream, Belgian chocolate toffee and maple walnut ice cream.
Doc Popcorn, the nation's largest chain (with over 100 locations), sells everything from jalapeño to cookies-and-cream.
Reese's popcorn, anyone?
Back story: Microwave popcorn came out in 1981, and promptly dealt a karate chop to the boring palette of available options (plain, butter, caramel).
"Now... there is pizza-flavored popcorn, watermelon-flavored popcorn and taco-flavored popcorn, and the stores that sell them are called gourmet shops in the industry," the New York Times reported in 1983.
But those gourmet shops soon faded away — perhaps because there's only so much bacon-and-egg or peanut butter popcorn that anyone really wants.
🍿 Of note: In Parade magazine's ranking of the 25 best and worst popcorn flavors, eggnog, cheeseburger and red velvet got the biggest "ewwwws," while movie theater butter, white cheddar and caramel won top "yums."
Go deeper