Biden on UAW strike: Automakers should share record profits with workers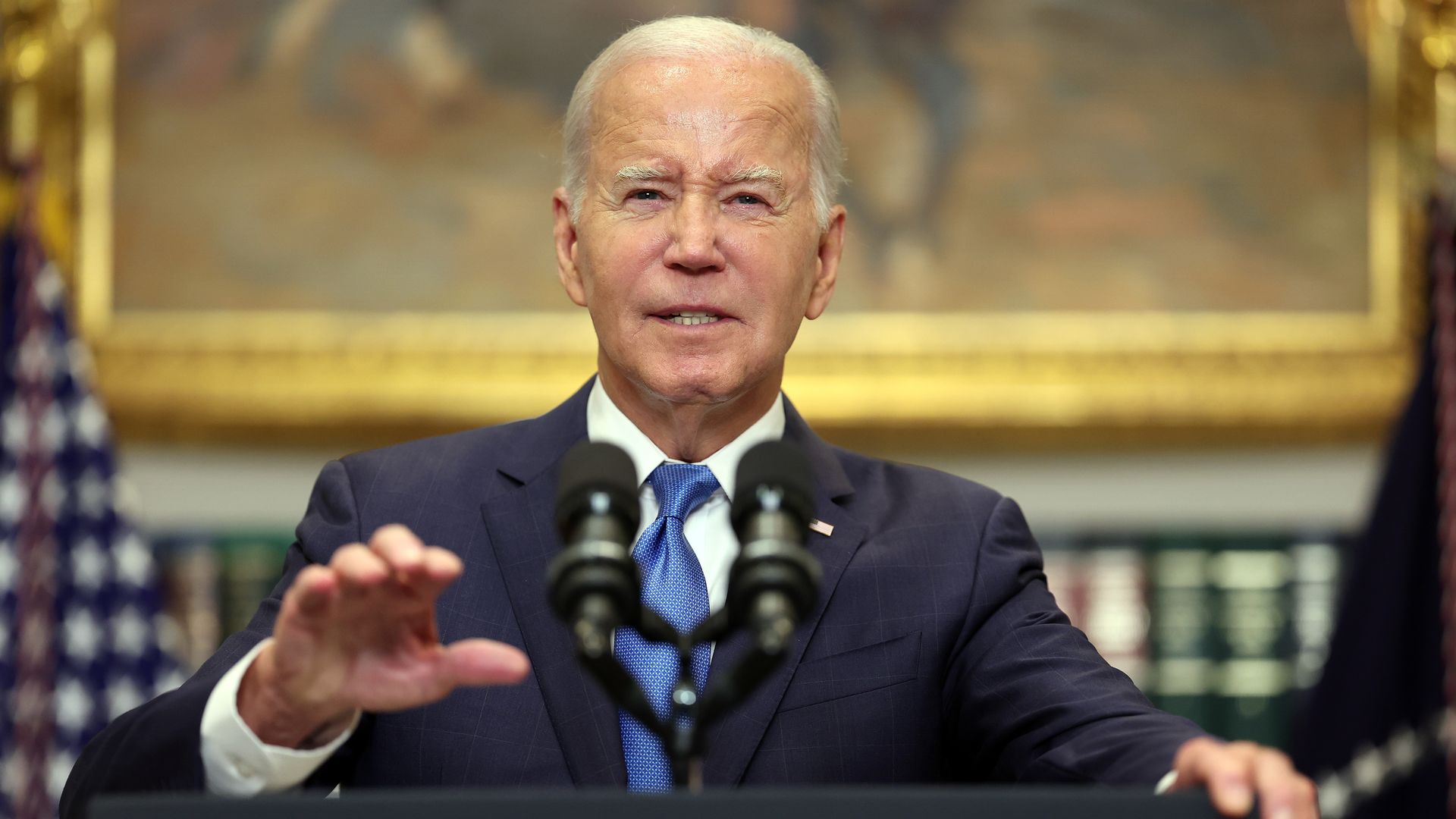 President Biden on Friday urged U.S. automakers to share more of their "record profits" with striking union workers to bring a quick end to a historic labor walkout that threatens his political and economic agendas.
Why it matters: Biden, who describes himself as the "most pro-union president ever," seemed to put his thumb on the scale in favor of the United Auto Workers, saying, "Auto companies have seen record profits…they have not been shared fairly with workers."
Biden said he is dispatching Acting Labor Secretary Julie Su and advisor Gene Sperling to Detroit to help reach a settlement to the walkout that began at midnight Friday.
What they're saying: "I understand the workers' frustration," the president said. "Over generations auto workers have sacrificed so much to keep the industry alive and strong, especially during the economic crisis and the pandemic."
"The companies have made some significant offers. But I believe they should go further to ensure that record corporate profits mean record contracts for the UAW."
Carmakers have said they can't afford rich contracts that make it difficult for them to compete with non-union automakers like Tesla and Hyundai.
The other side: "The companies and the media want to use fear tactics about how we're going to wreck the economy," UAW president Shawn Fain said in a statement after the president's remarks.
"We're not going to wreck the economy. The truth is we are going to wreck the billionaire economy. Working people are not afraid. You know who's afraid? The corporate media is afraid. The White House is afraid. The companies are afraid."
Driving the news: For the first time, the UAW is striking GM, Ford and Stellantis (Chrysler's parent) simultaneously.
Walkouts were ordered at three plants, one for each company, while employees at other auto factories nationwide are continuing to work under an expired contract.
The big picture: The strike is a political headache for Biden for multiple reasons.
He's pushing automakers to invest heavily in electric vehicles, but the UAW fears that will mean fewer union jobs making engines and transmissions.
That's one reason the UAW has withheld an endorsement for the 2024 presidential election.
Citing a recent U.S. Treasury report, Biden said "Strong unions are critical for our economy."
But he also added: "We need labor agreements for the future."
What's next: Sen. Bernie Sanders (I-Vt.) is schedule to appear Friday afternoon at a UAW rally in downtown Detroit.
Editor's note: This story was updated with additional comments from the president's remarks, as well as Fain's comments.
Go deeper