GOP spending turmoil comes to the Senate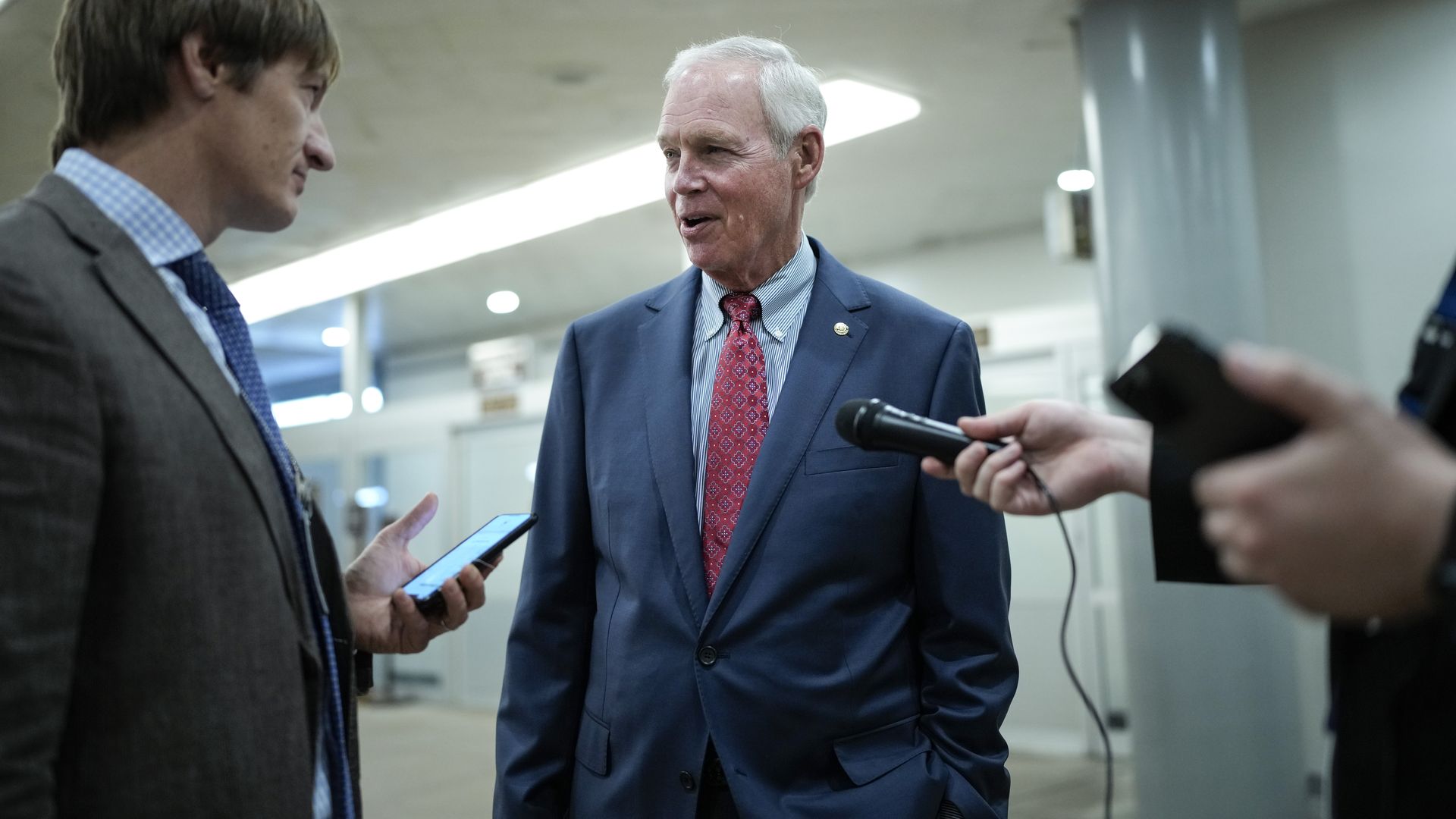 Senators are getting a taste of the appropriations drama plaguing the House after a group of Senate conservatives blocked a package of government spending bills on Thursday.
Why it matters: The Senate had so far been the bright spot in the appropriations process, as the House has struggled to pass bills due to a lack of cooperation from right-wing hardliners.
Yes, but: Some senators and aides argued not to read too much into the objections, which they said are surmountable obstacles.
Driving the news: Sen. Ron Johnson (R-Wis.) objected to a package of amendments to a trio of bills funding the Departments of Veterans Affairs, Agriculture and Housing and Urban Development, effectively halting the process.
"I'm dismayed that we've lost another week," said Sen. Susan Collins (R-Maine), the vice chair of the Senate Appropriations Committee, who worked closely with her Democratic counterpart to craft broadly bipartisan bills.
"It throws a wrench into the process," Collins said. "I don't understand why Sen. Johnson has chosen to object … He is putting us in a position where we will have no choice but to end up with an omnibus bill, which is a terrible outcome."
The big picture: Johnson's objection is just the tip of the iceberg — Sen. Mike Braun (R-Ind.) told Axios there are "seven or eight" senators with holds on the bill, each with a different demand:
Johnson wants the three bills considered separately.
Braun wants to eliminate earmarks.
Sens. Roger Marshall (R-Kan.) and Josh Hawley (R-Mo.) want votes on their amendments.
Sen. Rick Scott (R-Fla.) wants a standalone vote on disaster relief.
The intrigue: It's not just the Senate GOP's right flank that wants the bills broken up into individual pieces.
Sen. John Cornyn (R-Texas), a member of Senate Minority Leader Mitch McConnell's (R-Ky.) leadership team, told Axios: "This is what happens when you put multiple bills on the floor two weeks before the deadline."
Cornyn argued that the Senate should consider each bill separately, given that Congress is already expected to try to pass a stopgap spending bill to fund the government before the Sept. 30 deadline.
What we're hearing: A senior GOP aide told Axios the bill is in "limbo," but some senators argued the objections are just a routine part of the process.
"This is what legislation is," said Hawley. "Legislation is you put a bill on the floor, you debate it, you have amendments, you work through them."
"I'm sure we'll get there," he added.
Go deeper