Hurricane Lee to swipe New England while slamming Nova Scotia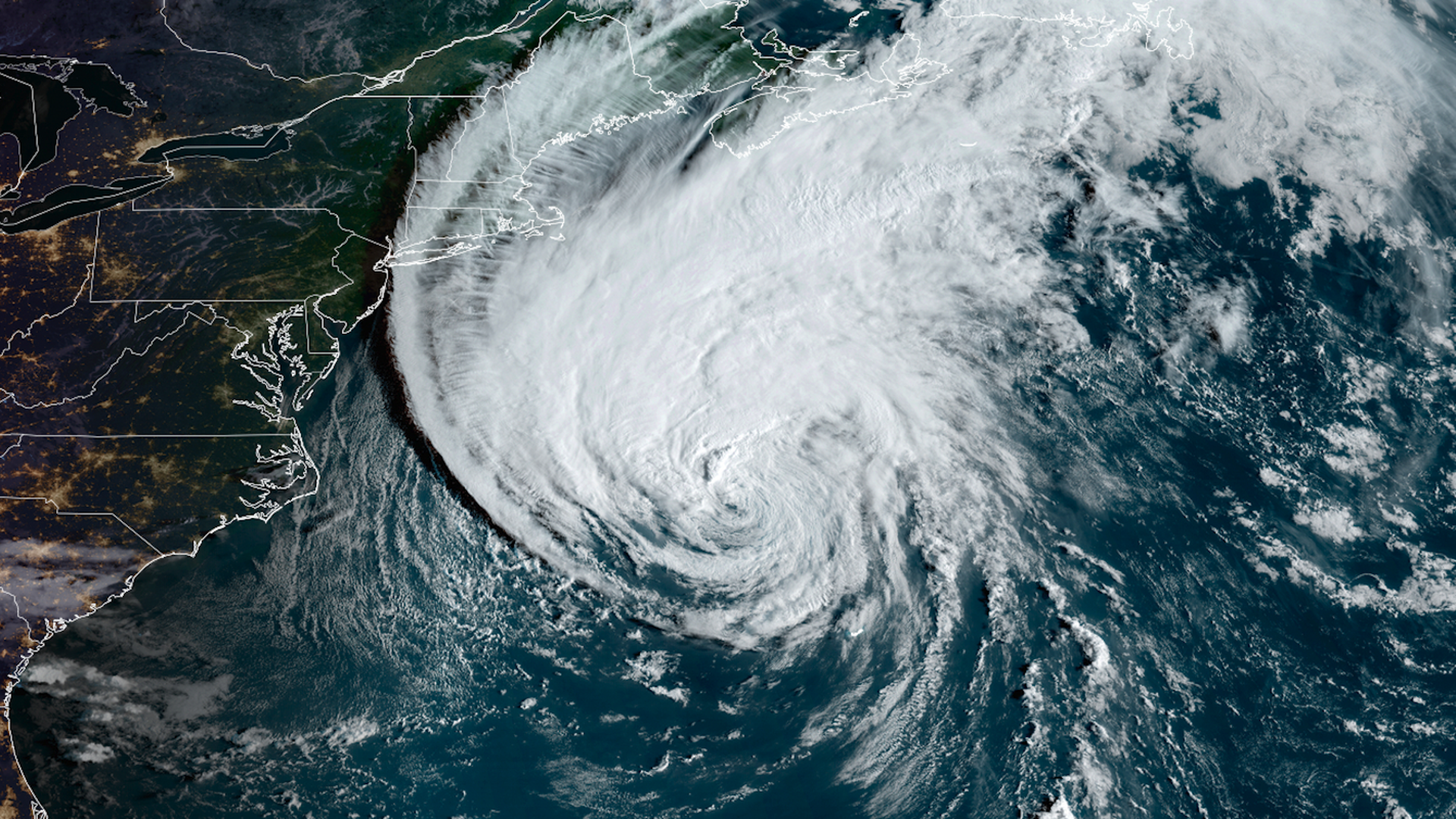 Hurricane Lee is set to pass dangerously close to eastern Massachusetts, New Hampshire and Maine on Friday while making a direct hit in the Canadian Maritimes through Saturday, the National Hurricane Center said.
Threat level: Hurricane Lee is slated to bring tropical storm force winds (39 mph or greater) to southeastern New England beginning Friday afternoon, with hurricane-force winds (74 mph or greater) possible across Downeast Maine and parts of Canada through Saturday.
Tropical storm warnings affected about 7.6 million people in Maine, Massachusetts and New Hampshire on Friday morning — including in Boston, Cape Cod and Martha's Vineyard.
Hurricane watches are up from northeastern Maine to the U.S.-Canada border, as well as New Brunswick from the U.S./Canada border to Point Lepreau, including Grand Manan Island, and Nova Scotia from Digby to Medway Harbour.
This is the first hurricane watch for Maine since Hurricane Kyle in 2008, according to meteorologist Michael Lowry.
In addition, a storm surge watch has been issued for Cape Cod Bay and Nantucket. A surge of 1 to 3 feet above normally dry land is possible if the storm hits during high tide.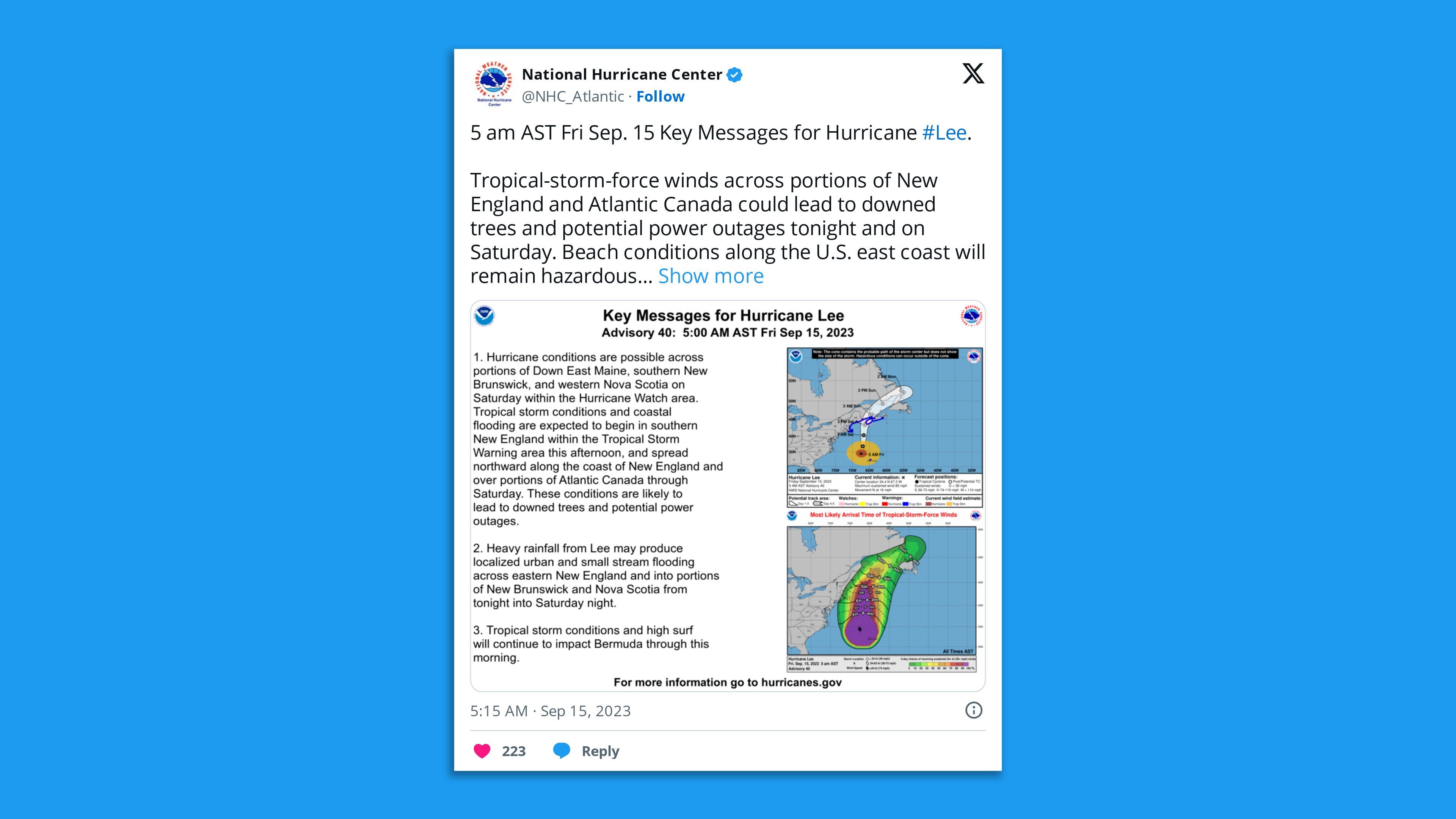 Meanwhile, President Biden approved an emergency declaration for Maine and New Hampshire on Thursday, authorizing FEMA to coordinate disaster relief efforts in response to the storm's impacts.
Of note: The storm may make landfall near the Bay of Fundy, which has the highest tidal range in the world at nearly 50 feet.
This would be "very dangerous in terms of surge" if it were to coincide with the incoming tide, meteorologist Jeff Berardelli wrote in an online post Wednesday.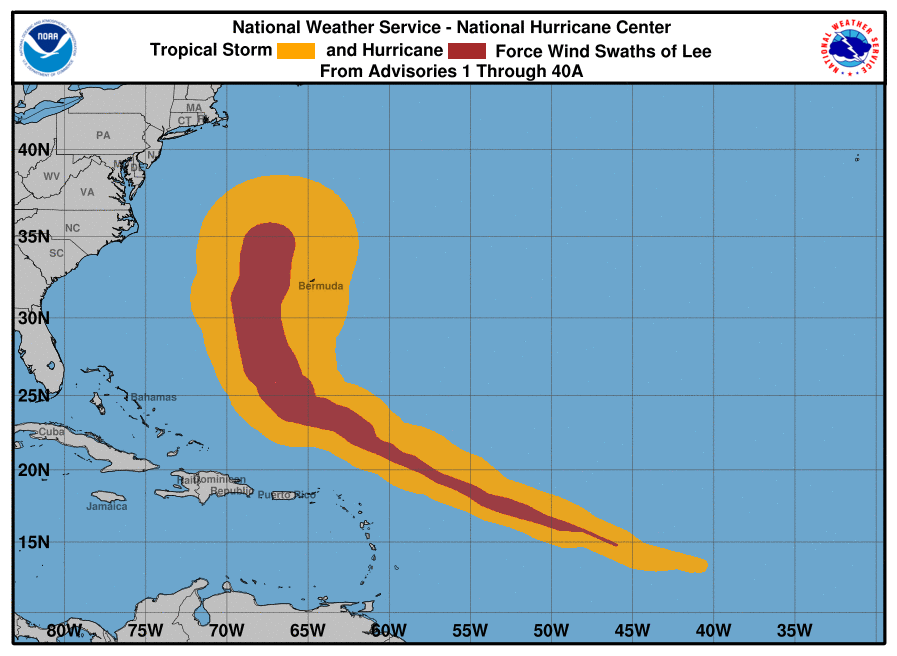 State of play: The center of Hurricane Lee is not expected to make landfall in the U.S., but the storm's hurricane-force winds extend out 105 miles from its center, and its tropical storm-force winds reach a radius of 320 miles.
"It is still expected to be a large and dangerous storm when it reaches eastern New England and Atlantic Canada," the NHC said Friday.
Swells generated by Lee affected portions of the U.S. East Coast, Atlantic Canada and other places including the Lesser Antilles, the British and U.S. Virgin Islands, Puerto Rico and Bermuda on Thursday night.
"These swells are likely to cause life-threatening surf and rip current conditions," per the National Hurricane Center.
Between the lines: The storm has been moving slightly further north-northeast than previously anticipated, with less of a westward jog that would have exposed eastern New England to stronger winds.
Still, gusts of 40 to 50 mph are possible in the Boston area on its forecast track. Slightly stronger winds are forecast for Cape Cod and the Islands, as well as Cape Ann, which includes Gloucester.
The rate at which the storm will weaken is subject to greater uncertainty. Whether it is called Hurricane Lee or "Post-tropical Cyclone Lee" makes little difference in how it will affect land.
The NWS forecast office in Boston highlighted the risk of coastal flooding and high waves Friday night and Saturday. There is potential for wave heights of 20 feet crashing into the shore and high seas just off the coast.
The intrigue: Eastern Maine and Atlantic Canada are likely to see the strongest winds, largest waves and heaviest rains,
"The combination of saturated ground, heavy rain, and gusty winds could cause increased damage to trees even inland, where gusts could still reach around 50 mph into the Central Highlands," per the NWS office in Caribou, Maine.
Context: Climate change-related sea level rise is already making such storms more damaging at the coast by allowing the waves to ride on top of a higher baseline water level.
Go deeper: Inside an airborne quest to predict Lee, and other hurricanes
Editor's note: This article has been updated with the latest forecast details.
Go deeper