Florida becomes first state to discourage COVID boosters for people under 65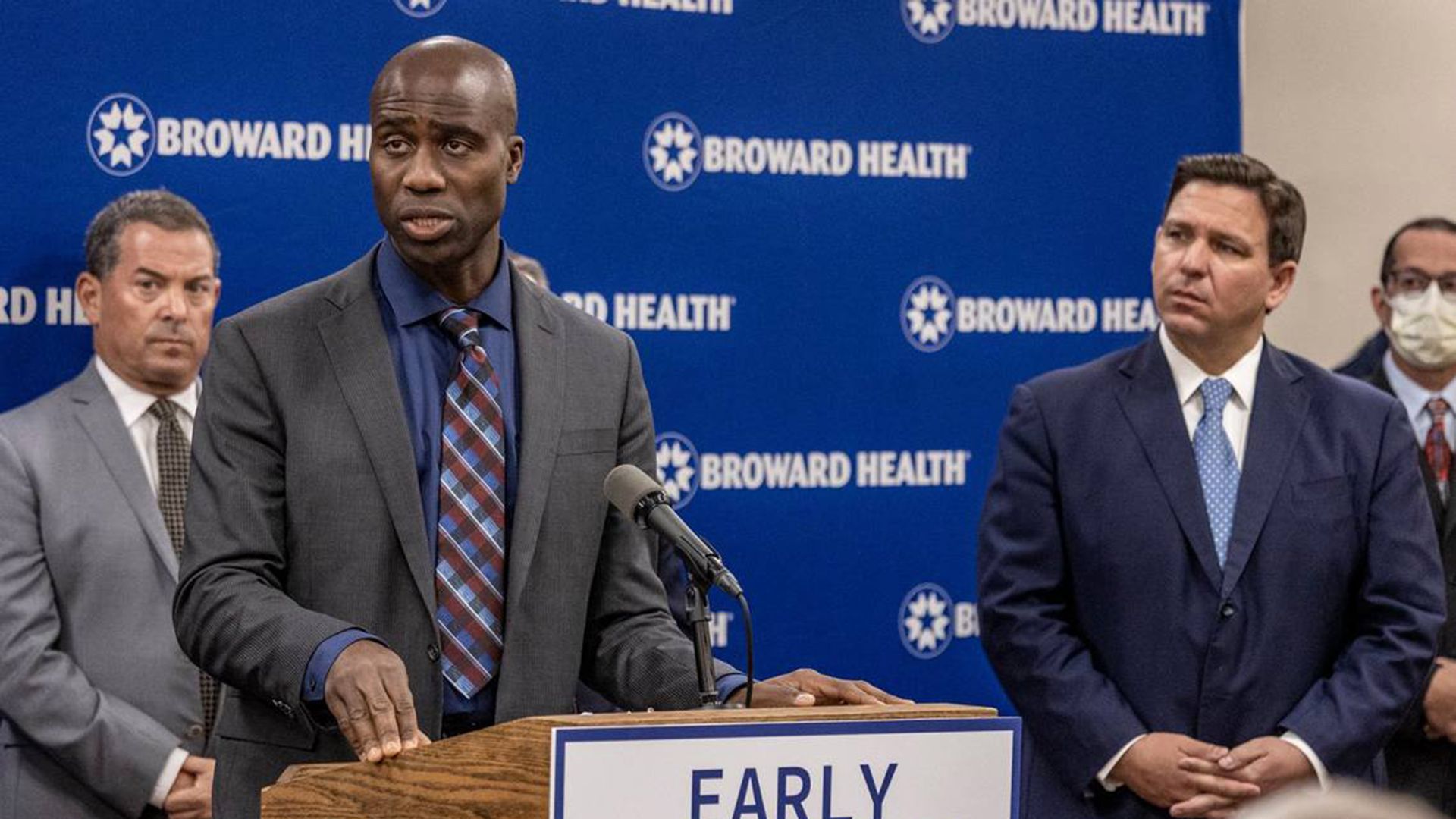 Florida's Surgeon General Joseph Ladapo cautioned against COVID boosters for people younger than 65 Wednesday.
Why it matters: The DeSantis administration said Florida is the first state in the country to recommend against boosters for under-65s. The recommendation contradicts CDC guidance that calls for "everyone 6 months and older" to receive the new boosters ahead of the winter virus season.
By the numbers: Florida reported 23,960 new COVID cases in the last week of August, marking a steady increase in the number of weekly cases reported in late June (7,740).
What they're saying: "Based on the high rate of global immunity and currently available data, the State Surgeon General recommends against the COVID-19 booster for individuals under 65," according to an online statement from Florida's Department of Health Wednesday.
Representatives for Florida's Department of Health did not immediately respond to Axios' request for comment Wednesday, but in its online statement it claimed "the federal government has failed to provide sufficient data to support the safety and efficacy of the COVID-19 vaccines" in both the earlier and newer versions.
Reality check: Vaccine makers conduct clinical trials on all COVID vaccines before submitting to the FDA for approval.
Both the FDA and the CDC convene expert panels to make vaccine recommendations.
The CDC publishes data on COVID vaccine effectiveness on its website, including on clinical trials.
Of note: Florida Gov. Ron DeSantis, a Republican presidential candidate, said Ladapo's recommendation builds on his administration's efforts "to push back on the FDA and CDC's rushed approval and mandates of COVID vaccines since 2020, even when the evidence doesn't line up," per a statement Wednesday.
Flashback: In October 2022, the DeSantis-appointed Ladapo advised men between the ages of 18 and 39 from "receiving mRNA COVID-19 vaccines."
Go deeper: Florida Republicans more likely to believe vaccine misinformation, less likely to get boosters
Go deeper