COVID boosters are still weeks away as cases surge in the U.S.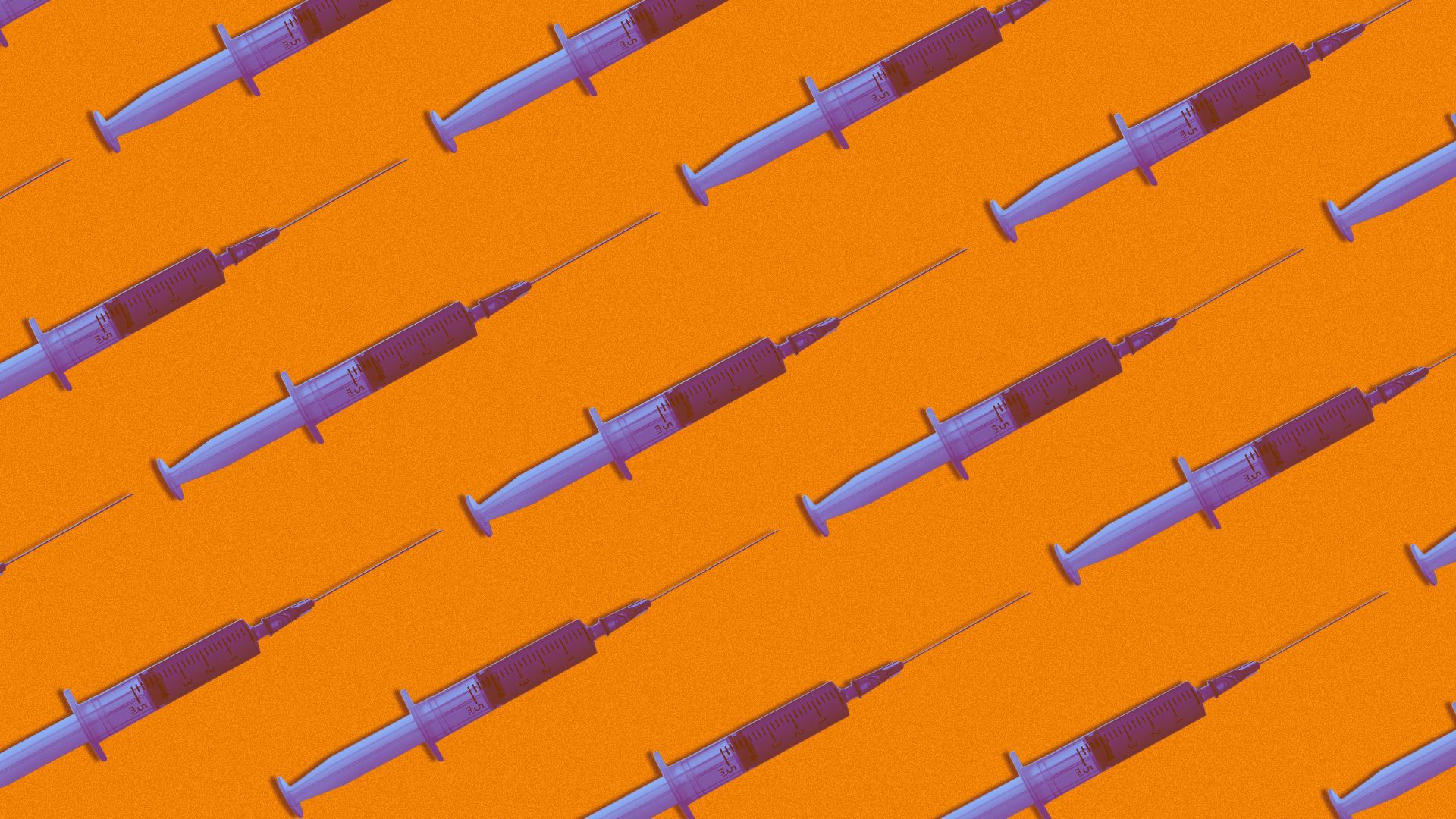 As COVID-19 cases and hospitalizations creep up during a summer wave of heightened virus activity, updated vaccines are still likely weeks away.
Why it matters: Americans have largely tuned out COVID, but the latest COVID uptick is a reminder that the virus continues to circulate and mutate — though the threat is far below pandemic-era levels.
Health officials face a challenge convincing a pandemic-fatigued public to get an updated COVID shot, as vaccine uptake has declined with each successive booster.
Reality check: COVID hospitalizations have increased by two-thirds nationwide since June to about 10,000, which is far less than the 40,000-plus recorded the same time last year. Deaths have continued to decline, down about 90% from the peak of last winter's wave.
Context: The schedule for updated COVID boosters has moved to an annual cycle, starting in the fall.
That coincides with annual flu shot season, as well as new shots protecting older Americans and infants against respiratory syncytial virus, or RSV. Health officials are hoping updated vaccines can help avoid a repeat of last year's "tripledemic," in which health systems were socked by a convergence of the respiratory illnesses.
The updated COVID shots from Pfizer, Moderna and Novavax are expected to become available in the third or fourth week of September, according to the most recent guidance from CDC director Mandy Cohen.
Regulators earlier this summer decided the shots should target the XBB.1.5 variant, which at the time was the most dominant strain in the country.
Since then, however, the EG.5 variant — an Omicron subvariant also known as Eris — has emerged as the dominant strain. The FL.1.5.1 variant, dubbed Fornax, has also gained steam.
Pfizer, Moderna and Novavax said early trial data show that their updated shots are effective against the dominant EG.5 variant.
Experts expect that the updated shots will be protective against Eris and Fornax.
"I think that these vaccines will provide very substantial protection against EG.5. Maybe just a little bit of loss, but it's nothing that I'm very concerned about," Mark Mulligan, director of the NYU Langone Vaccine Center, told CNBC.
At the same time, scientists are racing to understand the new BA.2.86 variant, which has been identified as a "variant under monitoring " given its large number of mutations. The variant been tracked in relatively few cases so far in places like the U.S., U.K. and Israel, and it's not clear yet if it poses more of a threat than other recent variants.
The big picture: For Americans watching rising COVID numbers with concern and wondering if they should get boosted now or hold out for updated shots, the general consensus is that many people could wait a few weeks longer.
The vaccine available right now, known as a bivalent vaccine, targets the original coronavirus strain and earlier Omicron subvariants that seem to be out of circulation. The updated vaccine will likely provide better protection from prominent variants now circulating, which are descendants of XBB.
Waiting until September or October can give people better protection in the winter, when another wave — and one that's possibly larger — could arrive, if past seasonal patterns hold up.
However, it might make sense for people at higher risk to get boosted sooner. People should talk to a health care provider if they are worried or unsure.
"There might be some very specific scenarios under which we might recommend the bivalent vaccine right now instead of waiting for the newer formulation but for the majority of people, better to just wait and be careful about exposures," Preeti Malani, an infectious disease specialist at the University of Michigan's medical school, told NPR.
Of note: There's been relatively low uptake for last year's updated COVID shot — about 17% of the population received it, per CDC data.
That's much less than the 45-55% who typically get the flu shot in a given year, which itself is far below health officials' 70% target.
Even among those 65 and older, the age group most at risk from the coronavirus, less than half (43%) received the latest COVID booster.
Related: The summer wave isn't persuading more Americans to mask up or test themselves for COVID, according to the latestAxios-Ipsos American Health Index.
Go deeper