Senators call for answers from DOD on Musk's use of Starlink in Ukraine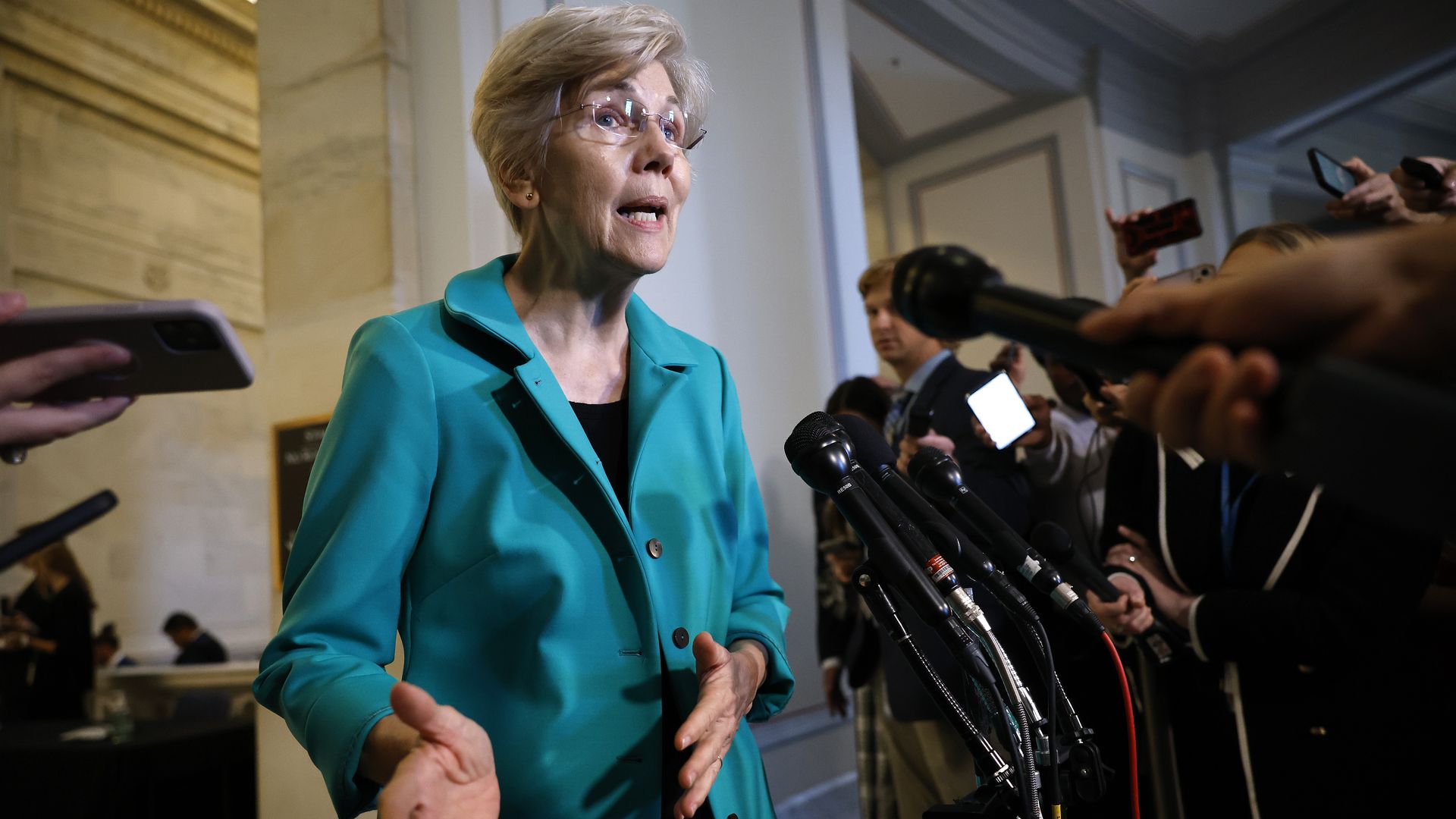 Three Senate Democrats are asking for answers from the Department of Defense over Elon Musk's role in reportedly thwarting a Ukrainian drone attack on Russian military ships, according to a letter obtained by Axios.
Why it matters: Musk was heavily criticized for denying a request last year to activate SpaceX's Starlink satellite communications network over part of the Crimean coast to allow Ukraine to strike Russian ships at the Sevastopol Naval Base on the Black Sea.
The denial of the request was first reported by CNN from excerpts of an upcoming biography on Musk by Walter Isaacson. The author has since said excerpts from the book mischaracterized what occurred.
Catch up quick: Musk has claimed he denied the request because, if it had been approved, "SpaceX would be explicitly complicit in a major act of war and conflict escalation."
Driving the news: In the letter to Defense Secretary Lloyd Austin sent Friday, Sens. Elizabeth Warren, Jeanne Shaheen and Tammy Duckworth asked for clarification of what transpired.
The letter recounted varying accounts of Musk's actions concerning the Starlink terminals and Ukraine's access to them. "The confusion over what actually happened during this Ukrainian attack — and Mr. Musk's specific role — demands answers," the senators stated.
SpaceX is a "prime contractor and a critical industry partner" for the Defense Department, the letter stated. If such contractors can independently act to revoke their services this would pose "grave national security risks," the senators wrote.
"The reports raise serious concerns about whether Mr. Musk has personally intervened to undermine a key U.S. partner at a critical juncture, and if so, how and why he was allowed to do so," the letter stated.
The senators, all three of whom are members of the Senate Armed Services Committee, also asked Austin whether there were instances in which Starlink or other commercially procured services for Ukraine were disabled or restricted "by the commercial provider due to nontechnical reasons."
They asked Austin to respond by Oct. 31.
Zoom out: The letter comes days after Warren said Congress should investigate the issue.
"Congress needs to investigate how it is that one billionaire is off making public policy, and foreign policy for the entire world," Warren said.
"We need to investigate how this happened, what's in those contracts that permits him to have this kind of power," she added, referring to contracts between SpaceX and the Defense Department.
"That kind of activity poses a danger to the United States, to Ukraine and to the rest of the world," Warren said.
Of note: Since the incident, Ukraine has carried out multiple attacks on Russian ships and other targets in the Black Sea.
Earlier this week, both Russian and Ukrainian officials said cruise missile attacks from Ukraine damaged at least two Russian naval targets, including a submarine, that were undergoing repairs at Sevastopol, Reuters reports.
Ukrainian strikes also damaged the Kerch Bridge, a vital supply route for Kremlin forces in Crimea, which Russia annexed in 2014.
The big picture: The Starlink network has provided internet services in Ukraine since the country's services were destroyed in the early days of Russia's invasion.
Ukraine's government and military, including troops on the front line, use Starlink for communications, though the company has curtailed the country's ability to use it to operate drones, which have been crucial in its fight against Russia.
Go deeper: Torture of Ukrainians part of Russian state's war policy, UN expert says
Editor's note: This story was updated with new information from the letter.
Go deeper