Northwest Arkansas' airport grows as others struggle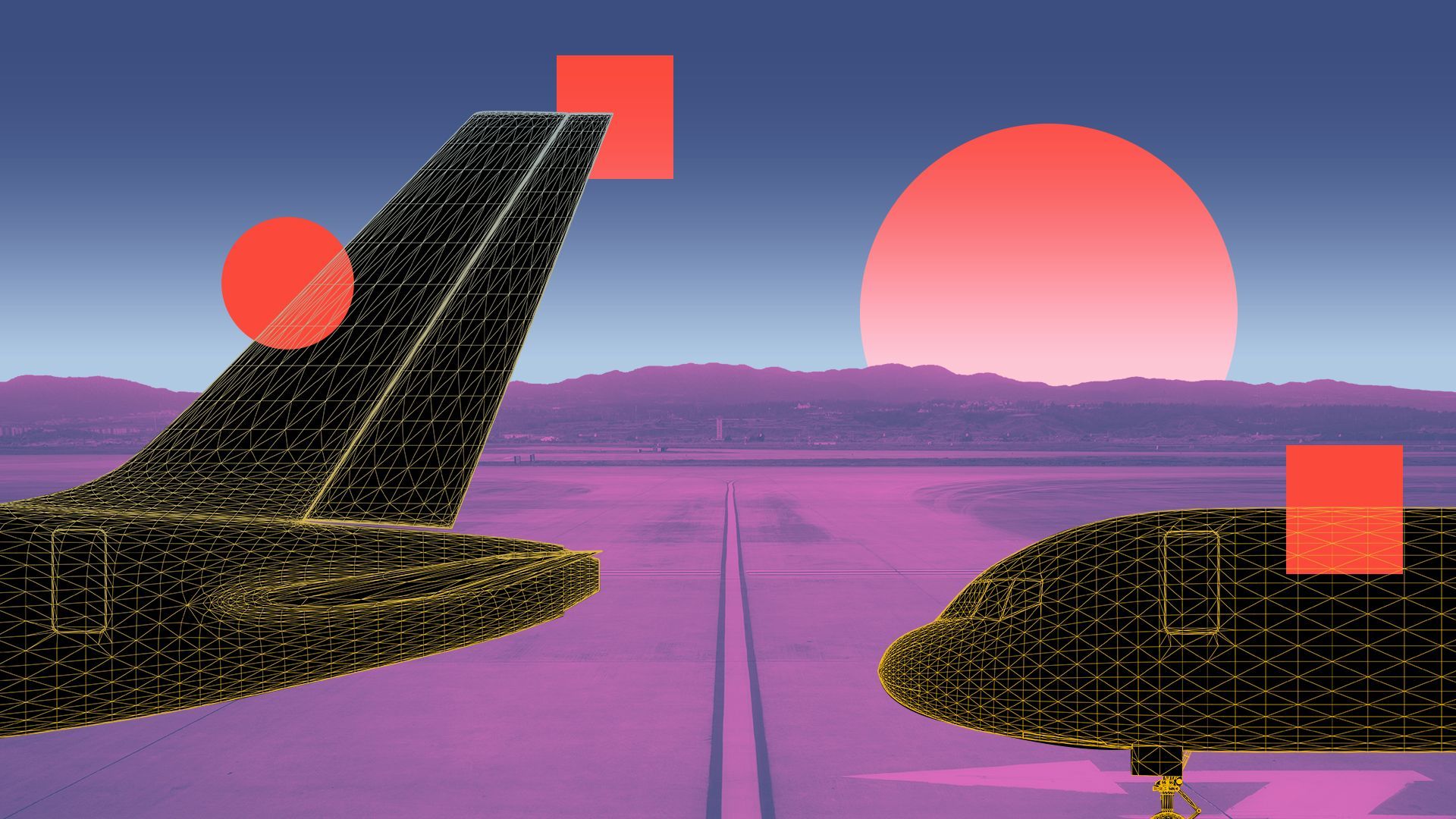 Population and economic growth are driving Northwest Arkansas National Airport's long-term expansion — helping more travelers get in and out of a region seeking deeper connections with the rest of the country, airport officials told Axios.
Driving the news: Over the past few years, the airport — also called XNA — has expanded service, revamped its branding and announced several construction projects.
Air travel out of XNA has more than bounced back from the pandemic lull, with 93,860 passengers boarded this past July compared to 91,222 in July 2019.
XNA has also acquired about 350 acres of surrounding land for future expansion — even though a third runway is probably another 25 years down the road, XNA CEO Aaron Burkes told Axios.
It's looking to purchase another 400-500 acres as soon as possible.
"We know if we don't acquire that property now, it'll be developed. And once it's developed ... it will probably not be feasible ever to go in and expand this airport," Burkes said.
The big picture: XNA's growth bucks a broader trend of regional airports struggling to expand and add service as major airlines cut their less-profitable routes in favor of more lucrative options.
Catch up quick: Just months from its 25th birthday, XNA is one of the country's youngest airports.
The Northwest Arkansas Council, which formed in 1990 with Walmart heir and philanthropist Alice Walton as its chair, spearheaded XNA's creation.
First called the Northwest Arkansas Regional Airport, it originally served as a gateway for travelers to access larger nearby airports to go on to their final destinations.
That's changed in a big way, with direct service to 22 destinations — over a third of which have been added in the past five years.
The fairly recent additions of budget airlines Frontier and Breeze have encouraged leisure travelers to buy tickets. Allegiant also services XNA.
How it works: While airports can approach airlines about adding service, the addition of routes ultimately depends on an airline's strategy, XNA chief operating officer Andrew Branch told Axios.
"They've got a limited number of planes and a limited number of pilots. They're always going to put those planes and pilots in routes that are going to be most profitable," Burkes said.
Yes, but: Sometimes adding nonstop flights pays off.
XNA didn't see many passengers taking connecting flights to Nashville or Tampa before adding direct flights to those cities. Now, they're popular destinations because locals see they can travel there cheaply and easily.
Businesses can also encourage airlines to add destinations by guaranteeing to buy a certain number of tickets.
What's next: XNA officials would like to see more connections to the Western U.S.
Burkes said San Francisco is the most-requested destination. United Airlines offered direct flights there before the pandemic, but they haven't resumed.
The bottom line: Increased service makes it easier for companies based in the region to do business and also recruit far-flung employees who want the option of easily flying home.
Continued expansion is part of XNA's broader mission to boost regional economic development, Burkes said.
Go deeper