G20 leaders' declaration avoids condemning Russia's invasion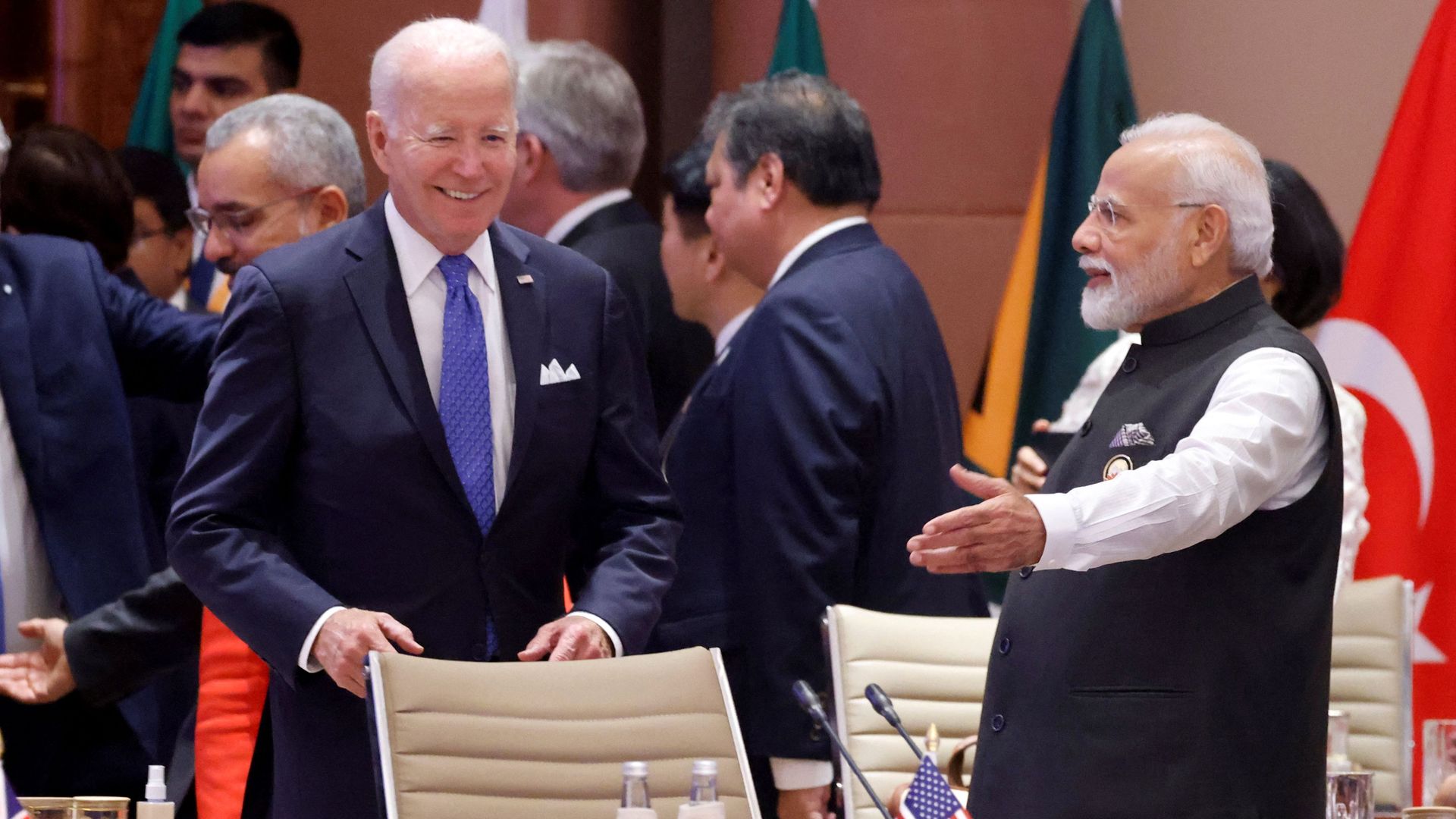 The G20 adopted a 37-page joint declaration on Saturday that avoids condemning Russia for its war in Ukraine, but does call on all states to refrain "from the threat or use of force" to take any country's territory and to avoid using nuclear weapons.
Why it matters: The document, which didn't use as strong of language as last year's G20 leaders' declaration, reflects the divisions among the world's top economic powers around Russia's invasion.
What it says: "We note with deep concern the immense human suffering and the adverse impact of wars and conflicts around the world," reads the declaration, released a day before the end of the summit.
"Concerning the war in Ukraine, while recalling the discussion in Bali, we reiterated our national positions and resolutions adopted at the UN Security Council and the UN General Assembly," the document says.
The declaration adds that all "states must refrain from the threat or use of force to seek territorial acquisition against the territorial integrity and sovereignty or political independence of any state. The use or threat of use of nuclear weapons is inadmissible."
The G20 leaders also "highlighted the human suffering and negative added impacts of the war in Ukraine with regard to global food and energy security, supply chains, macro-financial stability, inflation and growth."
However, the declaration notes that "there were different views and assessments of the situation."
The declaration calls on "all states to uphold the principles of international law including territorial integrity and sovereignty, international humanitarian law, and the multilateral system that safeguards peace and stability."
"The peaceful resolution of conflicts, and efforts to address crises as well as diplomacy and dialogue are critical."
Between the lines: Last year's joint communiqué said that "most members strongly condemned the war in Ukraine," but "there were other views" as well.
It also demanded Russia's "complete and unconditional withdrawal from the territory of Ukraine" — language noticeably absent from this year's declaration.
China and Russia — whose leaders skipped this year's G20 — had opposed similar language for the New Dehli declaration, per AP.
The big picture: The G20 kicked off Saturday by welcoming the African Union as a permanent member — underscoring Modi's efforts to ensure the summit focused on the needs of developing nations.
This year's joint declaration also laid out broad plans for addressing the impacts of climate change, rising food prices and debt vulnerabilities, particularly for developing nations.
Go deeper