Axios Finish Line: Lead like Brooks Brothers CEO Ken Ohashi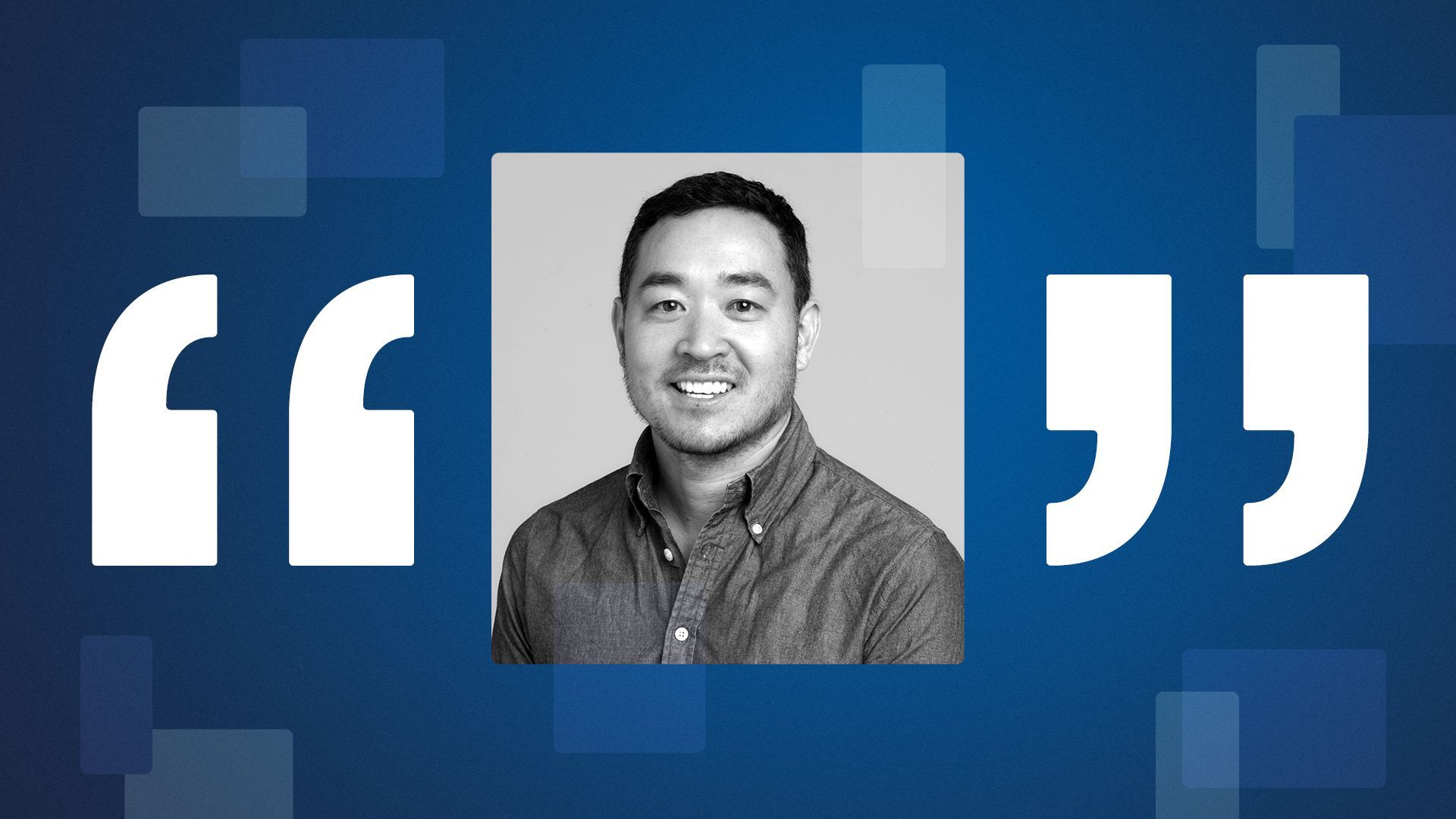 Ken Ohashi, the 48-year-old CEO of Brooks Brothers, is the son of Japanese immigrants who's modernizing a 205-year-old brand that long defined what a high-achieving — and very traditional — man should wear.
Why he matters: Ohashi took over just two months after the iconic company filed for bankruptcy during COVID shutdowns. After Ohashi's shake-ups in the stores and behind the scenes, Brooks Brothers' total global sales are expected to approach nearly $1 billion this year.
I talked with Ohashi last week at Brooks Brothers' offices and design studio near Herald Square in Manhattan:
1. What one sentence describes your leadership style?
"Work hard and be nice to people." A framed poster of the phrase is one of the first things you see when you walk into Ohashi's office.
2. What's the one book — business, philosophical or cultural — that most shaped or reflects your leadership?
"Reboot: Leadership and the Art of Growing Up," by Jerry Colonna, a book that focuses on introspection — a trait that Ohashi values in people within his executive team.
3. What's the one part of your leadership game that you're working hardest to improve?
"Slowing down and putting speed bumps in for myself."
Another is giving his 12 direct reports clear guidance and direction.
4. What's one thing you do outside of work that helps you perform optimally at work?
Ohashi calls himself an "exercise fanatic" who is a SoulCycle and hot-yoga regular. He also journals every night and practices meditation.
5. What is one unorthodox idea or dimension to your leadership style?
When someone on his executive team has a birthday, Ohashi asks his other executives to say one thing that they each appreciate about that person during their Monday morning meeting.
6. How did you turn the company around so quickly?
The strategy involved aggressive markdowns of 50%-70% of aged inventory, including a poor-performing women's collection. He also pivoted faster into sportswear, which now makes up 40% of sales — doubled from 20% when Ohashi took over.
About half of the company's corporate employees are new. He prioritized hiring in product development, branding, digital and creative.
7. What's the biggest generational difference you see, in terms of mentality or attitude, between younger CEOs and older CEOs?
"There's a mentality of not-taking-vacations and working 60, 70 hours a week. That's the old — and I think those days are gone," Ohashi said. "I yell at my executives when I don't think that they're taking their vacation."
8. How often do you catch yourself thinking about the different pieces of your identity in any day-to-day setting?
Ohashi credits his father and mother, who moved to the U.S. from Japan in 1968 and 1970 respectively, for showing him the impact of understanding and playing "by the American rules" — whether that was "not rolling over" to other people or becoming a self-made restaurateur, in the case of his father.
"I think in America, there's a sense of entitlement," he said. "Asian Americans [at times] don't know how to tap into that entitlement, culturally," such as advocating for themselves or speaking up, because many have been taught to "put your head down and do the work."
🩳 1 fun thing: What will remain forever unacceptable to wear to work?
Also from this series: My interview with Expedia CEO Peter Kern.
Go deeper