Watchdog: Trump's border wall damaged cultural and natural resources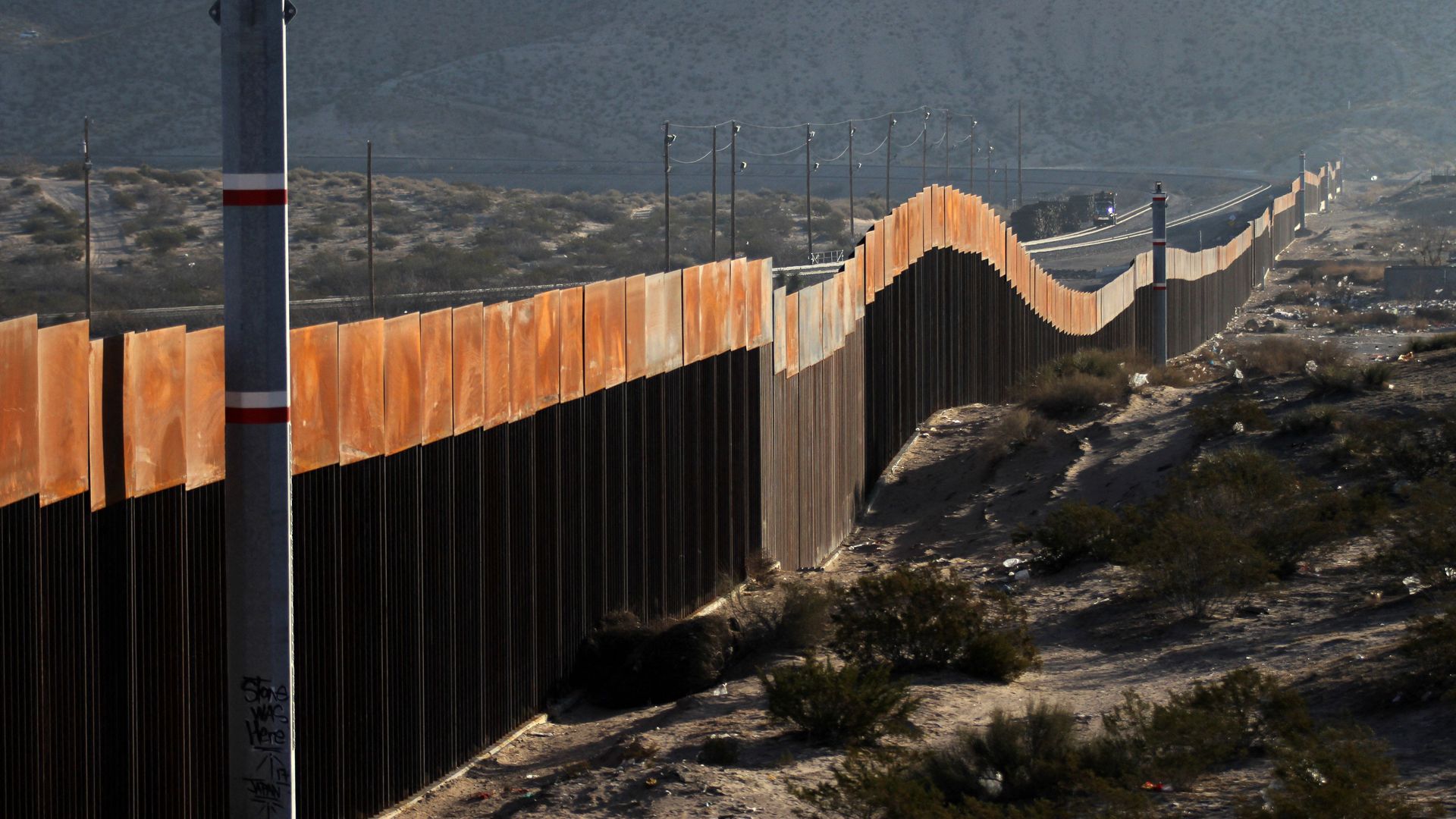 The border wall championed by former President Trump harmed cultural and natural resources, according to a new report released Thursday by the Government Accountability Office.
The big picture: The 450 miles of barriers built along the U.S.-Mexico border altered water sources, affected endangered species and damaged cultural resources, including blasting a tribal burial site, the federal watchdog found.
Federal environmental laws were waived in order to expedite construction, the agency said.
Trump vowed when he took office to build a wall that would slow border crossings he cast as a rampant problem. His administration erected 30-foot barriers, with miles of double-layer steel fencing.
Zoom in: The report outlines numerous negative impacts the construction had in the surrounding areas, including damage and destruction to sites sacred to local tribes.
In one instance, contractors used explosives to clear the way for expanding a patrol road. The blast damaged portions of Monument Hill, a site that the Hia-C'ed O'odham and other tribes historically used for religious ceremonies.
Clearing lands for border barrier construction also damaged native vegetation and allowed invasive species to take root, per the report.
Areas where vehicle barriers were replaced with pedestrian ones became more narrow, making it difficult for wildlife to pass through and impeding their movement across the landscape, including in habitats for threatened and endangered species.
The barrier increased the potential for disrupting natural water flows and for erosion, particularly as control measures for the lateral were unfinished when construction was paused.
What they're saying: Rep. Raúl Grijalva (D-Ariz.), who requested the report, called the border wall "a symbolic message of hate, aimed at vilifying migrants" and he said it was "a racist, ineffective political stunt wasting billions of American taxpayers' dollars."
"We now know for certain it has caused immeasurable, irreparable harm to our environment & cultural heritage," he said in a tweet Thursday.
Representatives for Trump did not immediately respond to Axios' request for comment.
Where it stands: The watchdog agency recommended that Customs and Border Protection and the Department of the Interior develop a joint strategy to mitigate resource impacts from the wall's construction.
Go deeper: Judge orders Texas to move floating border barrier
Go deeper