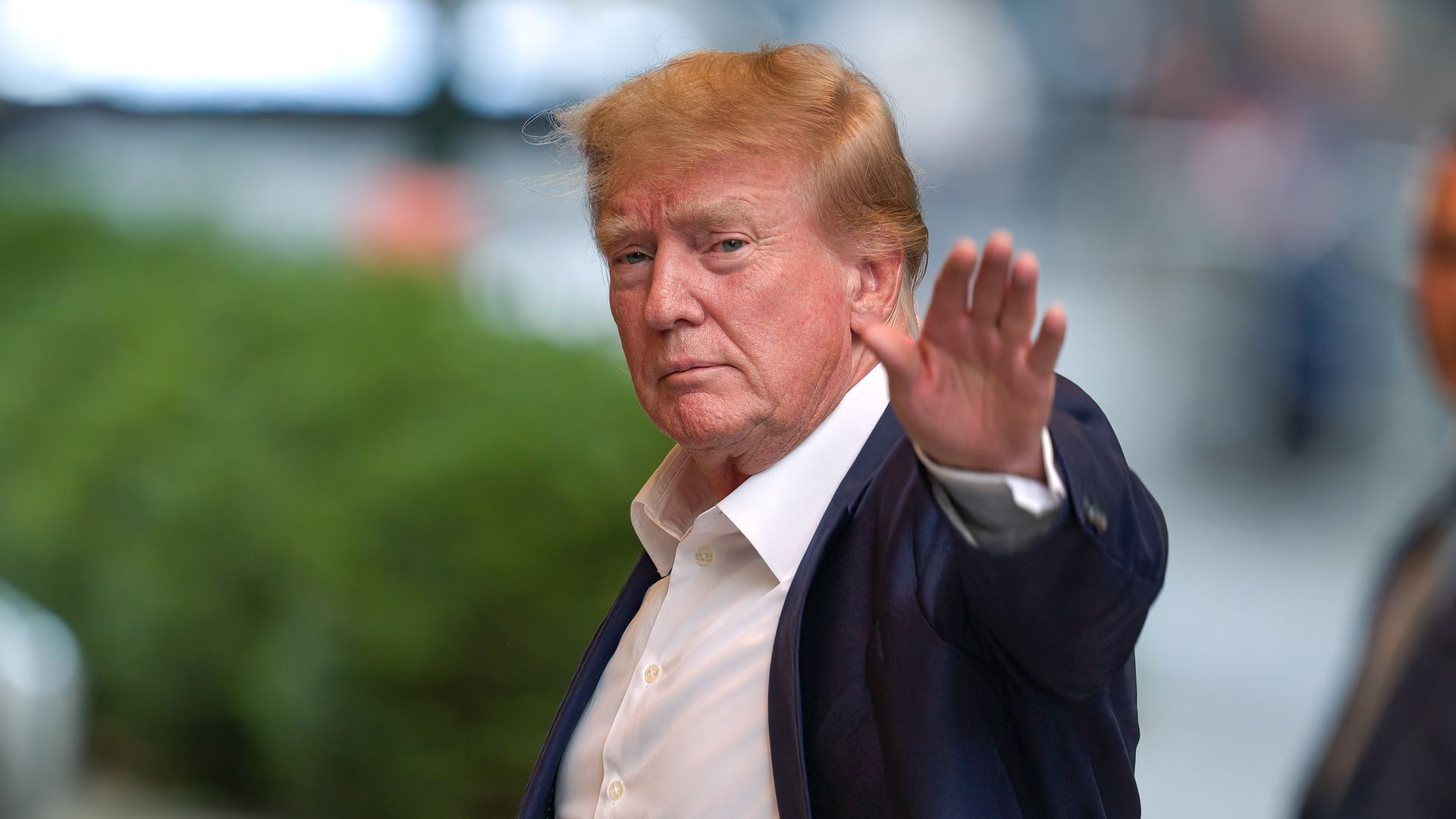 A summer of indictments has set the stage for a fall dominated by legal proceedings, as former President Trump and other high-profile Republicans defend themselves against what they claim is a tainted justice system.
Why it matters: The dizzying headlines already pouring out of D.C., Georgia, Florida and New York will accelerate over the coming months, testing the public's patience for a notoriously slow and complex legal process.
Driving the news: Trump and the 18 co-defendants charged in Georgia's election interference case have all pleaded not guilty and waived their right to in-person arraignments Wednesday.
That includes former White House Chief of Staff Mark Meadows, who last week stunned legal experts by taking the witness stand in a risky bid to move his case to federal court.
Pro-Trump lawyer Kenneth Chesebro's trial has been set at his request for Oct. 23 — potentially offering a televised preview of prosecutors' racketeering case long before Trump himself goes to trial.
The big picture: Trump and his co-defendants in Georgia are not the only Republicans whose presumption of innocence could soon be scrutinized by a jury.
Former Trump trade adviser Peter Navarro's contempt trial is underway more than a year after he was indicted for defying a subpoena from the now-defunct House Jan. 6 committee.
Prosecutors are seeking to delay a status conference for indicted Rep. George Santos (R-N.Y.) to discuss "possible paths forward," signaling a plea deal may be in the works for the congressman and serial liar.
Texas Attorney General Ken Paxton's impeachment trial also kicked off Tuesday, with the fate of the embattled Trump ally — who was separately indicted in 2015 — in the hands of the GOP-led state Senate.
The other side: The collapse of Hunter Biden's plea deal — and the appointment of U.S. Attorney David Weiss as special counsel — means the president's son could face his own historic trial.
House Republicans are already preparing to launch an impeachment inquiry into President Biden over unsubstantiated allegations of corruption and bribery tied to Hunter's foreign business dealings.
Between the lines: Partisans on both sides of the aisle are largely dug in on their perceptions of Trump's legal troubles, but a new CNN poll suggests there may be room for persuasion.
While 60% of Republicans say Trump is being prosecuted largely as a result of a politicized justice system, 29% say it won't be clear whether the charges are legitimate until after trials are held.
In all likelihood, however, Trump will not go on trial in all four cases until after the 2024 election — ensuring our politics remains tied to the courtroom for the foreseeable future.
Go deeper