Los Angeles street vendors face hurdles years after decriminalization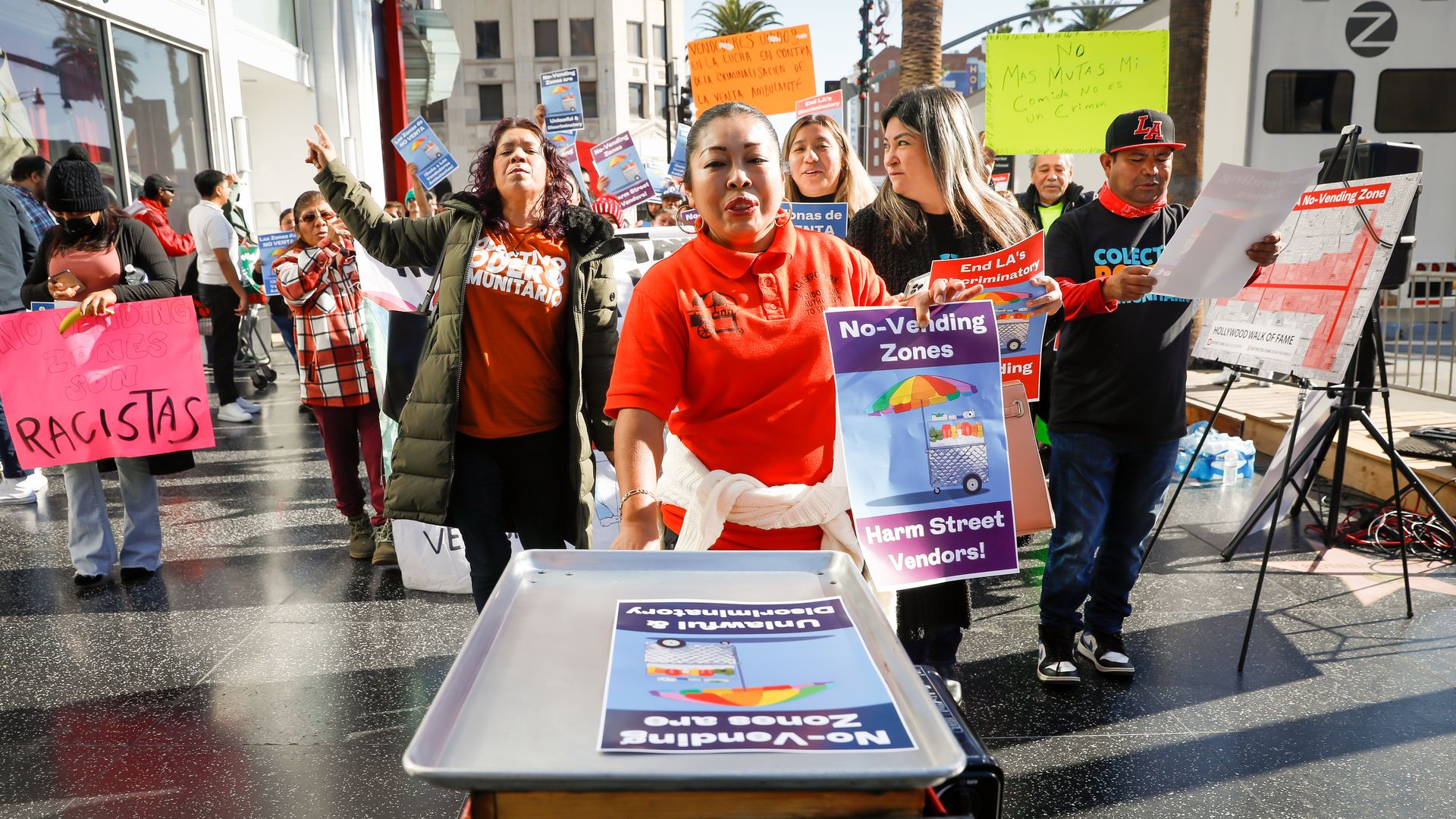 Street vending was legalized in California five years ago, yet vendors in many cities face cumbersome permitting processes, limits on where they can set up and an uptick in violence, advocates and sellers tell Axios.
The big picture: There have long been battles over the rights of street vendors — most of whom, advocates say, are Latino and immigrants. That's especially true in the country's two largest cities, Los Angeles and New York.
Background: Less than a year after California decriminalized sidewalk vending, Los Angeles passed an ordinance that barred vendors from selling food and other goods within 500 feet of eight popular tourist destinations, including the Hollywood Walk of Fame and Dodgers Stadium.
The city of Los Angeles argues that allowing vendors in busy tourist areas leads to overcrowding and pedestrians walking in the street.
But vendors, in the lawsuit filed against the city in December, say the no-vending zones violate the 2018 state law decriminalizing sidewalk vending. The plaintiffs add that the city's reasons for restricting sidewalk vending in those locations aren't justified based on that same law.
What they're saying: Dozens of vendors still sell their goods in the no-vending zones, often racking up fines.
Merlín Alvarado, who sells fruta picada and Los Angeles-style hot dogs near the Hollywood Walk of Fame, says she's been cited by authorities roughly 100 times in the past two years.
Alvarado hasn't paid a single fine, saying her choice is between paying the fines or paying her bills.
"We're not a problem in that area, we are a part of its economy," Alvarado, 37, tells Axios Latino.
Alvarado, who is from Honduras, began her journey as a street vendor in Los Angeles 17 years ago to earn a better living after working long hours at a clothing factory that paid too little to make ends meet.
"I could sell somewhere else, but I think (the rule) is unjust."
The other side: The Los Angeles city attorney's office said it doesn't comment on pending litigation.
Zoom in: In addition to struggles over permits and no-vending zones, California street vendors must also contend with an increase in violence.
The 2018 state law and another in 2022 that is meant to ease the process of obtaining a permit led to a boom in street vendors across California, says Juan Espinoza, an Equal Justice Works Fellow with Public Counsel, a nonprofit law firm. But that has come with a growing crime wave against street vendors, who have few protections and often operate in cash.
"Vendors have always been exposed, more likely to be the targets of crime. The fact that they're in public makes them more vulnerable and therefore should be more protected by cities and governments, but the opposite is true," Espinoza says.
Because local governments often target street vendors through ordinances and fines, "people feel emboldened, and they feel they're in the right and they feel they are doing a service by attacking vendors."
Citing more than 20 street vendor robberies, the Los Angeles Police Department told the LA Times recently that it was assigning detectives to investigate an "emerging crime trend."
What to watch: The lawsuit against the city over the "no vending" zones is making its way through court.
A procedural hearing is scheduled for Tuesday, and lawyers representing vendors say they hope to go to trial next year.
Meanwhile, Espinoza says he is working with cities across California on adopting ordinances that allow street vendors to operate with ease and protect them.
"The challenge we've been seeing recently with [the] passage of more rights is there's also more visibility," he says. "We've seen more vendors pop up in the state of California because of these important achievements… but there's been a backlash as well."
Subscribe to Axios Latino to get vital news about Latinos and Latin America, delivered to your inbox on Tuesdays and Thursdays.
Go deeper