Blue state migrant crisis sparks political disaster for Biden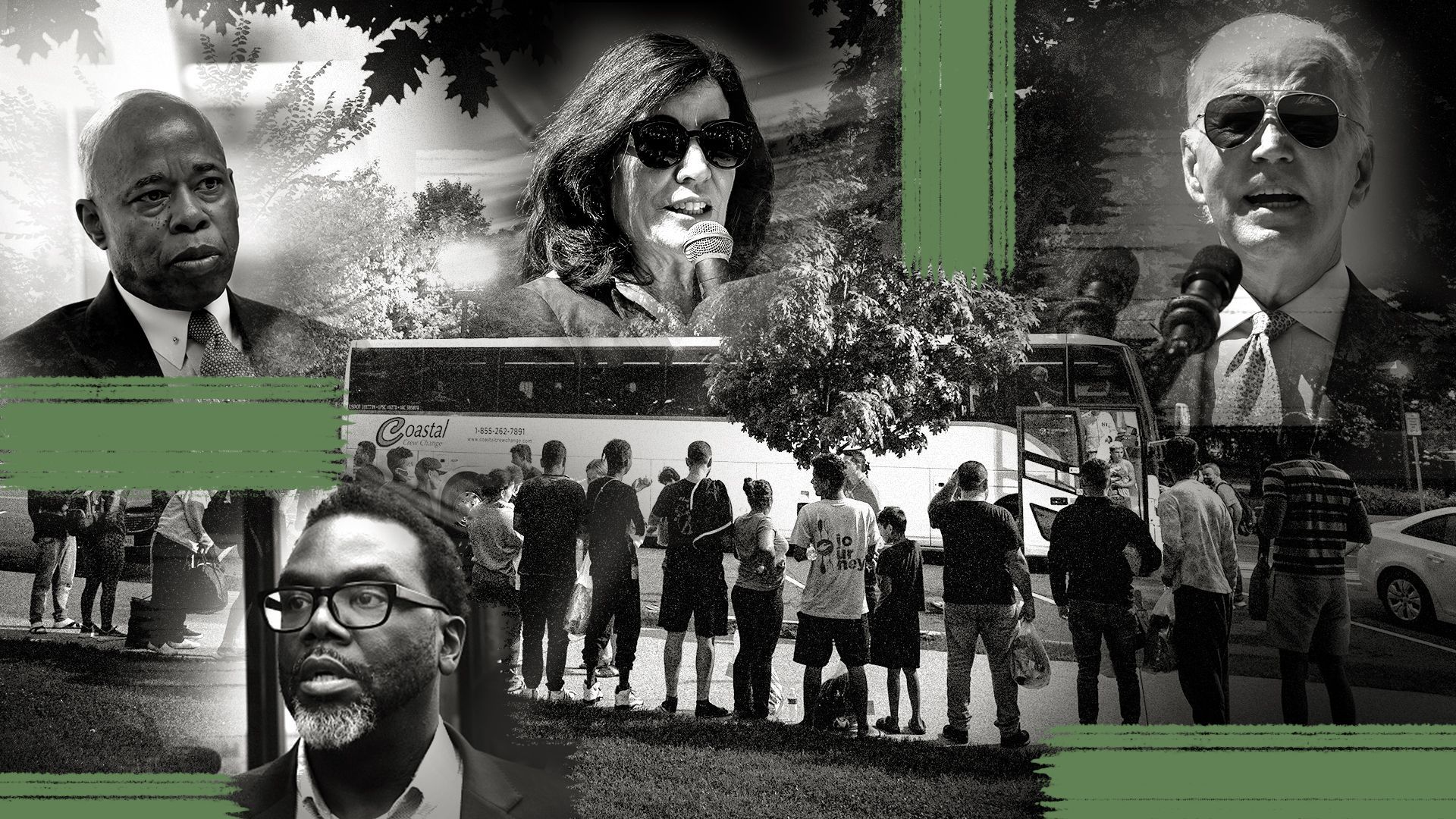 Tensions between the Biden administration and local Democrats are coming to a head as shelters around the country overflow and thousands of immigrants arrive in major cities.
Why it matters: President Biden is stuck between growing calls to help the Democratic-controlled cities, the politics of the vulnerable issue and what the administration views as legal handcuffs prohibiting much action.
In cities like New York, Boston and Chicago, a humanitarian crisis for people hoping for new lives in the U.S. has become desperate.
Business leaders and lawmakers at various levels of government are demanding the administration do more to help accommodate migrants — and are frustrated by what they say is Biden's lack of response.
It's unclear why there hasn't been stronger action by the Biden administration, Senator Dick Durbin (D-Ill.) tells Axios. "I wrote to him in May so it's been like four months, but I hope to find out."
How we got here: Republican governors have responded to unprecedented crossings at the U.S.-Mexico border with massive efforts to bus migrants to other destinations.
People on the ground tell Axios that's created a snowball effect, leading more migrants to follow those who were placed on state-backed buses to major cities.
Zoom in: City officials and advocacy groups say the slow work permit process is a big reason migrants are languishing in shelters.
DHS officials tell Axios migrants arriving through new parole programs or by scheduling an appointment at the border via a new app only face an average six-week wait.
But state officials and immigration attorneys estimate some migrants in shelters are waiting months.
In Chicago, more than 2,000 migrants are sleeping on police station and airport floors.
The big picture: Criticism of the federal government is part of a wider blame game among Democrats, including city leaders who previously welcomed migrants.
New York City Mayor Eric Adams and New York Gov. Kathy Hochul publicly feuded this week, with Adams demanding other parts of the state receive more migrants. Hochul has blamed Biden, and Adams has called for a federal emergency declaration.
An administration official pushed back on the idea of declaring a state of emergency, pointing to the hundreds of millions of federal dollars already provided to New York to address the issue.
New Jersey Gov. Phil Murphy shot down the Biden administration's reported idea of relocating migrants to the Atlantic City International Airport, per Politico.
Between the lines: Federal officials view many of the demands as political posturing, not realistic solutions, according to sources familiar with the dynamics.
Almost all of the requests by cities and states regarding work permits face legal or practical challenges, experts tell Axios.
Federal law requires asylum seekers to wait at least 180 days before receiving a permit — which Congress, not the president, would have to change.
Pressure on local officials is increasing. In Chicago, public meetings about converting buildings into shelters are turning accusatory, with Black residents asking why millions are being spent on new arrivals while their neighborhoods reel from decades of disinvestment.
Massachusetts' Democratic Gov. Maura Healey declared a state of emergency over the crisis in August and met with Homeland Security Secretary Alejandro Mayorkas last month.
The other side: Homeland Security officials were deployed to assess the situation in New York.
Biden officials point to new parole programs encouraging migrants to cross the border at legal ports of entry, allowing for a faster work permit process.
On Thursday, the agency for the first time sent tens of thousands of English and Spanish text and email alerts to parolees to ensure they know they are eligible to apply for work permits.
The bottom line: Weeks after Healey asked the public to donate money and offer shelter to families, she activated the Massachusetts National Guard on Thursday to support the state's hotels-turned-shelters.
"We need all hands on deck to meet this moment," Healey said.
Go deeper