U.S. sanctions bring renewed focus to China's crackdown on Tibet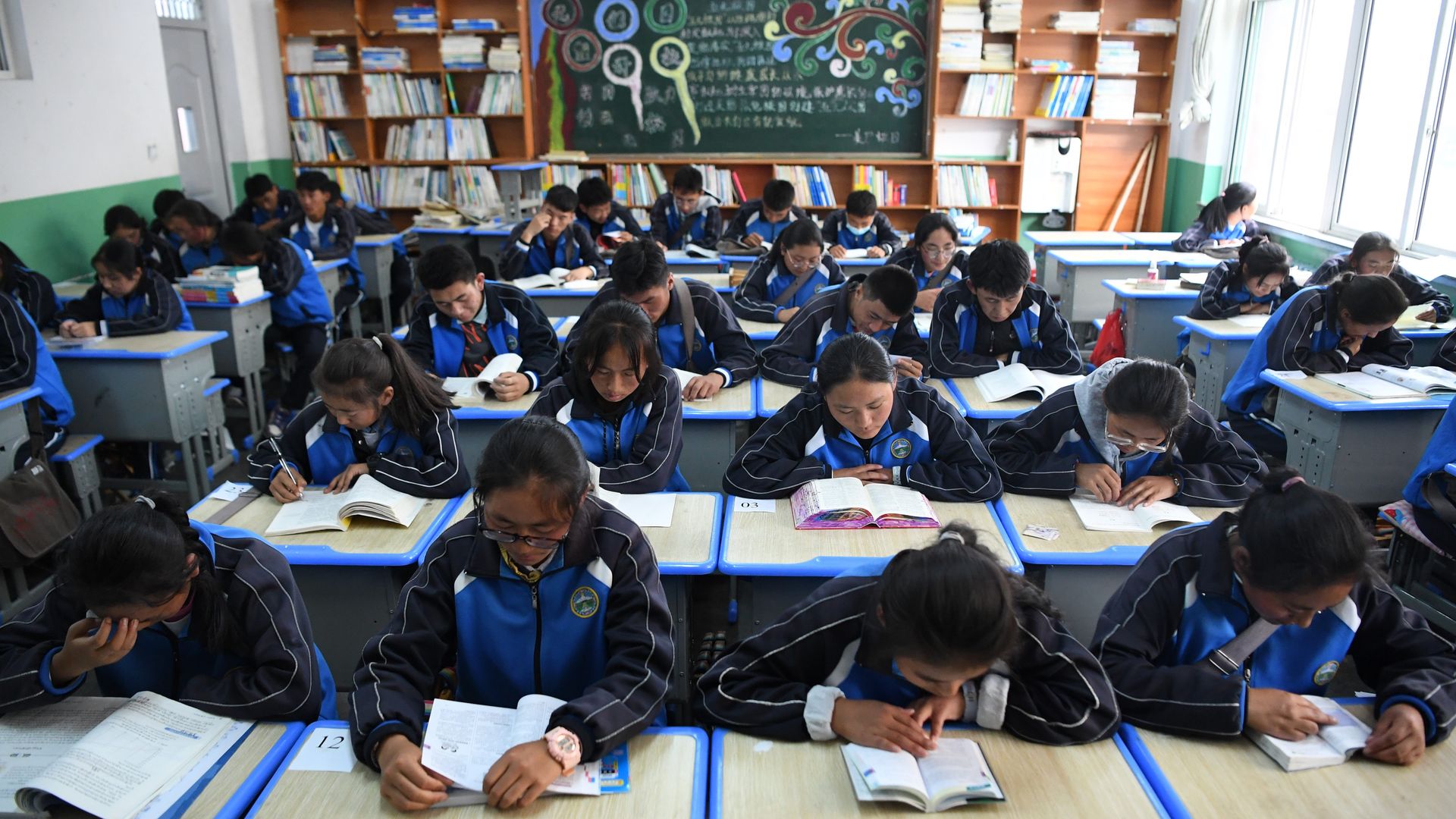 The U.S. decision to impose visa restrictions on Chinese officials last week brought renewed attention to Beijing's yearslong efforts to tighten its grip on Tibet and other regions.
The big picture: Tibet has ranked among the least free places in the world by Freedom House for more than a decade. Human rights experts have documented a number of alleged abuses, including Beijing's collection of genetic material of Tibetans without consent and the closure of Tibetan monasteries and nunneries.
Driving the news: The U.S. State Department last week announced visa curbs on Chinese officials involved in what it described as the "forcible assimilation" of Tibetan children in government-run boarding schools.
The U.S. announcement cited a figure UN experts gave in a February report, which warned that nearly 1 million Tibetan children have been separated from their families and forcibly sent to government-run boarding schools, where they are required to complete a Mandarin Chinese curriculum without access to "a substantive study" of Tibetan language, history and culture.
These policies seek to eliminate Tibet's linguistic, cultural and religious traditions among younger generations of Tibetans, Secretary of State Antony Blinken said in announcing the U.S. restrictions.
Beijing this week hit back by imposing its own visa restrictions on U.S. officials who it claimed were spreading "rumors to smear China in this case or have long meddled in Tibet-related issues."
A Chinese Foreign Ministry spokesperson called the U.S. claim of "forced assimilation" a "pure fabrication," arguing that the boarding schools help ensure children from remote places have equal access to education, and that enrollment is voluntary.
Catch up quick: Tibet came under Chinese rule after government troops moved into the region in 1950 and began cracking down on local traditions. In 1959, the spiritual leader of the Tibetan people, the 14th Dalai Lama, fled to India, where he established the Tibetan government-in-exile and has lived ever since.
China intensified its crackdown on Tibetans' religious, cultural and linguistic rights during and after the region's last mass uprising in 2008.
Beijing's crackdown has included systematically merging schools in Tibetan areas as part of its broader "school consolidation policy" — a program that ramped up in the 2000s and prompted the closure of rural schools in large numbers, according to a 2021 report by the Tibet Action Institute, a U.S.-based advocacy group that seeks to advance human rights in Tibet.
The Chinese government claims the policy is intended to improve the quality of education in rural areas. In a 2015 policy document, Beijing explicitly asked local officials to "respect and protect" the rights of ethnic minorities to be educated in their own language. But Beijing has continued to push for wider adoption of Mandarin in Tibet.
The percentage of boarding school students nationally stood around 20% in recent years, but nearly 80% of Tibetan children ages six to 18 are estimated to be in boarding schools, the Tibet Action Institute report said.
More than half of the Tibetan boarding school students are from the Tibet Autonomous Region, but a significant number also live in other provinces with large Tibetan communities, such as Qinghai and Sichuan, the report found.
Between the lines: Due to an ongoing media blackout and stringent travel restrictions in Tibet, it's extremely difficult to obtain verifiable information about the living conditions there.
What they're saying: The head of the Tibetan government-in-exile, Penpa Tsering, welcomed the U.S. sanctions in a tweet last week, calling the boarding schools an attempt to "obliterate Tibetan identity from the face of earth."
Lhadon Tethong, co-founder and director of the Tibet Action Institute, said the U.S. move "telegraphs a really strong message inside Tibet that the world is paying attention."
"For the international community, especially other governments, it's a clear sign that this is an important enough issue that the U.S. has taken it up this way," Tethong told Axios.
What to watch: Tibetan activists are urging other governments to follow the U.S. and impose similar sanctions.
They're also asking countries to continue requesting meaningful access for government officials, media and independent observers to visit Tibet.
"Everybody needs to be pushing, and the end goal is to create a sustained and international pressure on Beijing to change and to do things better," Tethong said.
Go deeper