Updated May 4, 2018 -

World
China is afraid of its ethnic minorities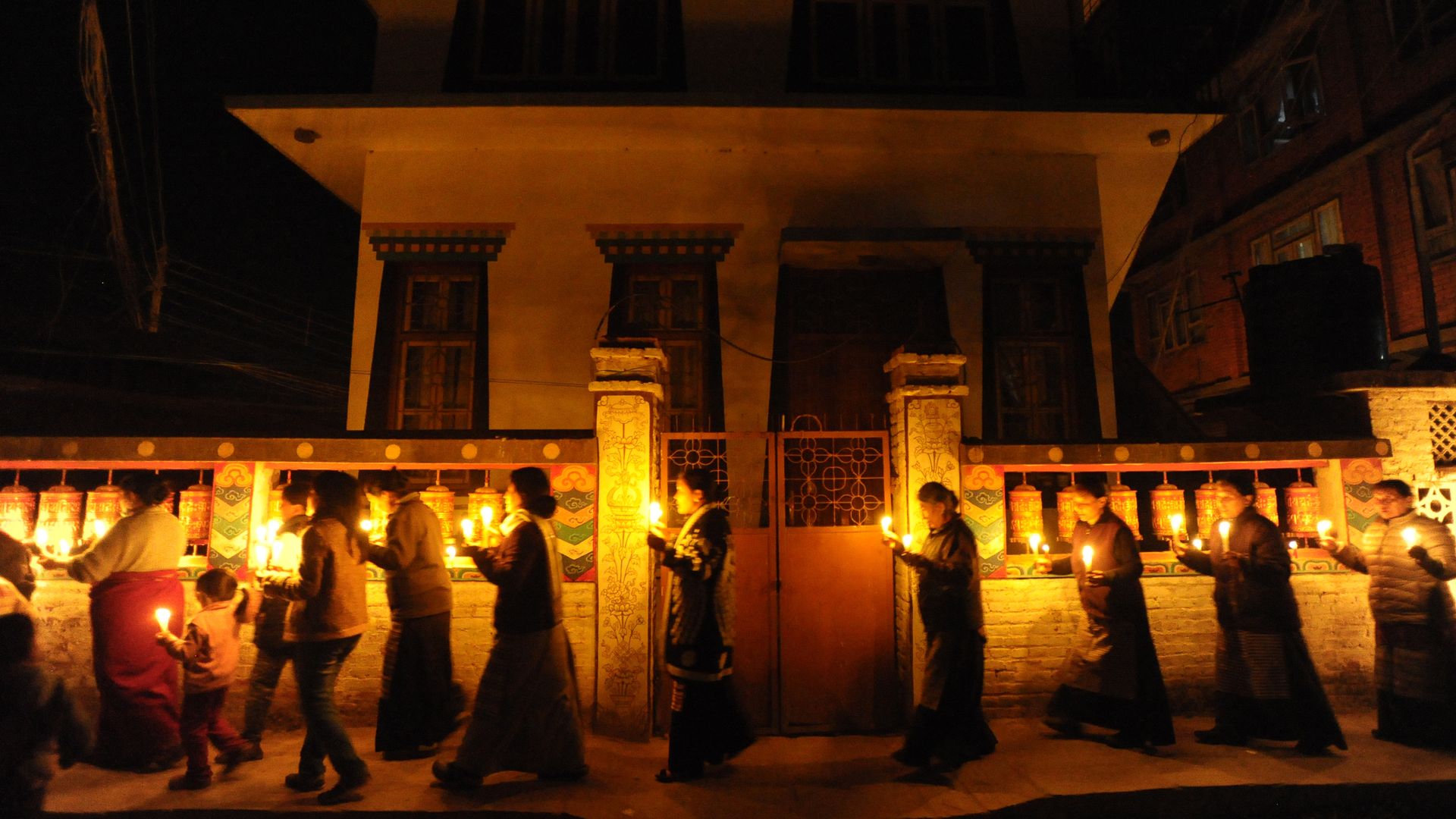 As President Xi Jinping takes Chinese influence to every corner of the world, there remain corners of his own country that his government struggles to control.
The big picture: The Chinese Communist Party has no tolerance for dissent from ethnic minorities, and fears it could be damaged if word of human rights violations against those groups spreads outside China's borders.
The intrigue: Some U.S. lawmakers, including Republican Sen. Marco Rubio, are pushing the Trump administration to take a harder line on human rights violations.
"We should not be quiet on this in exchange for a better trade deal, and we should not be quiet on this in exchange for their cooperation on North Korea."
— Rubio, in interview with Axios
The human rights violations
The regions of concern for the Communist Party are Xinjiang — populated by Muslim Uighurs — and Tibet. China has a long history of repression of the Uighurs and has tried to squash opposition to Chinese rule in Tibet, including by exiling the Dalai Lama, Tibetan Buddhists' spiritual leader.
What's happening: Tension between Chinese officials and Uighur separatists in Xinjiang have often led to violent clashes, and nearly 150 Tibetan monks have protested by self-immolation.
Citizens of Xinjiang and Tibet are under strict surveillance and subjected to propaganda campaigns.
In Xinjiang, officials are collecting mandatory DNA samples and fingerprints from citizens under the guise of a free health care program, says Sophie Richardson, China director at Human Rights Watch. Hundreds of thousands of Uighurs are also detained in political education camps that push propaganda about Chinese identity.
In Tibet, "local officials [from the Atheist Communist Party] have intruded into core decision-making about how monasteries and nunneries are run," Richardson says. And local schools in Tibet heavily emphasize Mandarin Chinese, stripping children of Tibetan language and culture.
China also tries to surveil and pressure Uighur and Tibetan refugees who have left the country and, in some cases, become foreign citizens.
In April, Swedish authorities indicted a man for allegedly spying on Tibetan refugees for the Chinese government.
Per Richardson, "Usually, governments will want to say, 'Good riddance, go.' China says, 'You're coming back.'"
The Communist Party's fears
The party worries about two scenarios, according to Yun Sun, who runs the Stimson Center's China program:
Enough dissent could prompt political reform that would challenge one-party rule.
Ethnic autonomy could lead to secession of Xinjiang and Tibet — a de facto disintegration of China.
The stakes: Secession "is not a political scenario that the central Chinese government can afford," Sun says. "It would lose its legitimacy in front of the Chinese people."
Yes, but: "Given the reality on the ground, I don't think its possible or likely that [either region] could secede or declare independence," she says.
America's role
While past U.S. presidents have made China's domestic policies a central issue in the bilateral relationship, President Trump has prioritized trade and North Korea. "Even the Chinese acknowledge that the Trump administration has not targeted the domestic politics of China," says Sun."They feel that there's not pressure from Washington."
But Rubio — one of the co-chairs of the Congressional-Executive Commission on China, an organization created by Congress to monitor human rights in China — co-wrote a letter urging U.S. ambassador to China Terry Branstad to visit Xinjiang and take action against human rights violations.
"We need to raise it ... The Chinese prefer it to be done in private," Rubio says.
Go deeper