West Virginia's foreign language cuts could be a "blueprint" for higher ed attacks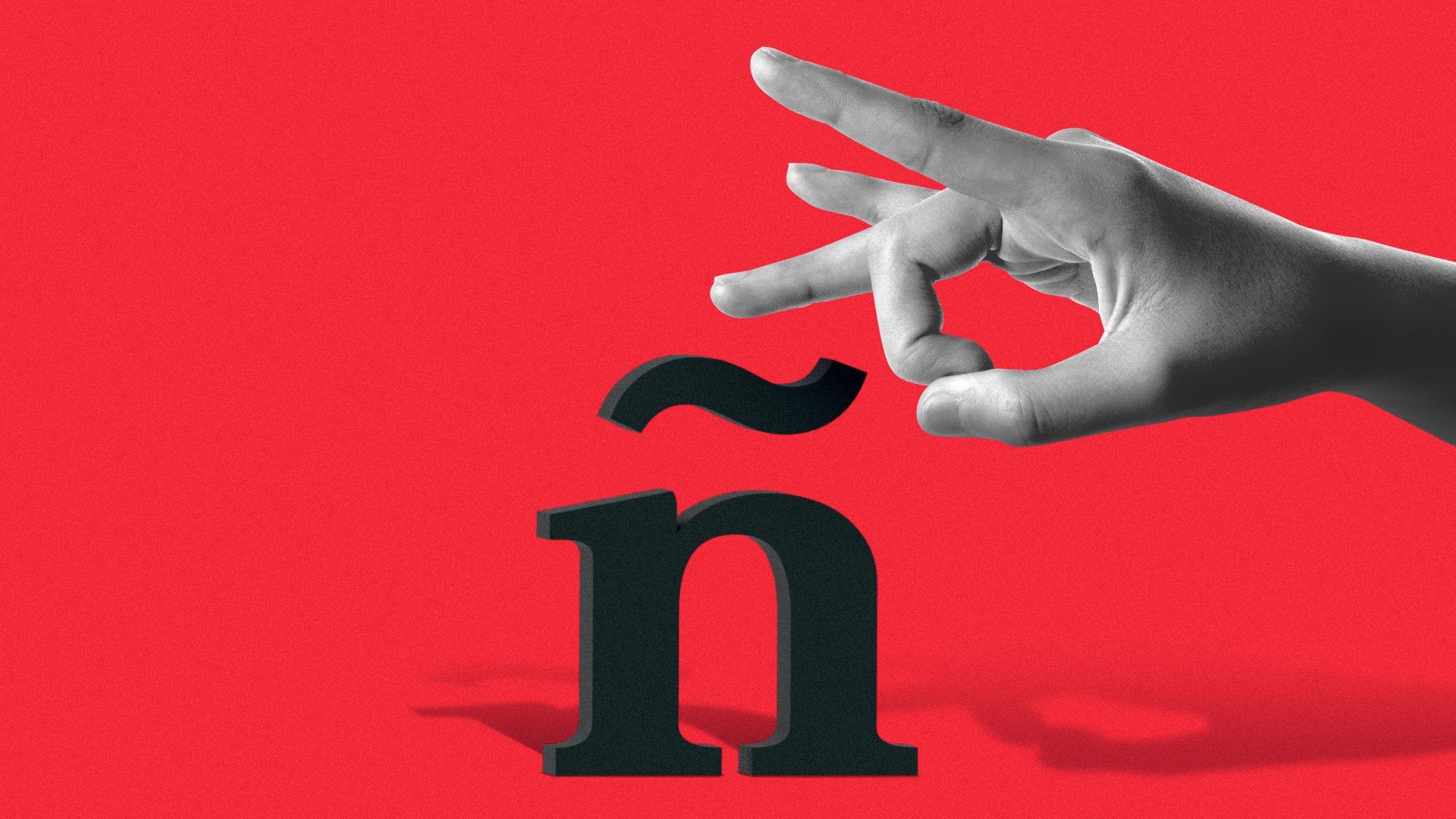 The news that West Virginia University (WVU) may ax its entire world languages program sent humanities scholars and others into a tailspin — so much so that the university backpedaled a bit late Tuesday.
The concern is less for what the plan says about the ongoing decline of language education than for how it might imperil socioeconomic opportunity for students in the poor, rural state — and for what it may portend for humanities education more broadly.
Why it matters: Yes, you can learn bits and pieces of a foreign language on a smartphone app. But scholars call WVU's decision a dangerous inflection point — one with political overtones that may augur more cuts throughout higher education.
"It's a story about state higher education thinking that public school students don't deserve or need a liberal arts education," Paula M. Krebs, executive director of the Modern Language Association, tells Axios.
"They start here in a state with weak institutions and weak governance and no oversight on university administration, and it's easy to push this kind of thing through," adds Jonah Katz, associate professor of linguistics at WVU.
"But once these people have laid their blueprint for how to basically dismantle a large research university ... maybe the next target will be something not quite so soft."
Driving the news: West Virginia University announced Aug. 11 it would eliminate 9% of the majors offered at its main Morgantown campus (32 of the total 338), dissolve the Department of World Languages, Literatures and Linguistics, and fire 7% of its faculty members (169 people) — all for financial reasons.
The school's Board of Governors is scheduled to vote on the proposal on Sept. 15.
Students, families and scholars nationwide are pointing fingers at WVU President E. Gordon Gee, saying the school's financial woes are a result of mismanagement and a fig leaf for pivoting to vocational/trade education.
What's happening: Late yesterday, the school relented somewhat, saying it would continue offering instruction in Spanish and Chinese and retain five professors, while continuing to pursue the elimination of the undergraduate language requirement.
The softening follows an appeals hearing last Friday — and a large outcry in the news media over the situation.
What they're saying: "Our department has been under sustained attack since I got here in 2014," Katz tells Axios, estimating that the number of faculty has dwindled from 30-plus to 18 in that time.
"I'm working under the assumption that I'm going to be without a job in May."
Katz's research on speech and pronunciation — funded with a National Science Foundation grant — was recently the focus of a glowing university write-up, and the department routinely wins grants from the U.S. State Department and Duolingo, he said.
"We've been able to expose humanities students to scientific ideas that they might not have been exposed to otherwise, as well as exposing high-achieving STEM students to ideas about language and human sciences that they might not have otherwise been exposed to," Katz said.
Katz's opinion — echoed by many WVU faculty and students — is that administrators "have been extremely dishonest with their data," manipulating the numbers to make interest in language education look lower than it actually is.
Krebs, from the Modern Language Association, expressed the same view: "What the cuts are about is [eliminating] small classes," she said.
"There's plenty of demand for creative writing courses all around the country, but they don't want to pay people to teach a 20-student class when they can put 300 people in a computer science class."
By the numbers: While WVU is staring down a $45 million budget deficit, the world languages department brings in $800,000 a year in profit, according to a report by the provost's office.
Public colleges have been spending money hand over fist, building fancy edifices without the enrollment figures to back them up, a Wall Street Journal investigation shows — and WVU is no exception.
The dynamic has led to tuition hikes and pleas for state bailouts.
In West Virginia, this has led to objections from the American Federation of Teachers about the proposed cuts — and corresponding accusations from a conservative lawmaker that the group is "a 'socialist ideologue institution.'"
The other side: WVU says the $45 million deficit is "not a crisis, given this is a small percentage (less than 3.5%) of the university's $1.3 billion budget."
"We've been working [for] several months on an accelerated timeline for the Academic Transformation, which began back in 2020," a WVU spokesperson told Axios by email.
"Importantly, this process had already started and continues, regardless of the budget challenge. That challenge has simply accelerated and intensified it."
Between the lines: It's no secret that language study enrollment has been declining for decades — a result of translation software that makes communication easy and the growing worship of U.S. students at the vocational altar of STEM.
"Language programs are often the first to go" amid budget cuts, said Nancy Tittler, who has taught Russian at Binghamton University in New York since 1980 — and recalled with a chill when, in 2010, SUNY Albany eviscerated its language offerings. "It's seen as a commodity we don't need."
On top of being a worthy intellectual pursuit, learning languages "makes you more of a citizen" and more hireable, said Tittler, who signed a petition against WVU's cuts.
But "we have to constantly make this argument," Tittler tells Axios. "What does language give you if it doesn't give you a salary at Goldman Sachs or something?"
Yes, but: The number of foreign language majors doesn't tell the whole story since lots of students want to learn a new language as part of a well-rounded education — and plenty of schools continue to build their language departments.
In schools that have invested in language arts, "enrollments rise," Krebs said, "and programs in schools where they're making cuts, the enrollments fall. This is absolutely natural."
The Modern Language Association, which tracks the number of college students who take foreign languages, says overall enrollment in language courses dropped 15.4% between 2016 and 2020.
Some individual languages saw increases, however — most notably Korean (+25.4%) and American Sign Language (+4.6%).
The bottom line: Disputes over resources at U.S. universities are likely to escalate as money grows tighter and election-year politics escalate.
On a personal level, "people's lives are being destroyed," said Katz.
At the modern languages department, "we've been a very successful unit — we've worked together for a long time, and we're also personal friends. We know each other's children, and we've been to each other's houses. It's just devastating."
Go deeper