Raimondo: "Decoupling is neither in our economic or national security goals"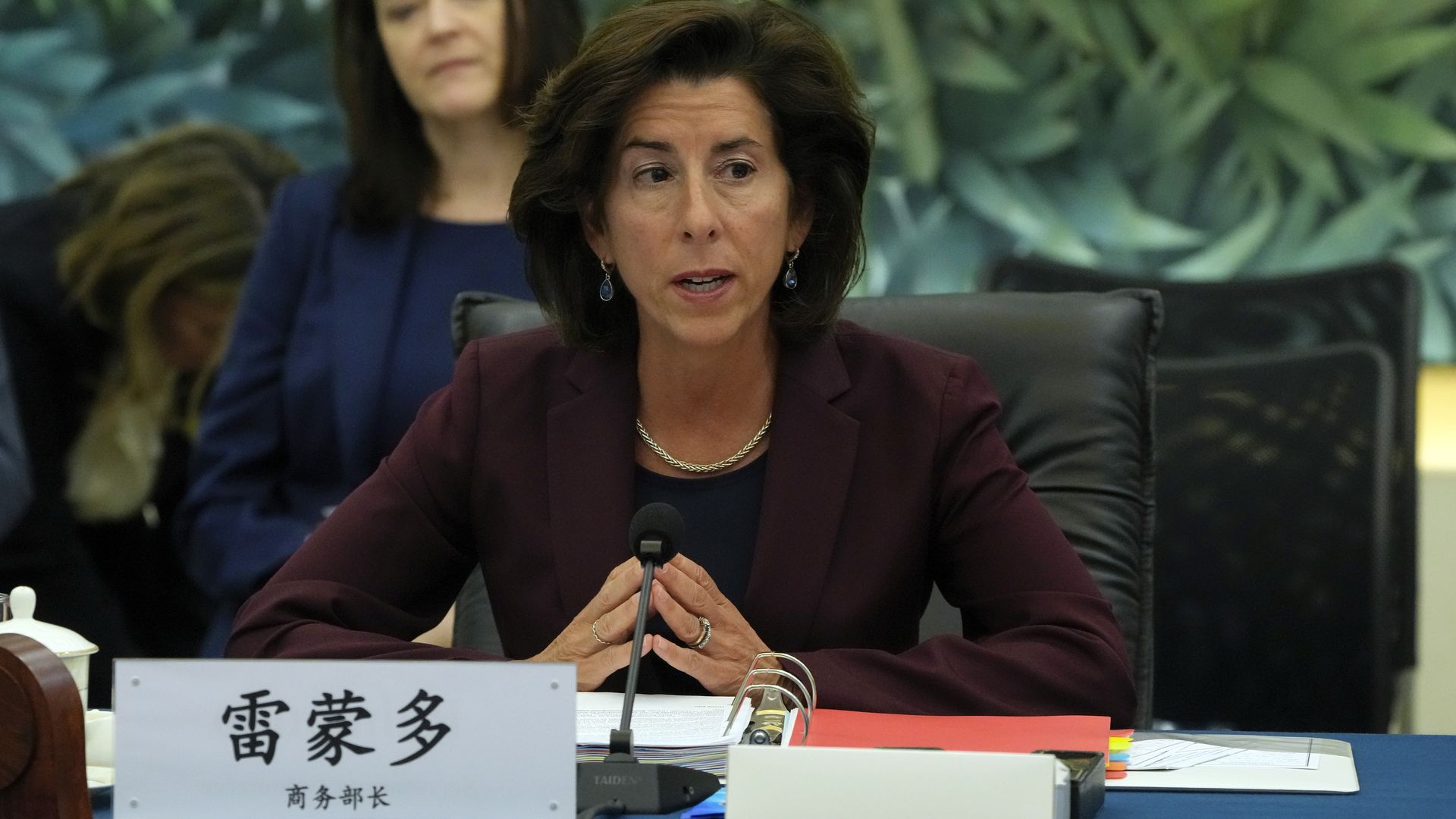 U.S. Secretary of Commerce Gina Raimondo told reporters Wednesday morning that her biggest achievement in visiting China this week was opening opportunity for "regular communication."
Driving the news: Raimondo, speaking from Shanghai, noted that her trip was the first by a U.S. Commerce secretary in more than five years, and it made a "big step forward" in helping resolve issues raised by U.S. businesses.
Context: Opening a line of communication to be able to discuss an "un-level playing field" and China's regulatory environment was the "single most important thing" that U.S. businesses wanted, Raimondo said. She held meetings with over 100 U.S. company CEOs and leaders prior to this trip.
"This trip is an excellent start, but I'm very clear-eyed about the challenges ahead ... and whether we can make progress on the issues raised."
Earlier in the week, Raimondo also told reporters that businesses have been viewing China as "uninvestible because it's become too risky."
Zoom in: Raimondo described her conversations with Beijing officials — including China's Premier Li Qiang, Vice Premier He Lifeng and Minister of Commerce Wang Wentao — as "candid" and "productive."
She said there was agreement to get U.S. and Chinese experts together to talk about protecting trade secrets and that she did not receive any pushback.
As for export controls, Raimondo said she "was very clear that for all of our controls, including [for AI chips], we're not interested to change them and we're not interested to negotiate them."
What to watch: Hers is a delicate dance to maintain hawkishness without cutting off business opportunities, Axios' Dan Primack wrote Tuesday.
Even as she emphasized that the U.S. will not compromise on decisions about export controls, she also echoed some of the sentiments from Secretary Janet Yellen on the drifting of economic relations between the two countries.
"We are not returning to the days when we had dialogue for dialogue's sake, but shutting down communication and decoupling services is neither in our economic or national security goals," Raimondo said.
Go deeper: How the U.S. is trying to stay ahead of China in the AI race
Go deeper