Two Trump favorites poised for ugly primary fight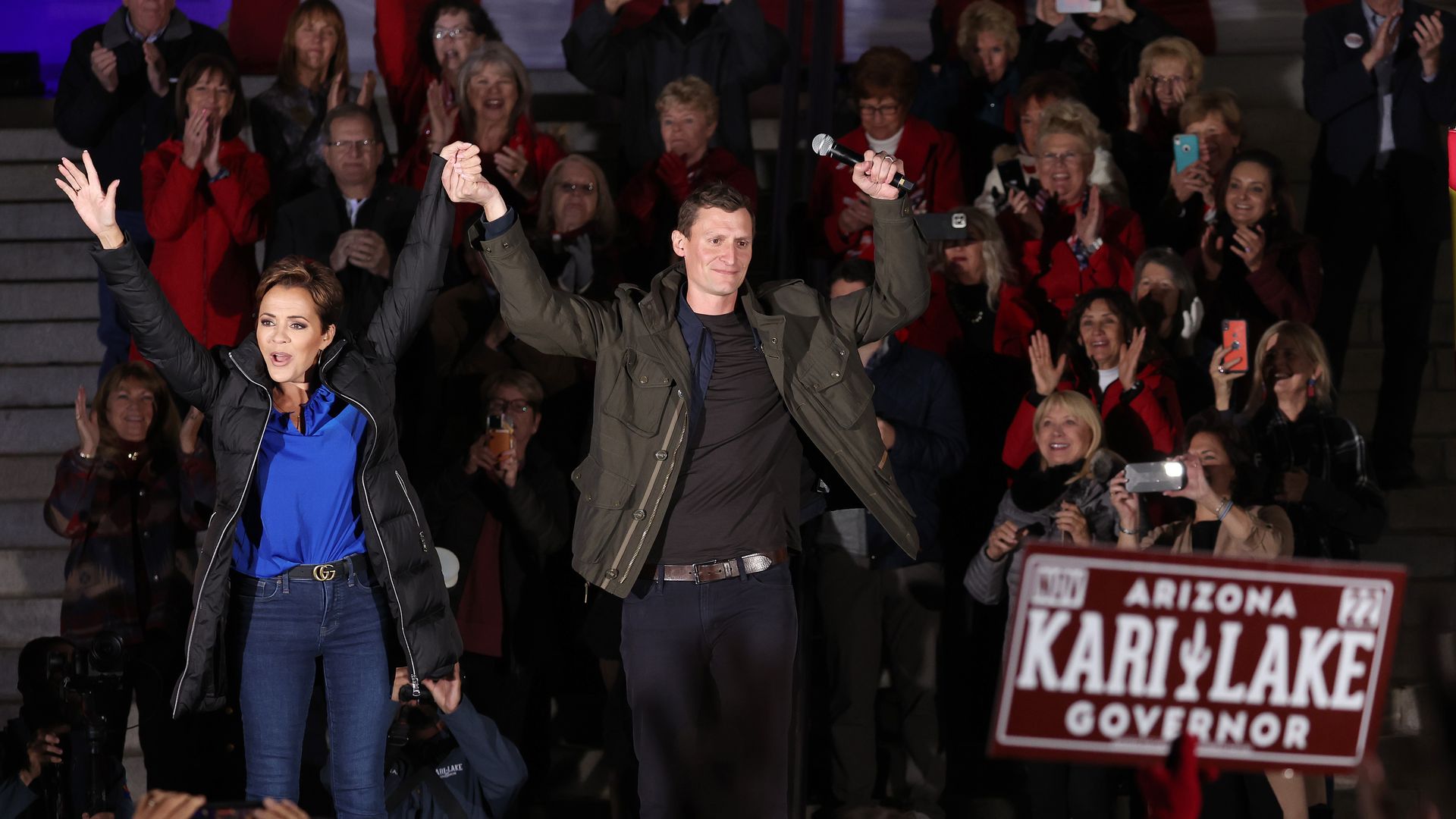 Blake Masters is readying a GOP Senate primary campaign that would put him on a potential collision course with Kari Lake, multiple media outlets reported Wednesday.
The big picture: Masters and Lake both won their primaries with former President Trump's endorsement — Masters for Senate and Lake for governor — but lost in last year's general election.
Lake is staffing up for a potential campaign launch this October, Axios' Juliegrace Brufke and Hans Nichols reported earlier in August. Lake said Sunday on Fox News that she's "contemplating" a run.
Zoom in: Masters is making plans to enter the GOP primary for the seat held by Sen. Kyrsten Sinema, who was elected as a Democrat but is now an independent, the Wall Street Journal first reported.
Masters "was pretty decisively in" when the two talked several months ago, Arizona-based strategist Blake Marson told Politico — but Marson said Masters had been waiting on Lake to decide whether to run.
The expectation in Arizona political circles has long been that Masters wouldn't run if Lake did. It's unclear whether Masters expects her to run.
"If Kari Lake runs, there is no lane for Blake Masters," Marson told Politico.
Of note: Masters didn't respond to messages from Axios.
Between the lines: Lake is the immediate frontrunner if she jumps into the race and will be "the 800-pound gorilla" in the Republican primary, GOP political consultant Kirk Adams tells Axios.
"​​He's not going to enjoy the same level of support from MAGA world running against the current reigning queen of MAGA in Arizona, at least. He's going to have to differentiate himself, and that will be a very interesting thing to watch," Adams, a former Arizona House speaker who served as Gov. Doug Ducey's chief of staff, says of Masters.
Longtime Republican consultant Sean Noble, however, says Masters should be a formidable candidate with his campaign experience and fundraising ability from last year's Senate race.
"This is not a game, set, match for Lake," Noble tells Axios Phoenix.
The intrigue: In a possible preview, Lake took some shots at Masters last week on X, formerly known as Twitter, accusing him of being "silent" on the issue of election fraud and saying he's done nothing to "to root out voter fraud, or simply show support those of us who are pushing for election reform."
Lake is still litigating her loss to Democrat Katie Hobbs in last year's gubernatorial race, which she falsely claims was caused by fraud and intentional malfeasance.
What they're saying: A spokesperson for Lake did not respond to a request for comment from Axios regarding Masters' impending Senate campaign.
Mark Lamb's campaign declined to comment as well. The Pinal County sheriff is the only prominent Republican to officially enter the race so far.
Meanwhile, Sinema hasn't announced whether she'll seek re-election as an independent.
Catch up quick: Masters is a venture capitalist who ran the nonprofit foundation for Peter Thiel.
Go deeper