Scoop: Trumpworld sees Haley surging toward DeSantis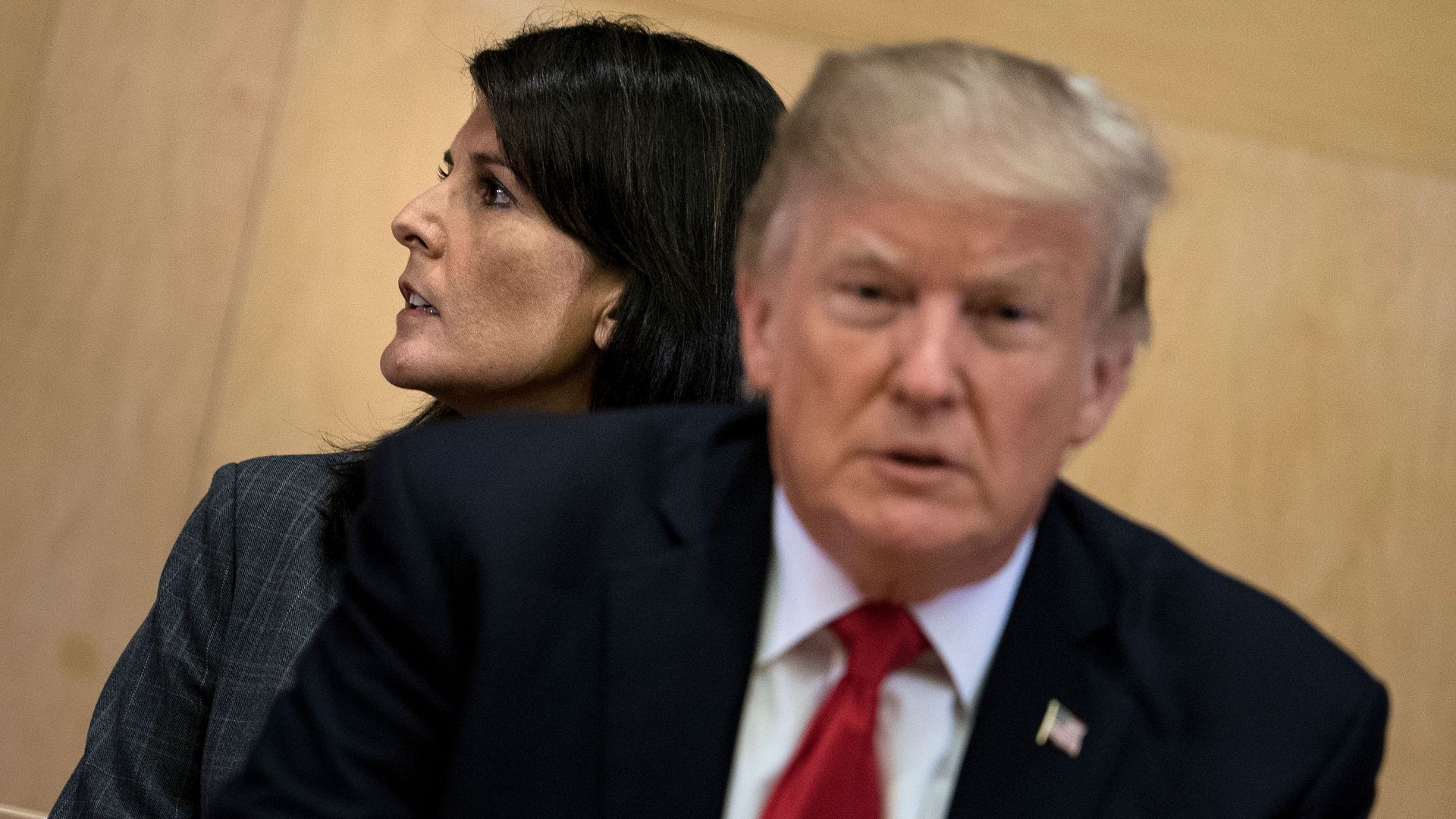 Trump pollster Tony Fabrizio is telling Republican donors that Nikki Haley "has surged" in Iowa since last week's GOP presidential debate — and that she and Vivek Ramaswamy are essentially tied with Florida Gov. Ron DeSantis in New Hampshire, according to a polling memo obtained by Axios.
Driving the news: Fabrizio's memo, sent to fundraisers and allies of former President Trump, said that all three remain far behind him in the first two states that will vote in the GOP primary season.
Why it matters: Haley and Ramaswamy were widely seen as doing well in the debate, but the memo also reflects Team Trump's emphasis on DeSantis' early struggles — and how it's trying to shift the campaign's narrative from "Trump vs. DeSantis" to "Trump vs. everyone else."
What they're saying: Fabrizio wrote that his latest poll among likely Republican voters in Iowa and New Hampshire showed Trump far ahead and that "DeSantis has flatlined, Haley has surged, and Ramaswamy is seen as last week's debate winner."
"The much hoped-for DeSantis 'bounce' was really a 'dead cat bounce' in that it doesn't exist," Fabrizio wrote of the Florida governor's standing.
"With Haley's surge, DeSantis finds himself with another challenger for a distant 2nd place besides Ramaswamy — Nikki Haley."
Between the lines: Public Opinion Strategies, a polling firm that works for DeSantis' campaign, released an internal Iowa poll this week to Fox News that similarly found Haley rising in Iowa after the recent GOP debate, but found DeSantis closer to Trump.
Fabrizio's poll found Trump ahead of DeSantis in Iowa by 26 points while Public Opinion Strategies reported Trump ahead by 20 points.
In both surveys, Haley, a former UN ambassador, had risen from a large pack of GOP contenders pack to be in third place, with about half DeSantis' support.
Super PACs officially can't collaborate with campaigns they support, but they try to shape how races are viewed and sometimes distribute polling memos to allies — essentially sharing information with the campaigns without violating the rules.
By the numbers: In Iowa, Fabrizio found Trump at 44%, DeSantis at 18%, Haley at 10%, along with Ramaswamy and Sen. Tim Scott (R-S.C.) tied at 7%.
In New Hampshire, Fabrizio found Trump at 48%, DeSantis at 11%, Haley and Ramaswamy at 9%, and Scott tied with former New Jersey Gov. Chris Christie at 5%.
In questions about the debate, Fabrizio also found that Ramaswamy — a businessman and political novice whose far-right positions have drawn attention — was the debate's "clear winner," with Haley and DeSantis tied for second.
The Washington Post, FiveThirtyEight and Ipsos also conducted a post-debate poll, which found 29% of potential Republican primary voters thought DeSantis won the debate, compared with 26% for Ramaswamy and 15% for Haley.
Go deeper