How Medicaid is trying to boost schools' health funding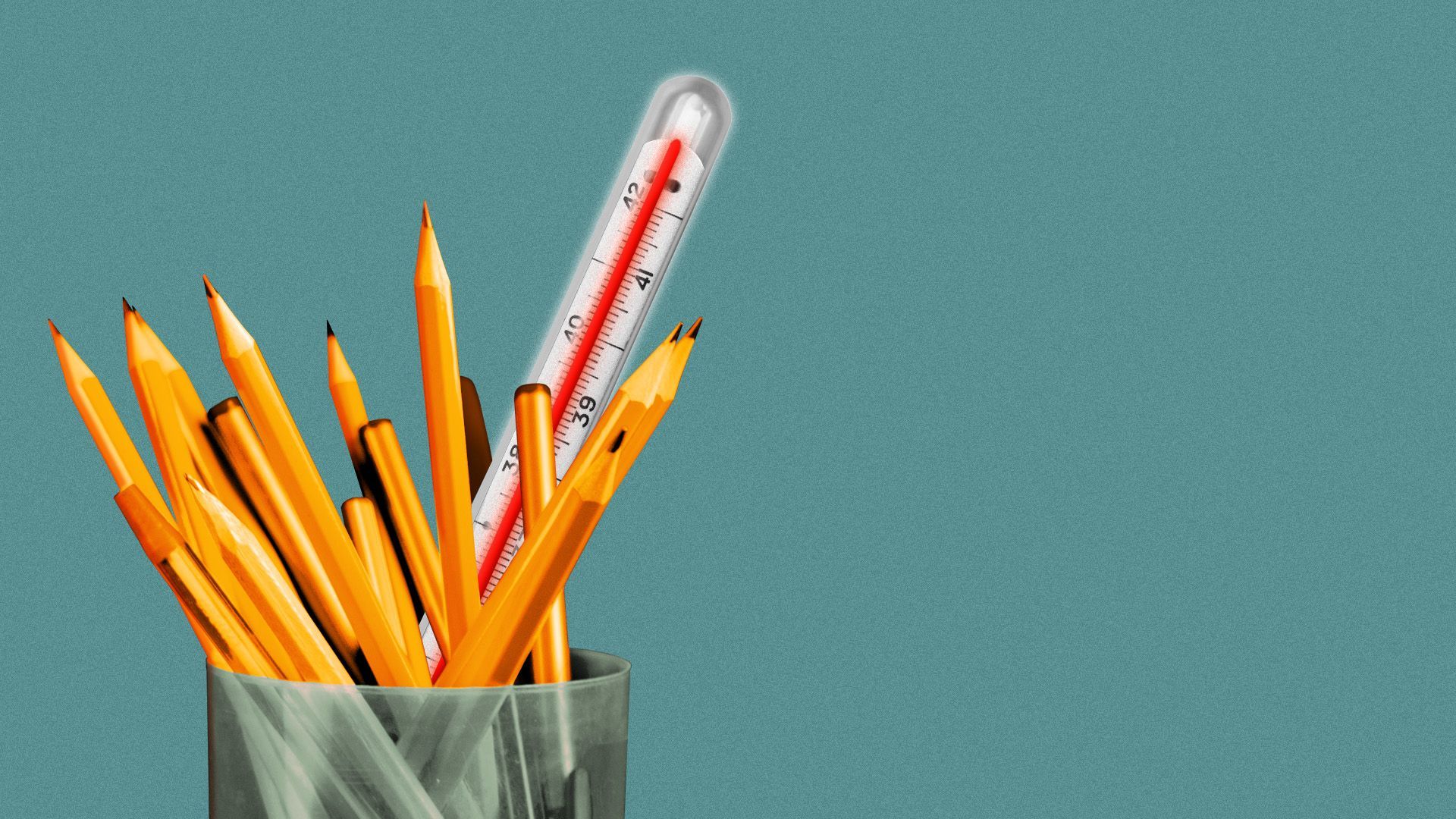 Schools across the country are missing out on millions of dollars from an unlikely federal source — Medicaid — because of longstanding bureaucratic hurdles that the Biden administration is now trying to address.
That's according to an investigation by NPR freelance reporter Shasta Kearns Moore and Axios' Emily Harris (who began the investigation while at NPR).
Why it matters: Some 42 million children who come from low-income families or have a disability are covered by Medicaid and the related Children's Health Insurance Program. Schools offer a convenient setting to provide health care services to many of those kids — in addition to disability services required by law — but many states haven't been taking advantage of funding that's long been available through Medicaid and CHIP.
Driving the news: The federal Medicaid office earlier this year streamlined its processes for reimbursing schools for health services, hoping to get millions or even billions more dollars into school coffers and expand the types of care provided to students.
Context: Federal law requires schools provide medical services that children with disabilities need to get a free and appropriate public education. But Congress has never fully funded that decades-old mandate.
Medicaid's new payment initiative could provide an alternate route to finally meet that promise, some advocates say.
Medicaid funding for schools has largely gone toward helping students with disabilities. But schools also routinely provide students with care for common ailments such as diabetes, allergies or asthma.
"A lot of care that is critical, whether it be mental health services or wellness visits or screenings and checks can actually be done in a school-based setting," Dan Tsai, who directs the Center for Medicaid and CHIP Services, said in an interview.
That could help address a major gap in access to care. Previous federal investigations found that too many children covered by Medicaid were missing out on early screenings, including for behavioral health risks.
By the numbers: Schools that overcame the cumbersome billing processes received nearly $6.6 billion in federal and state reimbursements last year.
"I don't think anyone has an exact estimate of should that double, should that triple," Tsai said.
"But I think we would all love to see over time a really significant increase in the use of school-based Medicaid."
State of play: Since Medicaid is jointly financed by the federal government and the states, school funding approaches will vary throughout the country.
Chicago Public Schools, which has a director of Medicaid on staff, typically has been reimbursed $35 million to $40 million annually by Medicaid and expects to receive an estimated $10 million more under the streamlined rules.
Meanwhile, Oregon's largest district, Portland Public Schools, stopped billing Medicaid for most services in 2015, saying the return was not worth the burdensome billing process.
Now because of the federal changes, it will begin seeking reimbursement again this fall, and expects to recoup at least $1 million in administrative costs alone.
However, Oregon is one of just a few states that bar schools from billing Medicaid provided by school psychologists, who have different training than their clinical counterparts.
The big picture: Additional Medicaid funding could also free up schools to spend resources on other services.
The changes have the potential to "relieve the local taxpayer of a lot of the burden that they typically would carry," said Jenny Millward, executive director of the National Alliance for Medicaid in Education.
Ultimately, that could also help fund health care services for more kids at schools.
While schools can only bill Medicaid for services provided to children enrolled in the program, school administrators say those reimbursements can potentially offset local costs enough that districts can pay for a school nurse or psychologist who serves everyone.
Go deeper