Florida faces "major hurricane" as Tropical Storm Idalia intensifies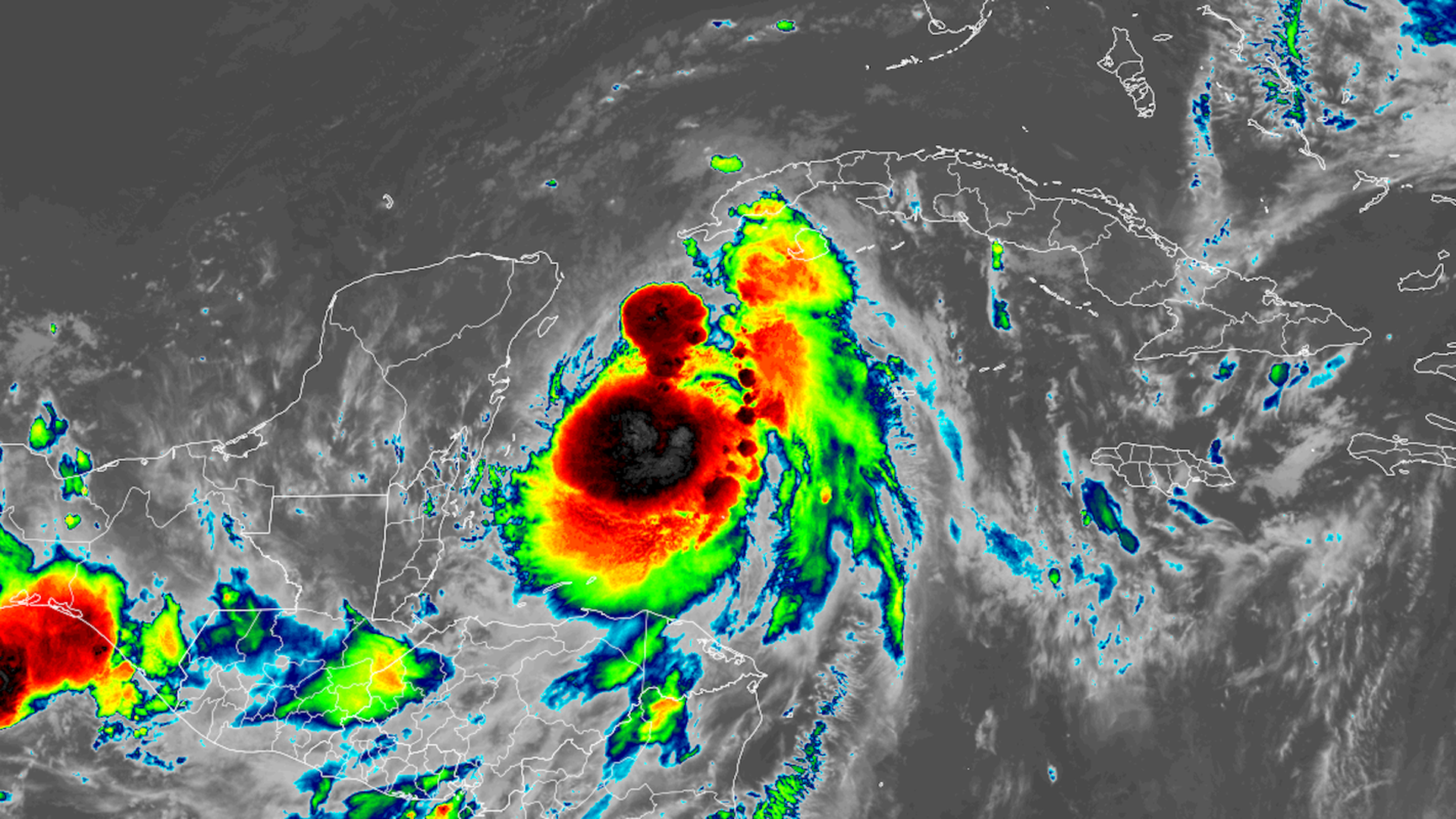 Editor's note: Read the latest on Idalia here.
Tropical Storm Idalia was nearing hurricane intensity on Monday morning and is forecast to hit Florida as a major Category 3 storm Wednesday morning.
Threat level: The storm is forecast to rapidly intensify over record-warm ocean waters for this time of year, and bring a "life-threatening storm surge" and "dangerous winds" to parts of Florida.
Hurricane and storm surge watches have been issued for parts of the Florida coast, and warnings may be issued later Monday.
"The bottom line is that rapid intensification is becoming increasingly likely before landfall," Hurricane Center forecasters stated in a forecast discussion Monday morning.
"Interests within the storm surge and hurricane watch areas are urged to prepare for possible significant impacts and monitor future updates to the forecast for this increasingly dangerous situation," NHC stated.
Zoom in: In its latest advisory, the NHC forecasts the storm will become a hurricane on Monday and will likely be "near or at major hurricane intensity" when it reaches the Gulf coast of Florida on Wednesday.
The official forecast calls for a low-end Category 3 storm, with 115 mile-per-hour sustained winds, at landfall on Wednesday.
It's expected to make landfall somewhere between Tampa and Tallahassee on Wednesday morning, but high winds and storm surge flooding are likely to begin to affect these areas, as well as surrounding regions, late Tuesday.
The storm's ultimate intensity will depend on how quickly it can organize before emerging in the southern Gulf of Mexico on Monday, and the evolution of weather systems surrounding Idalia when it moves closer to the U.S. coast.
State of play: Florida Gov. Ron DeSantis has declared an emergency for much of the state and mobilized 1,100 National Guard personnel to respond to the storm and provide support.
As of 5am ET, T.S. Idalia was located about 125 miles south of the western tip of Cuba with maximum sustained winds of 65 mph. It was moving to the north at 5 mph.
Between the lines: A Storm Surge Watch was issued for the Gulf coast of Florida from Chokoloskee to Indian Pass, including Tampa Bay. A Hurricane Watch was issued for the Gulf coast of Florida, from Englewood to Indian Pass, including Tampa Bay.
The peak surge forecast for Florida's Big Bend region calls for waters to reach 7 to 11 feet above normally dry ground at high tide. Small changes in the storm's track and intensity could bring this region of peak surge into Tampa Bay.
A Tropical Storm Watch was issued for the Gulf coast of Florida south of Englewood to Chokoloskee, and for the Dry Tortugas.
Context: During the past few years, Florida has been hit with multiple storms along its Gulf coast that have intensified at rapid rates up through landfall, a process linked in part to climate change.
T.S. Idalia presents a forecasting wild card, given its expected path over historically warm waters.
Sea surface temperatures along the forecast track on average close to 90°F. Notably, that ocean heat extends well beneath the ocean surface, providing a deep reservoir of heat for the storm to tap into.
The intrigue: There are still uncertainties regarding the storm's track and intensity, with further adjustments to both forecast elements likely.
The bottom line: The NHC is advising those on the west coast of Florida and the Florida Panhandle, as well as the Southeast more broadly, to pay close attention to the latest forecasts, while completing their hurricane preparations.
Editor's note: This story has been updated to include the latest forecast information.
Go deeper