Hurricane Idalia intensifies into Category 4 storm ahead of Florida hit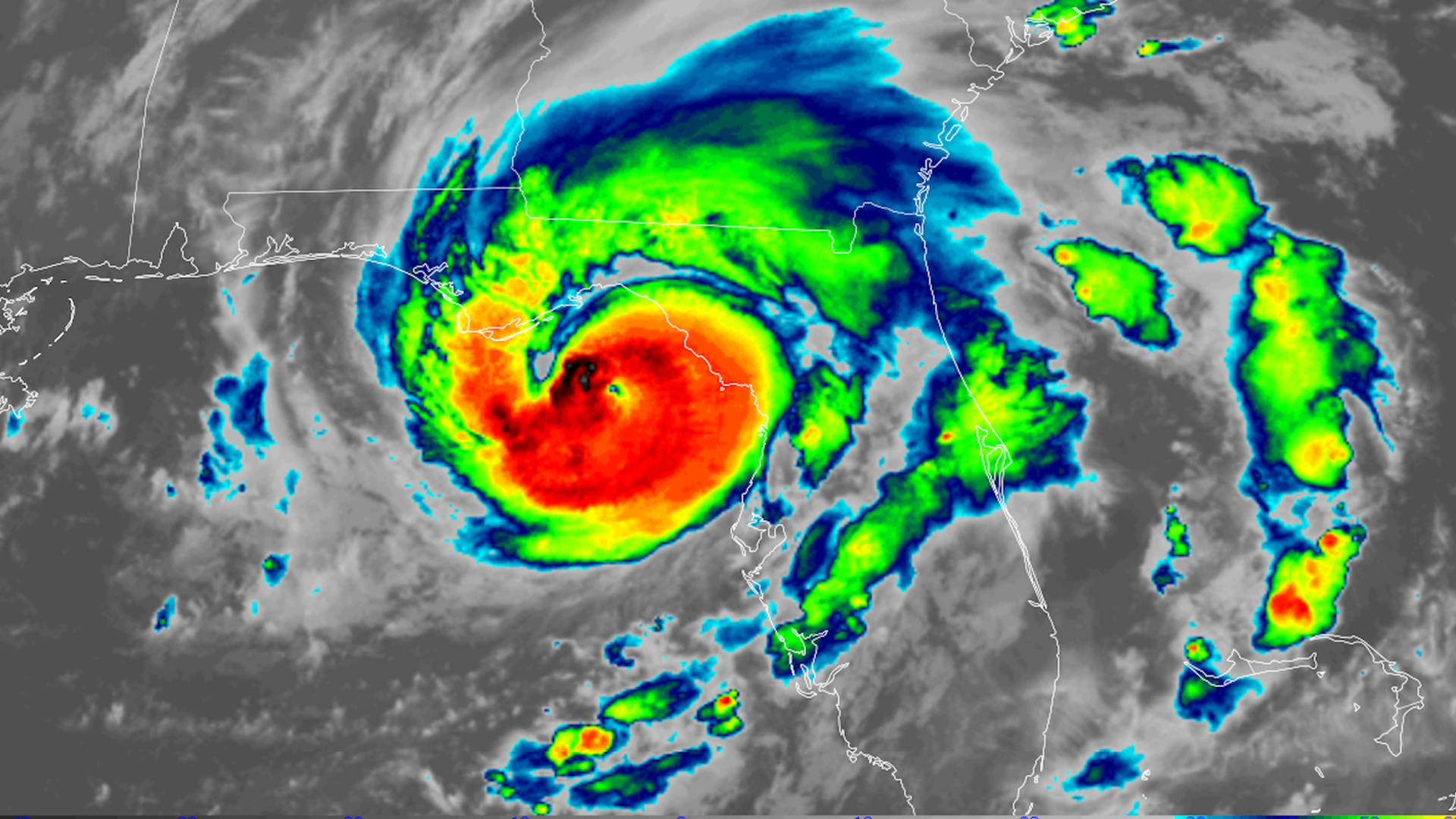 Idalia strengthened into a Category 4 major hurricane as it neared Florida's Gulf coast Wednesday morning after rapidly intensifying over record-warm waters.
Threat level: "SHELTER IN PLACE!" said the National Weather Service's Tampa Bay office online early Wednesday, noting the hurricane was strengthening ahead of its expected landfall as an "extremely dangerous" Category 4 storm on Florida's Big Bend coast Wednesday morning.
Idalia dropped back to a Category 3 storm before making landfall, hitting Florida's Big Bend area at around 7:45am ET.
The storm was set to bring "catastrophic impacts from storm surge inundation" into the Big Bend and destructive winds were expected in the region as the hurricane moved inland, the National Hurricane Center said. "Life threatening" surge was expected southward to Tampa Bay.
There were reports of storm surge and flooding in multiple places after the hurricane's outer bands began moving in early Wednesday. Damaging winds of up to 81 mph were observed early Wednesday in Horshoe Beach, Fla., in the Big Bend region.
Of note: The forecast track and intensity would be unprecedented in modern record-keeping. "There are NO major hurricanes in the historical dataset going back to 1851 that have tracked into Apalachee Bay. None," the NWS Tallahassee office wrote in a forecast discussion. "Don't mess around with this."
The shape of this region's coastline and shallow continental shelf makes it a storm surge magnifier, with the NWS warning of "potentially devastating" storm surge impacts. Communities most at risk of a record surge from the forecast track include Cedar Key, Steinhatchee and Suwannee.
State of play: At 5am ET, the hurricane was 60 miles west of Cedar Key and about 90 miles south of Tallahassee, with maximum sustained winds of 130 mph. It was moving north-northeast at 18 mph, the NHC said.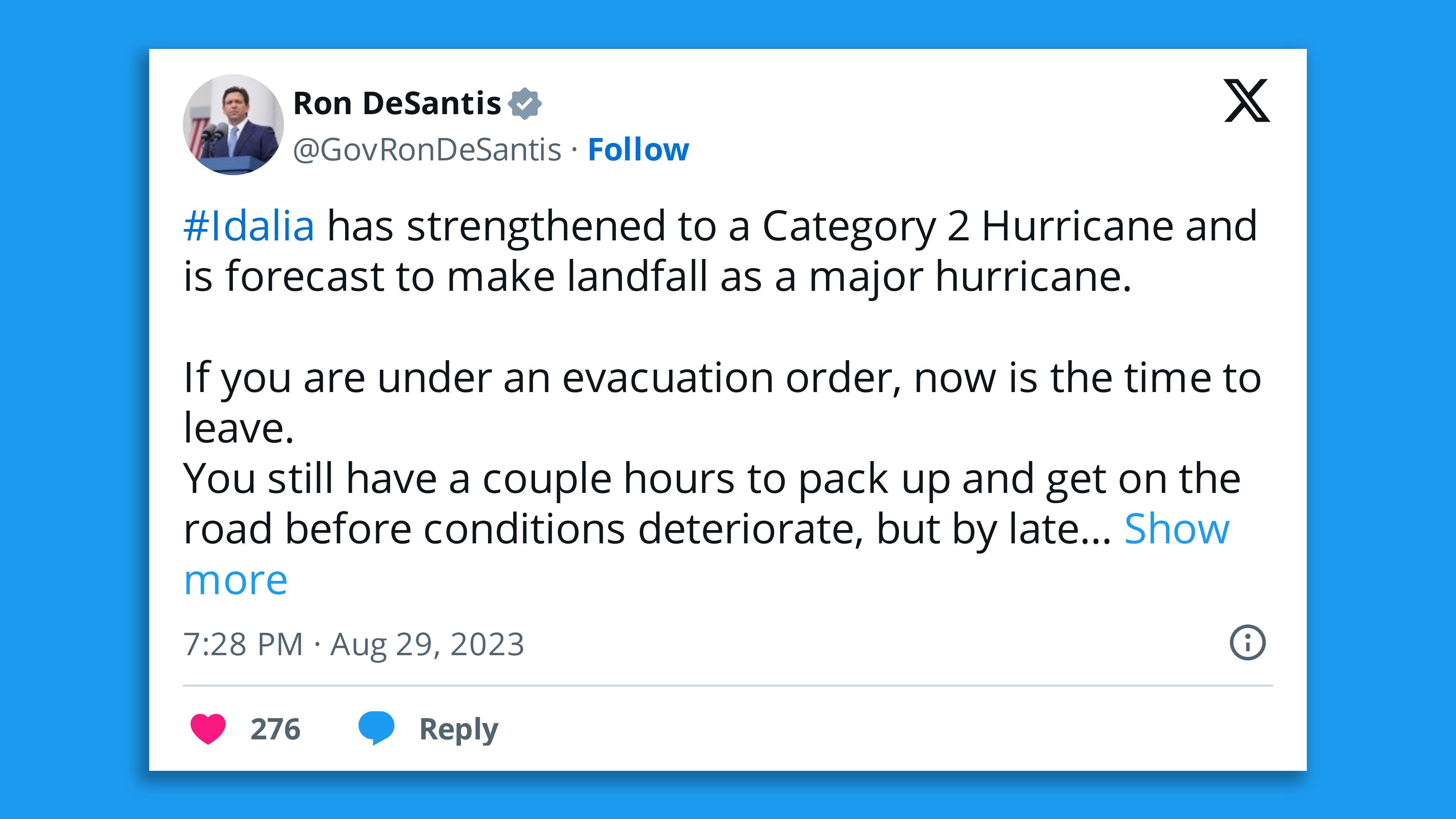 The big picture: President Biden approved the state's emergency request and pledged federal disaster relief assistance during a phone call with Gov. Ron DeSantis on Monday.
DeSantis warned Tuesday that residents in Idalia's path should expect to lose power and said the state had so far staged 25,000 lineworkers to help restore power after the storm.
Zoom in: A slew of warnings and watches stretch from Florida's Panhandle south to Tampa Bay, and the northeastern coast of Florida north into the Carolinas.
The peak surge forecast for the Big Bend region calls for waters to potentially reach 12 to 16 feet above normally dry ground at high tide.
Between the lines: Tampa was located in a forecast zone projected to see 4 to 7 feet of storm surge flooding.
If the storm hits at high tide, even the currently forecast surge could yield a record-high water level in Tampa Bay, especially because of astronomical high tides on Wednesday as well.
Heavy rainfall is also a threat from this storm, with amounts in Florida, Georgia and eventually the Carolinas reaching as high as 1 foot.
Forecasters are emphasizing that the forecast "cone of uncertainty" does not depict the full geographic scope of storm impacts, but rather only the probability of where the storm center may travel.
For the record: During the past few years, Florida has been hit with multiple storms along its Gulf coast that have intensified at rapid rates up through landfall, a process linked in part to climate change.
Sea surface temperatures along Idalia's forecast track currently average close to 90°F. These warm waters extend well beneath the ocean surface, providing a deep reservoir of heat for the storm to tap into.
What's next: The storm will barrel into southeastern Georgia and South Carolina Wednesday afternoon, still as a hurricane, causing widespread power outages and a storm surge along the Atlantic Coast.
More from Axios:
Editor's note: This article has been updated with the latest forecast details.
Go deeper