European Central Bank head says inflation fight is not won as economy enters "new age"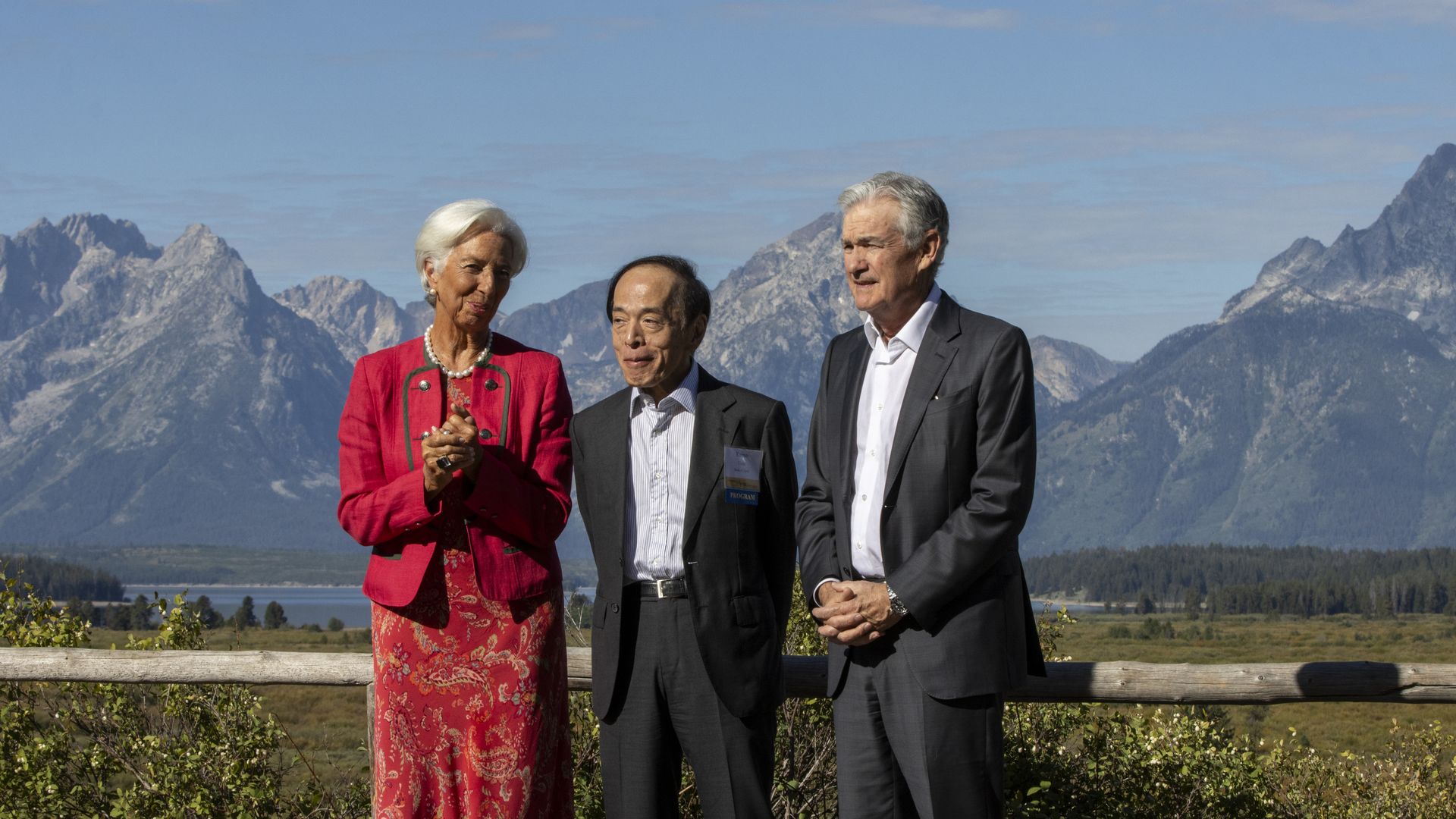 European Central Bank president Christine Lagarde said on Friday the world's "fight against inflation is not yet won," becoming the latest economic policymaker to resist declaring victory despite signs of easing price pressures.
Why it matters: Lagarde spoke at a conference in Jackson Hole, Wy., where Federal Reserve chair Jerome Powell earlier said that interest rates in the U.S. may need to go higher to tame inflation.
The big picture: Lagarde's remarks came in a speech that otherwise warned that global shocks — the pandemic, Russia's invasion of Ukraine, climate change and more — may have forever rewired the economy.
What they're saying: "We may be entering an age of shifts in economic relationships and breaks in established regularities," Lagarde said. "[I]f we are in a new age, past regularities may no longer be a good guide for how the economy works."
One result of those economic shifts is the return of high inflation: "Central banks have responded by tightening monetary policy and, while progress is being made, the fight against inflation is not yet won," Lagarde said.
Between the lines: Lagarde said an era of higher inflation may not be fleeting, for two reasons: firms facing more frequent supply shocks that forces businesses to hike prices, and tight labor markets that may lead to more persistent inflation.
"We ... need to be open to the possibility that some of these changes could be longer-lasting," Lagarde said.
Of note: Lagarde also commented on the "deepening geopolitical divide and a global economy that is fragmenting into competing blocs," leading to a reconfiguration of supply chains around the globe.
The intrigue: These new dynamics may fade, but Lagarde warns that global central bankers need to consider what happens if that's not the case and what it means for setting policy.
"There is no pre-existing playbook for the situation we are facing today — and so our task is to draw up a new one," Lagarde said.
Where it stands: The ECB, like other global counterparts, is grappling with how much further to raise rates to conquer inflation.
Inflation was 5% in the euro area in July compared to the same time last year, down from a peak of nearly 11% last fall.
Lagarde said the ECB needs to set "interest rates at sufficiently restrictive levels for as long as necessary" to get back to its 2% target.
Go deeper