Hawai'i wildfires' "downward, spiral-like impacts" on food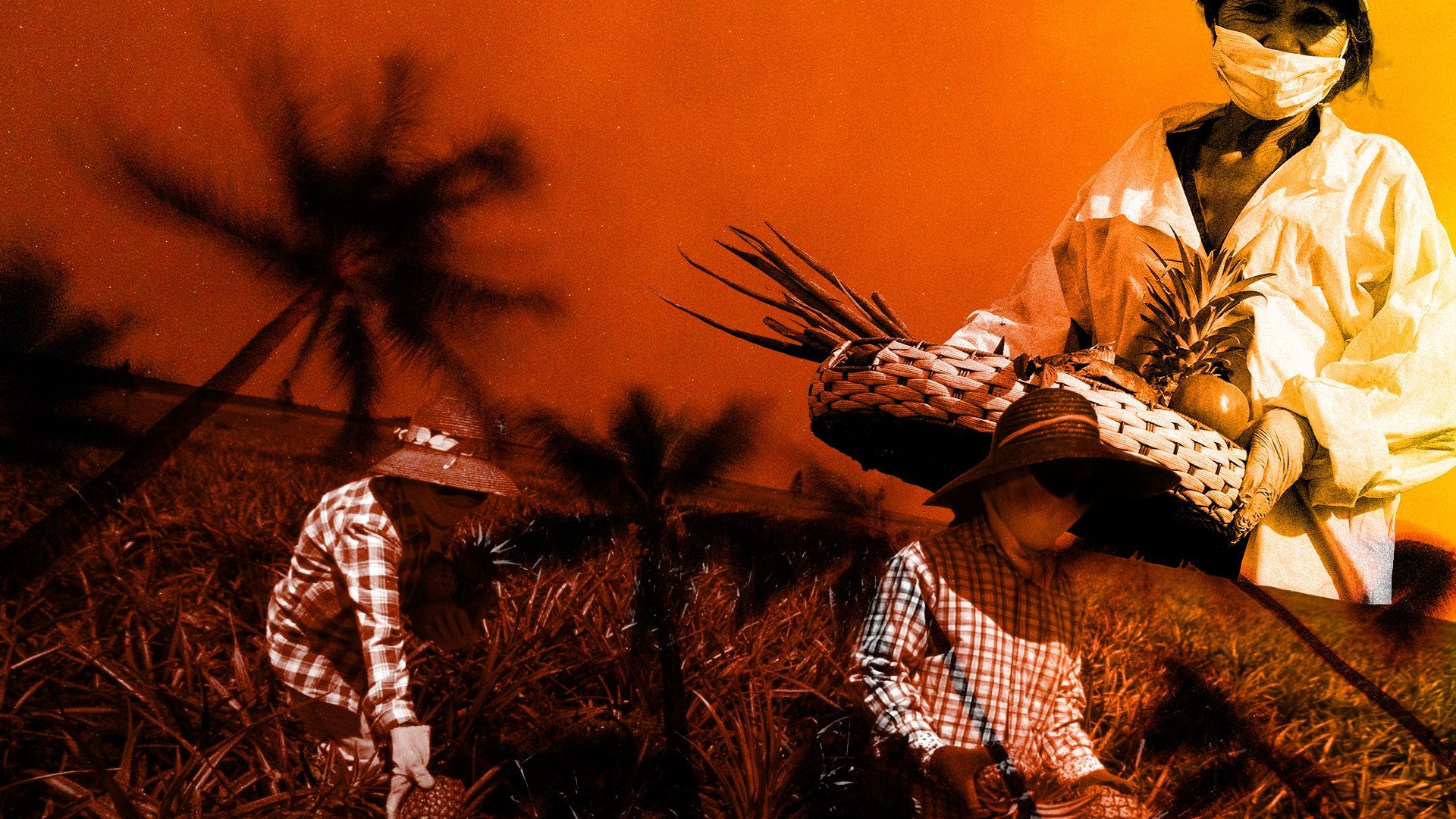 Hawai'i's catastrophic wildfires haven't just stolen lives, destroyed an entire town and displaced thousands of residents. The devastation has also damaged crop cultivation.
The big picture: The impact of the blazes on small-scale farmers and local food production is going to take years to rebuild.
Zoom out: Wildfires, like the record-breaking blazes that swept through the islands of Maui, Big Island and Oahu, impact agricultural productivity in both the short and long-term, according to Ohio State University agricultural economist Seungki Lee.
But it's the probable forthcoming impacts on food supply brought on by Hawai'i's wildfires that has him most concerned.
"By and large, the fire damage impacts on agriculture will likely be local and not national," said Lee, noting the state's efforts to increase locally produced food that make those crops an essential component for the food supply system.
"This event will more directly hit the local market and food supply chain."
Context: Although Hawai'i imports up to 90% of its food, the wildfires have impacted agricultural areas across Maui, where land is largely used for pasture but 7,718 acres is for crops, per 2020 state data.
The vast majority of crops grown for local consumption are diversified crops — including taro, sweet onions and bananas — and typically produced on smaller land parcels.
As of 2022, macadamia, coffee, papayas and avocados ranked as the most valuable crops grown statewide.
"Although the whole city and man-made area was destroyed by the fire in the Lahaina area, at the same time, the origin of the food-producing area also got affected by this fire," Lee said. "So we'll have some downward, spiral-like impacts."
One example: Maui Gold Pineapple lost a store and offices to the blaze in Lahaina, said Todd Domeck, owner of Hawaii Farm Project, in addition to "destruction at multiple farms."
The Maui Ku'ia Estate Cacao Farm lost its fall crop, with "miles of destruction in all directions," reported Pacific Business News.
And Warren Watanabe at the Maui County Farm Bureau told Good Morning America that local farmers have "lost their market" and "need to have some revenue to keep their operations ongoing."
How it works: Colorado State University researcher Nathan Mueller, who studies agriculture and climate change, told Axios that when agricultural lands are close to wildfires, the effects on crop health are mostly negative — but as distance to a blaze increases, it becomes less clear-cut.
Direct consequences include losing crops or damages to machinery or property, noted Mueller, who co-authored a 2023 paper on wildfire impacts on agriculture.
Plus, wildfire smoke lingering over parts of Maui could also impact the land not destroyed by fire.
Yes, but: The lasting influence of smoke conditions on crop productivity varies and generally isn't well-understood.
Meanwhile: One in six people living in Hawai'i lack access to nutritionally adequate food, according to 2023 estimates by Hawai'i Foodbank.
Among the state's counties, Maui reported the highest prevalence of food insecurity, per the latest Feeding America 2021 data.
Limited access to enough food is even more of a problem for Native Hawaiians and Pacific Islanders, who disproportionately face higher rates of food insecurity, per a 2022 study.
What they're saying: Kristen Wyman, co-director of global movements at the nonprofit WhyHunger, told Axios that even though disaster recovery ushers in a "mass movement" around aid, long-term solutions — like restoration of native seed banks — are often overlooked.
"These are already communities that are struggling for food sovereignty because of long-term systemic issues," said Wyman, noting that it will take them "years and years to rebuild."
"I wonder if, in the aftermath of all of this, if there's any room on the local level to work with Indigenous folks who are knowledgeable about another way, an alternative food system," said Wyman, a citizen of the Nipmuc Nation.
The latest: With a death toll of at least 114, and an estimated 1,300 missing, the Hawai'i wildfires have caused an estimated $6 billion in damages so far.
Experts told Axios that in the short term, residents' food access needs are likely to be alleviated by disaster response — although official efforts have been widely criticized.
State of play: Global NGOs like World Central Kitchen have also mobilized to address meal needs.
John Torpey, who is leading the organization's efforts across Maui, told Axios his team is working out of a University of Hawai'i Maui kitchen in Kahului alongside a local collective — Chef Hui — to prepare and deliver food.
Volunteers are going to shelters and rural communities in heavily affected areas to make sure people have the resources they need, providing about 6,300 meals per day, he noted.
The bottom line: "There's a lot of people who don't want to come out, or feel afraid to come out ... so we're going to them," said Torpey. "This is a terrible tragedy. This is going to take a while. The recovery is not going to be fast."
Go deeper