Canadian wildfires force over 50% of people in Northwest Territories to evacuate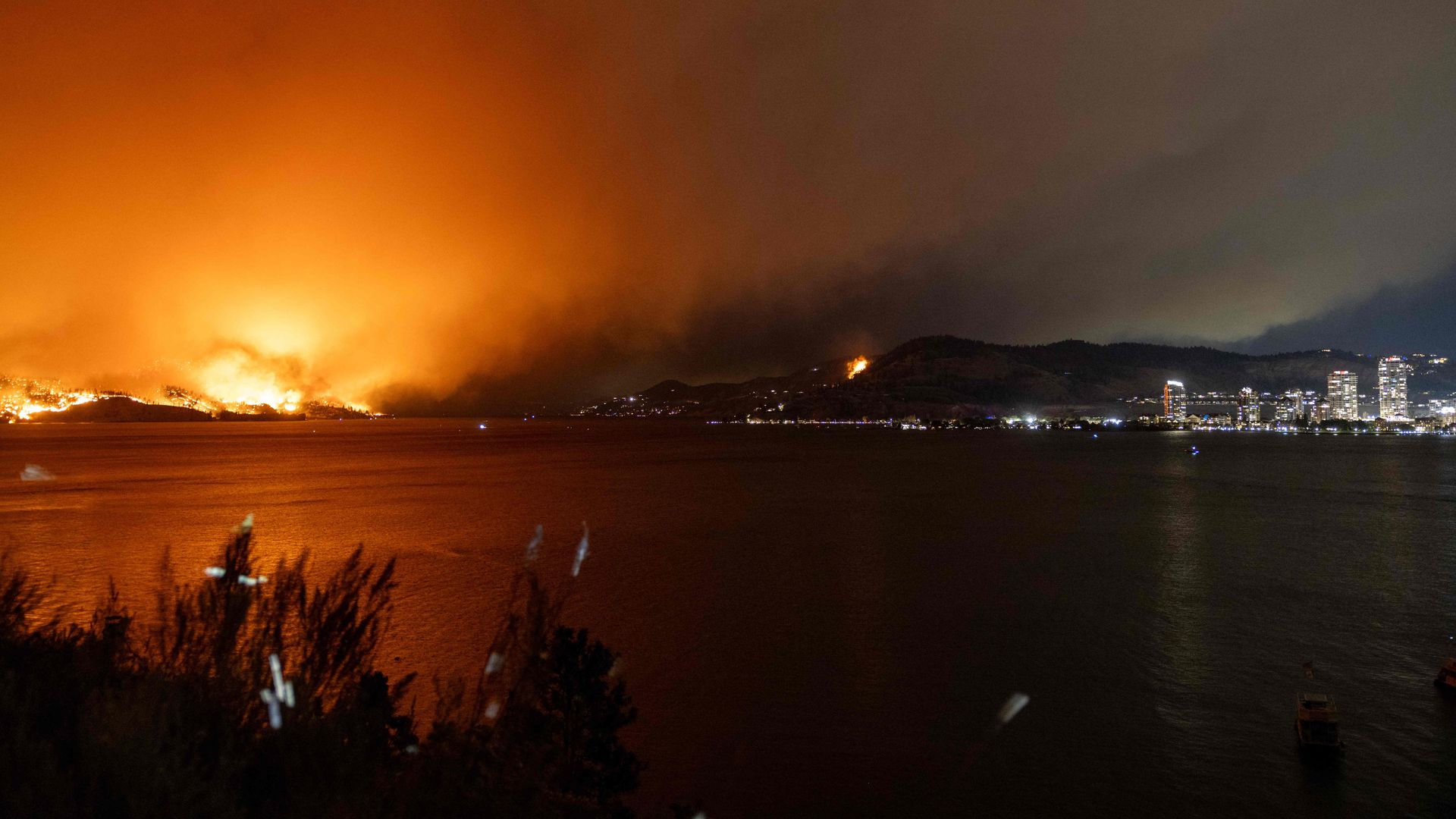 Historic wildfires have forced over 50% of people living in Canada's Northwest Territories to evacuate this week and are threatening multiple cities in British Columbia's third-largest metropolitan area.
Why it matters: Thousands of people across Canada have been displaced in recent days as the severity of the country's worst wildfire season on record continued to grow.
State of play: In British Columbia, multiple out-of-control wildfires encroached on major cities in the Greater Kelowna area, including Kelowna, the province's seventh-largest city with a population of close to 150,000 people.
The McDougall Creek fire exploded to an estimated 16,803 acres overnight because of strong gusting winds. On Friday it forced the evacuation of a major portion of West Kelowna, which sits just across from Kelowna on the west bank of the Okanagan Lake.
At least three fires ignited on the east bank of Okanagan Lake as winds carried embers from the McDougall Creek fire over the lake. That prompted Kelowna to declare a state of emergency and order evacuations in the areas north of its downtown district.
The fires in the Kelowna area were considered out of control, meaning they have not been affected by fire suppression efforts and are expected to grow in size.
The Canadian Interagency Forest Fire Centre (CIFFC) estimated on Friday afternoon that one of the fires north of Kelowna's downtown had grown to around 60 acres.
Footage shared by KelownaNow, a local media outlet, showed another fire approaching structures near the city's landfill and recycling center.
Over 30,000 out of the 45,000 people living in the Northwest Territories, including all residents of the region's capital city of Yellowknife, were ordered to leave their homes after multiple fire danger emergencies were declared this week.
Canada's government has taken extraordinary measures to respond to fires around the Northwest Territories, activating the Canadian Armed Forces, using the military to fly people out of Yellowknife and extending flight hours for pilots helping with evacuations.
Fires under 10 acres were burning to Yellowknife's north, south and northwest, including one near the only highway in or out of the city, according to CIFFC.
The Northwest Territories' government and Yellowknife's local government have dug firebreaks and laid fire retardant lines around the capital city.
Threat level: Canadian officials warned earlier this week that the country's wildfire crisis is expected to deepen into the fall, even though wildfires have already collectively smashed all-time records for acres burned and carbon dioxide emissions.
The big picture: The fires have also pumped huge amounts of hazardous smoke around the world this spring and summer, even crossing the Atlantic and affecting skies over European cities.
On Friday, smoke from Canadian wildfires and blazes across the U.S. degraded air quality levels in dozens of cities in the Midwest, Great Lakes and Pacific Northwest and along the West Coast.
More than 1,000 fires were burning across the Canada on Friday afternoon, including 673 that were considered out of control.
Over 5,700 fires have burned nearly 34.5 million acres across the country this year.
Go deeper: Hawai'i braces for crushing wildfire death toll with estimated 1,300 missing
Go deeper