Why Hawai'i's governor doesn't want developers buying burned land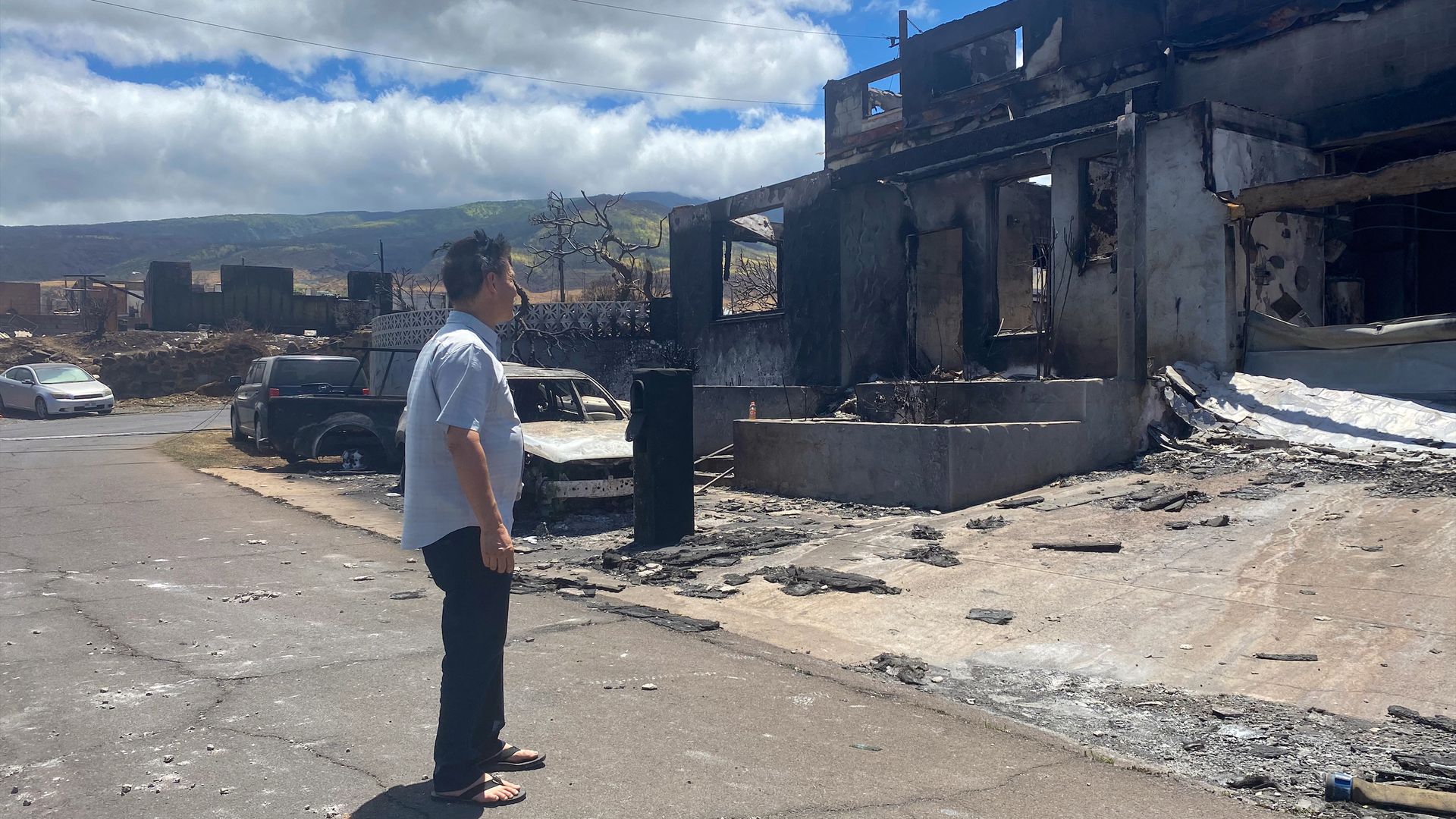 Hawai'i's governor is trying to curb developers from purchasing destroyed lands in Maui as the island reels from the deadliest wildfires in the U.S. in over a century.
The big picture: Concerns are growing that newly built homes would attract wealthy buyers — exacerbating a housing crisis that has already driven Native Hawaiians and local-born residents out of their land, AP noted.
The death toll rose to 106 as of Tuesday, per AP.
Driving the news: Democratic Gov. Josh Green said earlier this week he reached out to Hawai'i's attorney general for a moratorium on any sales or properties that have been damaged or destroyed by the wildfires.
"It's going to be a very long time before any growth or housing can be built," Green said Monday.
"So, you will be pretty poorly informed if you try to steal land from our people and then build here," added Green, who also hopes a memorial will be built on the site of the wildfires.
Green also said he is looking at ways the state can acquire land for workforce housing, according to AP.
He reportedly vowed not to let Lahaina, an impacted tourist hub, "get too expensive for locals after rebuilding."
Catch up quick: Hawai'i officials have cautioned residents whose homes were damaged or destroyed against responding to requests about their properties.
Hawai'i's Department of Commerce and Consumer Affairs urged Maui homeowners to exercise caution when receiving "unsolicited communications about their properties," per a statement Monday.
The department warned Maui residents that homeowners might receive less from buyers giving unsolicited offers than they otherwise would.
What they're saying: "We are disheartened to hear that survivors of this catastrophe are being approached by unscrupulous persons whose only goal is to prey upon them," Esther Brown, an officer at the department, said in the release Monday.
Brown cautioned residents to "hang up the phone or walk away" if approached with a deal or offer from someone they didn't reach out to.
Brown said "chances are high that unsolicited deals are not a legitimate operation or part of the federal, state, county and private partnership working to assist those affected."
By the numbers: The wildfires have burned an estimated 2,170 acres of land in Maui and destroyed over 2,200 structures, according to data from the Pacific Disaster Center and FEMA.
An estimated 4,500 people in Maui need shelter, the center and FEMA also reported.
Prior to the wildfires, Maui was already facing a housing crisis.
The median sale price of a single-family home in Maui stood at about $1.2 million as of July, per a Maui real estate report from LocationsHawaii.com.
Over half of families in Maui are cost-burdened, meaning over 30% of their monthly income goes to housing, according to HouseMaui.
Editor's note: This story was updated with the latest death toll from the wildfires.
Go deeper