States need to pay up to secure 2024 elections, experts warn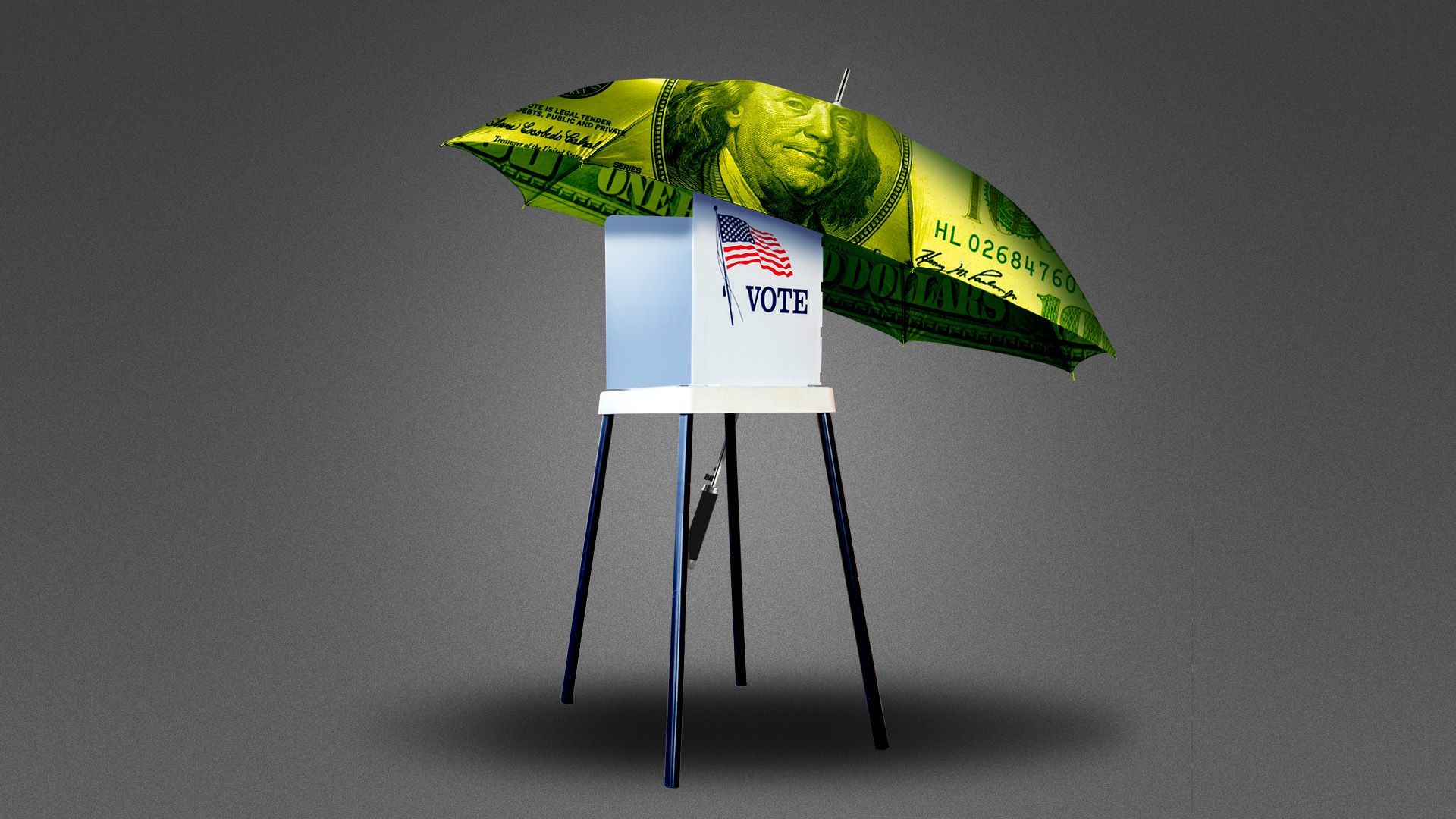 State and local governments need to pony up more money to administer the 2024 presidential election, experts told legislators at a National Conference of State Legislatures summit in Indianapolis this week.
Why it matters: Public trust in the integrity of our elections is at stake — especially as former President Trump, who at this point appears the likely Republican presidential nominee in 2024, faces charges related to his effort to overturn the 2020 election while falsely claiming it was fraudulent.
Driving the news: Presidential elections cost $2 billion-$5 billion to administer nationally, yet most of the nation's 10,000 local jurisdictions are woefully underfunded, Charles Stewart III, director of the MIT Election Data and Science Lab, told the conference.
State and local governments are generally expected to cover the costs, which increasingly must include physical security for poll workers and election sites.
Other risks include high turnover among election administrators (who are underpaid and shoulder vast burdens); disinformation spread by social media and AI; and the growing number of post-election challenges and audits.
Where it stands: Financially, election officials are "used to 'making do' with what they have," according to a report by Stewart.
"They often express pride in pulling off the complicated logistical maneuvers necessary to conduct elections on a shoestring budget," Stewart wrote.
"One consequence ... is that services provided to voters vary considerably across the nation," he added, with some states offering voter guides and sophisticated websites while others provide "only minimal services" and outdated equipment.
🥊 Another blow: The unraveling of a little-known interstate compact is hampering efforts to clean up voter rolls.
The Electronic Registration Information Center, or ERIC, is a coalition of red and blue states that share information used to update voter rolls and remove ineligible voters.
More than 30 states had signed up for ERIC. But many — mostly red ones — are now leaving, including Texas, Florida, Missouri, West Virginia, Alabama, Louisiana and Virginia.
Some cite what they consider to be onerous (and expensive) requirements about contacting inactive voters. Others cite a false claim by Trump that the organization "'pumps the rolls' for Democrats and does nothing to clean them up."
By the numbers: Voter roll maintenance is essential work — about 45% of voters move between one presidential election and the next, Stewart said, while 5% die.
Meanwhile: There's an "alarming" turnover rate among staffers responsible for administering elections at the county level — 50% in North Carolina since 2020 and nearly 75% in Kansas, said Rachel Orey, associate director of the Bipartisan Policy Center, a D.C. think tank.
Next year will be the first time "huge amounts of the election workforce" administer a "high-turnout presidential election," Orey said at the conference.
Low pay is an issue there, as it is with shortage of poll workers. "I know one county in Texas that wanted to hire 2,000 but was only able to hire 500," said Chad Ennis, vice president of the Honest Elections Project, which advocates for more restrictive voting laws.
What they're saying: "The typical election official is a 50- to 64-year-old woman who makes about $50,000 a year," Liz Howard, a deputy director at the nonpartisan Brennan Center for Justice, told the audience of state legislators and their staffs.
"She's recently been informed that she's responsible for protecting our election infrastructure against well-funded foreign adversaries."
"She could be one of the local election officials who was reported being threatened, harassed or abused for simply doing her job," said Howard, a former deputy commissioner for the Virginia Department of Elections.
"And being less than perfect at any one of the responsibilities that she has — which includes a cybersecurity expert, a master logistician, legal analyst, FOIA response bot, de-escalation expert and MacGyver — she's in danger of losing her job or having her entire family threatened."
Panelists from both sides of the aisle recommended budgeting more money for elections in part to avoid the contentious issue of private funding.
"Generally, elections are funded by state and local budgets — with occasional federal infusions," notes the National Conference of State Legislatures' website.
However, "to meet the additional needs during the pandemic, philanthropic funding for local election offices was made available by the Center for Tech and Civic Life, with donations from Mark Zuckerberg and Priscilla Chan. Grants ranged from $5,000 to $19 million."
24 states have prohibited or limited the use of private money.
"We think outside funding of election administration just reeks of potential for impropriety," said Ennis of the Honest Elections Project.
What's next: In addition to a funding boost, election officials can take "clear steps" to improve their resiliency against both physical and virtual attacks, Howard said.
They should keep paper ballots as a backup against cyberattacks and in case of post-election audits, for example.
And they can install "panic buttons" and bullet-resistant glass at polling stations — and offer at least two exits.
The bottom line: Even a copiously funded elections system will be hard-pressed to safeguard the nation against rampant disagreement over the fairness and security of the 2024 voting results.
Go deeper