How Latinos helped shape 50 years of hip-hop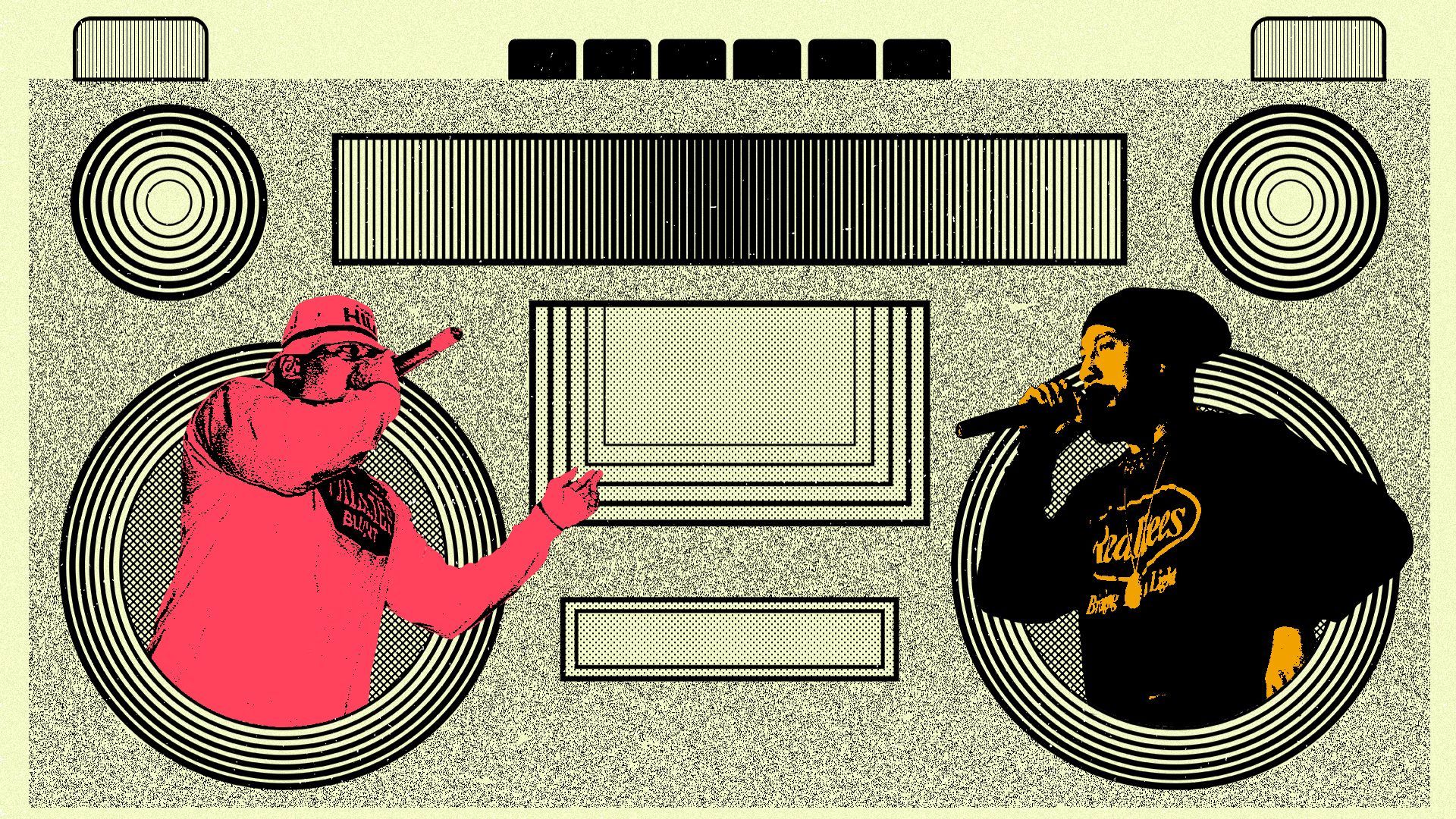 On Friday, hip-hop will celebrate 50 years since its birth, and Latinos have been there every step of the way.
The big picture: Hip-hop is a global phenomenon and multi-billion dollar industry that encompasses music, dance, fashion and nearly every aspect of pop culture. By many accounts, it was officially born at a back-to-school party at an apartment complex in the Bronx on Aug. 11, 1973.
There's long been a debate about how early on Latinos began contributing to hip-hop culture. But for many in that world, the answer is obvious.
What they're saying: "It's almost a foolish question because Latinos have been in this from the very beginning," says Elena Romero, a long-time journalist and hip-hop documentarian whose new series, "Hip-Hop Subway: The L Line," focuses on the genre through the lens of Latinos and starts airing on Friday.
Romero, like many experts, says hip-hop was born even before the famous party where DJ Kool Herc is credited with giving birth to the genre. But the party has long marked hip-hop's birth.
Latinos (mainly Puerto Ricans) were at that party, Romero says, and they've been active participants all along.
"Certain elements became commercialized or profited on and those elements focused more on the African Americans that were in that particular genre. But a lot of times, people don't realize there could be Black hip-hop participants who are also (Latino)," Romero says.
She cites people like Prince Whipper Whip, who is of Puerto Rican descent, and director Hype Williams, who has Honduran heritage, among several others.
Between the lines: New York City youths created hip-hop as a means of expression and solidarity during a particularly difficult time in the city, when there was disinvestment in communities, high rates of violence, and poverty.
Black and Latino kids grew up together and faced similar struggles. Hip-hop, which includes breaking, or break-dancing, graffiti, DJing and rapping, pulled them together, says Rubén Díaz Jr., former borough president of the Bronx and a trustee for the Universal Hip Hop Museum, which is expected to open late next year or in 2025.
Díaz lists the dancer Richard Colón (known as "crazy legs") and MC Ruby Dee as some of the Latinos who were influential early on. He notes that without Puerto Rican photographer Joe Conzo, Jr., there wouldn't be many photos of the early hip-hop days.
"If you don't have Latinos, then you're not really telling the narrative and the history of hip-hop in a factual way," Díaz says. "Hip-hop is unlike any other force in the planet — it is a bridge to so many divides."
Subscribe to Axios Latino to get vital news about Latinos and Latin America, delivered to your inbox on Tuesdays and Thursdays.
Go deeper