Travelers turn to "skiplagging" amid sky-high travel prices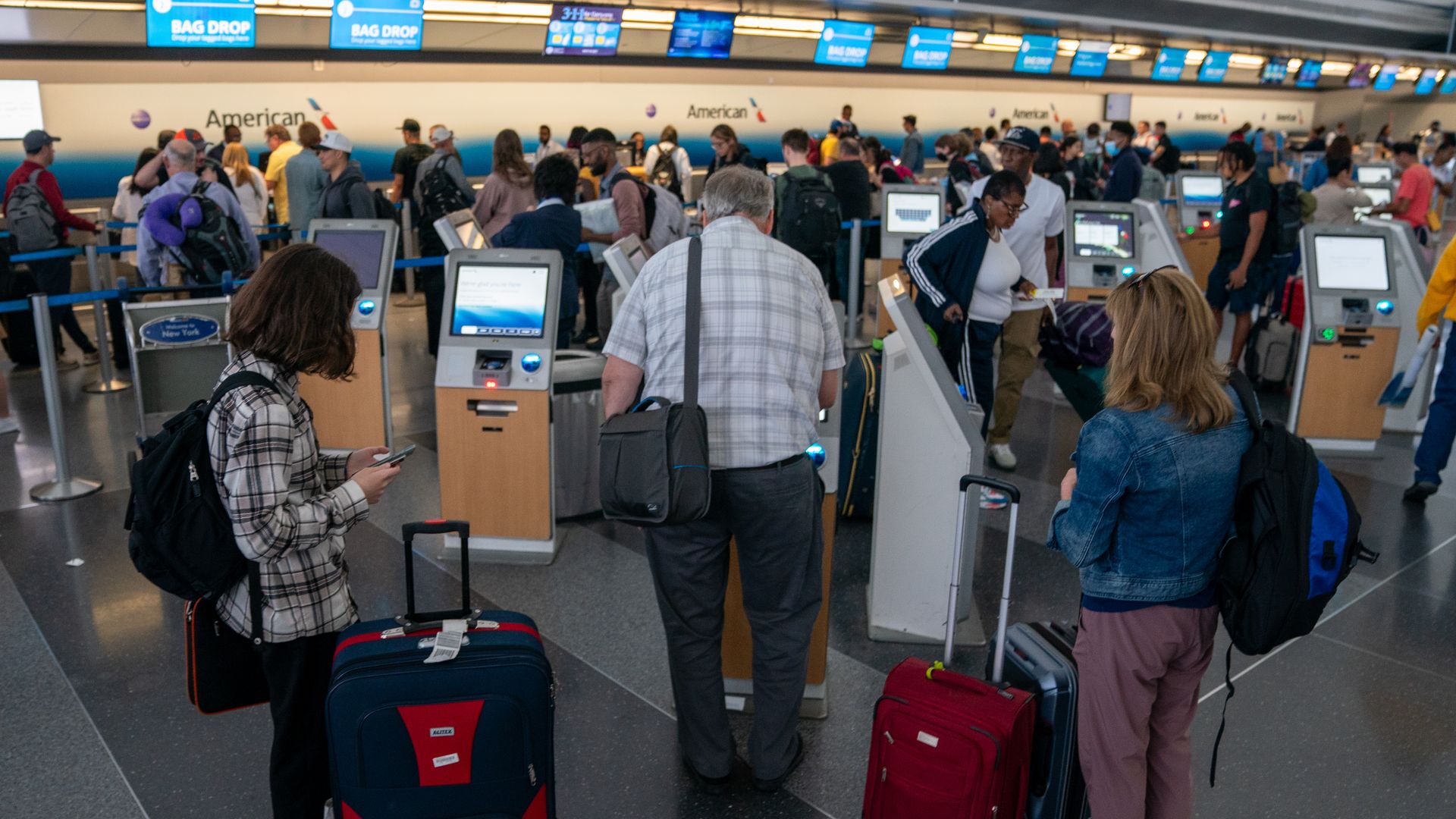 As travelers contend with high ticket prices amid the busy summer travel season, more have turned to a controversial hack widely prohibited by airlines.
Why it matters: "Skiplagging" promises travelers the chance to score a cheaper flight deal but also comes with a set of risks.
Be smart: "Skiplagging" means buying a ticket for a multi-leg flight in which one of the connections is the traveler's real final destination. Traveler's disembark at their desired connecting city rather going on to the final destination on their ticket.
Varying supply and demand for different passenger routes means that sometimes flights with a connecting flight through a city might be a cheaper than a direct flight to that city, Sally French, a travel rewards expert at NerdWallet, told Axios.
The big picture: The practice of skiplagging isn't new, but it has seemingly been gaining popularity, according to French.
Although it's hard to determine the exact number of flyers who are skiplagging and if rates are rising, there is more discourse around the practice, with social media posts about it proliferating, French said.
There's also been an increase in services — like Skiplagged.com — that help people do this, she said.
Even aside from skiplagging-specific tools, increasing numbers of customers now book their own flights rather than use a travel agent.
The proliferation of tools like Google Flights has empowered customers to compare flight routes and search for the best deals, French said.
"Customers are getting smarter and they're figuring out how to do this themselves, so that could mean that skiplagging is, in turn, becoming more popular."
Between the lines: A number of recent massive air travel meltdowns have made customers wary, according to French.
"I think consumers are sort of feeling the stress when it comes to airlines and how much control airlines have over their trips," she said.
State of play: Many airlines' contracts of carriage ban skiplagging because it means a loss of revenue and disrupts their internal planning, per CNBC.
United Airlines notes that it reserves the right to cancel travel reservations "made to hold or block seats for the purpose of obtaining lower fares" and to even permanently ban the passenger.
American Airlines also states in its contract of carriage that it bans "purchasing a ticket without intending to fly all flights to gain lower fares (hidden city ticketing)."
If the practice is discovered, American says it reserves the right to cancel the unused part of the ticket, refuse to let the passenger fly, or charge the passenger the cost of what the direct flight would have been.
But, but, but: Although travelers might turn to skiplagging for cheaper air fare, the practice comes with practical risks.
Travelers planning to get off at their connecting destination might plan to travel with only a carry-on, but sometimes airlines require passengers to check bags when the aircraft runs out of overhead storage space, French pointed out.
It's also worth noting that flight itineraries don't always stay the same from the time of booking to the actual flight and layover destinations can change, she added.
Go deeper