Why airline flyers are fuming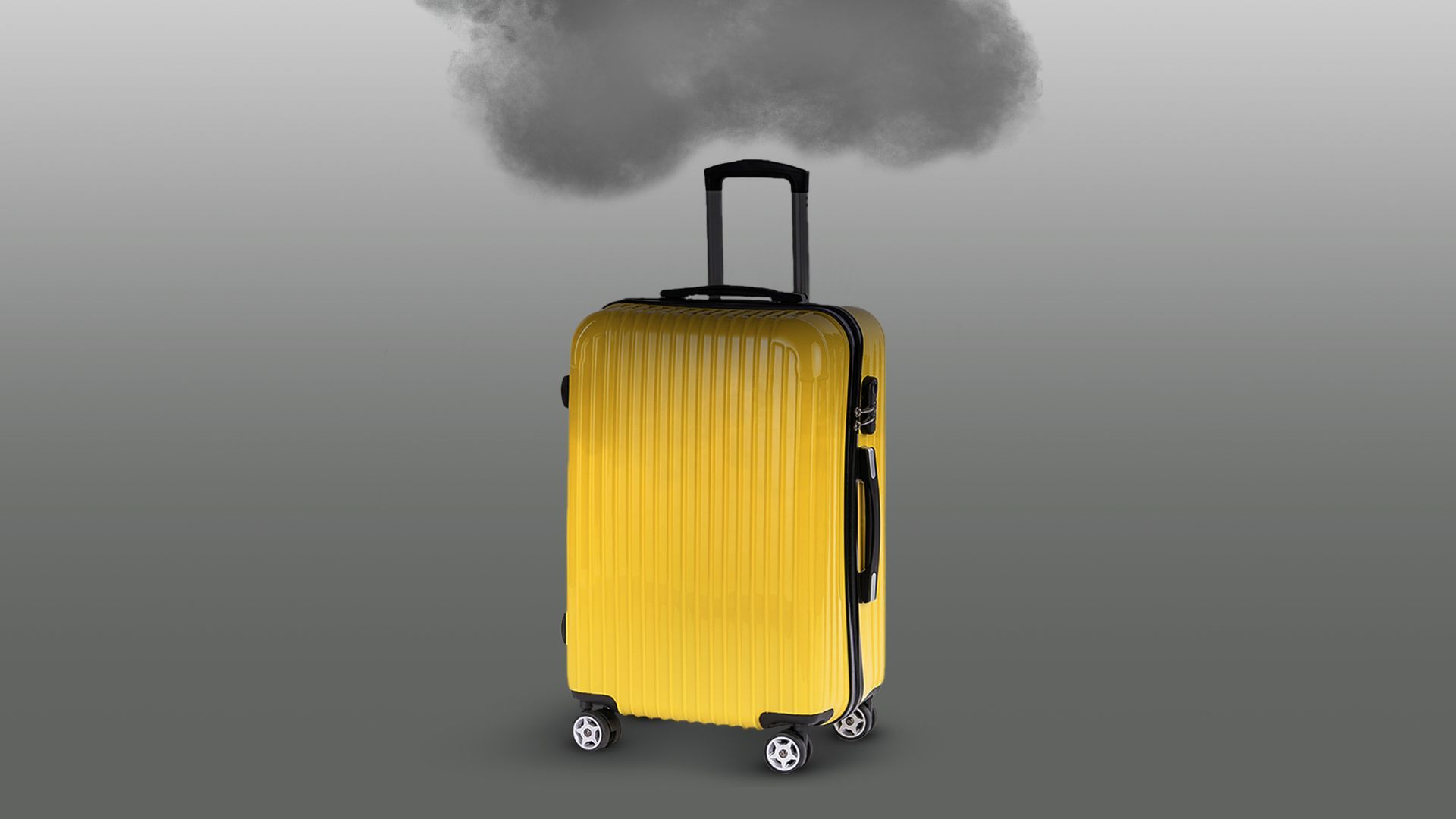 Customer satisfaction with air travel is way down for the second year in a row, heading into what could be another summer of nightmare travel, J.D. Power found in its annual survey.
Why it matters: J.D. Power's North America Airline Satisfaction Study — released today — sums up what most passengers have experienced: higher ticket prices, crowded planes and limited options.
And a Biden administration proposal that would require airlines to compensate passengers for delayed or canceled flights could drive prices even higher — as it has in Europe.
Driving the news: Customer satisfaction with major airlines is down significantly for a second consecutive year, J.D. Power found, with the biggest driver being the cost of tickets and fees.
While airlines have been booking record business, "this golden age of enhanced revenues is coming at the expense of customer satisfaction," the company said in a release.
JetBlue ranked highest in customer satisfaction in the first class/business class category for a second consecutive year, followed by Delta and United.
One bright spot — surprise! — was satisfaction with airlines' food and beverages, which J.D. Power said was "one of the few areas showing improvement across all segments this year."
How it works: J.D. Power measures passenger satisfaction based on eight factors, ranging from cost and fees to in-flight services and baggage handling.
Overall satisfaction this year was 791 (on a 1,000-point scale), down 7 points from 2022 — following a 22-point decline from 2021.
At least first-class passengers were happy: Their satisfaction scores were up 9 points from 2022.
One reason: airlines are back to serving premium meals in first class.
Between the lines: Post-pandemic sticker shock could be at play in the disgruntlement over prices.
The average domestic airfare in 2022 was $378, up 14.1% from 2021's inflation-adjusted $332, according to the U.S. Bureau of Transportation Statistics.
That's still 6.2% below the average pre-pandemic fare of $403 in 2019.
And international fares are the highest in five years, according to travel website Hopper.
Summer fares to Europe average $1,167, about $317 more than last year, while trips to Asia average $1,817, up $350, Hopper says.
Context: Airlines are still struggling to meet demand that bounced back faster than expected after the pandemic.
As they rebuild schedules, a shortage of crew, particularly pilots, has hampered their flexibility.
Without wiggle room on staffing, stormy weather can quickly cascade into a systemwide debacle like the meltdown experienced by Southwest Airlines during last year's holiday season.
The intrigue: Southwest's customer satisfaction score fell 22 points from 2022, but it was still the highest-ranking airline in the economy/basic economy segment for a second consecutive year, notes J.D. Power.
What to watch: The federal government has proposed requiring airlines to reimburse travelers for costs associated with a delayed or canceled flight — as long as the problem is within the company's control.
In Europe, passengers are entitled to 250-600 euros (about $274-$658) in compensation, depending on the length of the flight and the delay.
Some also get free meals and hotels.
But those penalties, in place for almost 20 years, led to higher fares and only marginal improvements in on-time performance, a 2020 study by the European Union found.
Plus, assigning blame for a flight delay can be tricky.
What they're saying: "I think this is a bad idea," Michael Taylor, travel intelligence lead at J.D. Power, said of the proposed Biden administration rule change. "This will only drive up the cost of airline tickets."
Not surprisingly, the airline industry agrees: "Airlines already have financial incentives to get their passengers to their destination as planned," Willie Walsh, director general of the International Air Transport Association, said in a statement.
"Managing delays and cancellations is very costly for airlines," he added. "And passengers can take their loyalty to other carriers if they are not satisfied with service levels."
Where it stands: The mere threat of tougher regulations has already prompted U.S. airlines to up their game, says Transportation Secretary Pete Buttigieg.
Last September, the Department of Transportation published a dashboard listing the customer service commitments of the 10 largest U.S. carriers.
All 10 responded by saying they would offer meals or cash vouchers to customers during long delays. Nine said they would also offer free hotels in the event of an overnight cancellation.
The proposed regulations would put some teeth behind those promises.
The bottom line: While flyers tend to be at the mercy of their carriers, J.D. Power notes that there's "the risk of possible brand damage if the current pattern of price hikes, staffing shortages and reduced routes continues."
Go deeper