Halloween season is ... here. In August.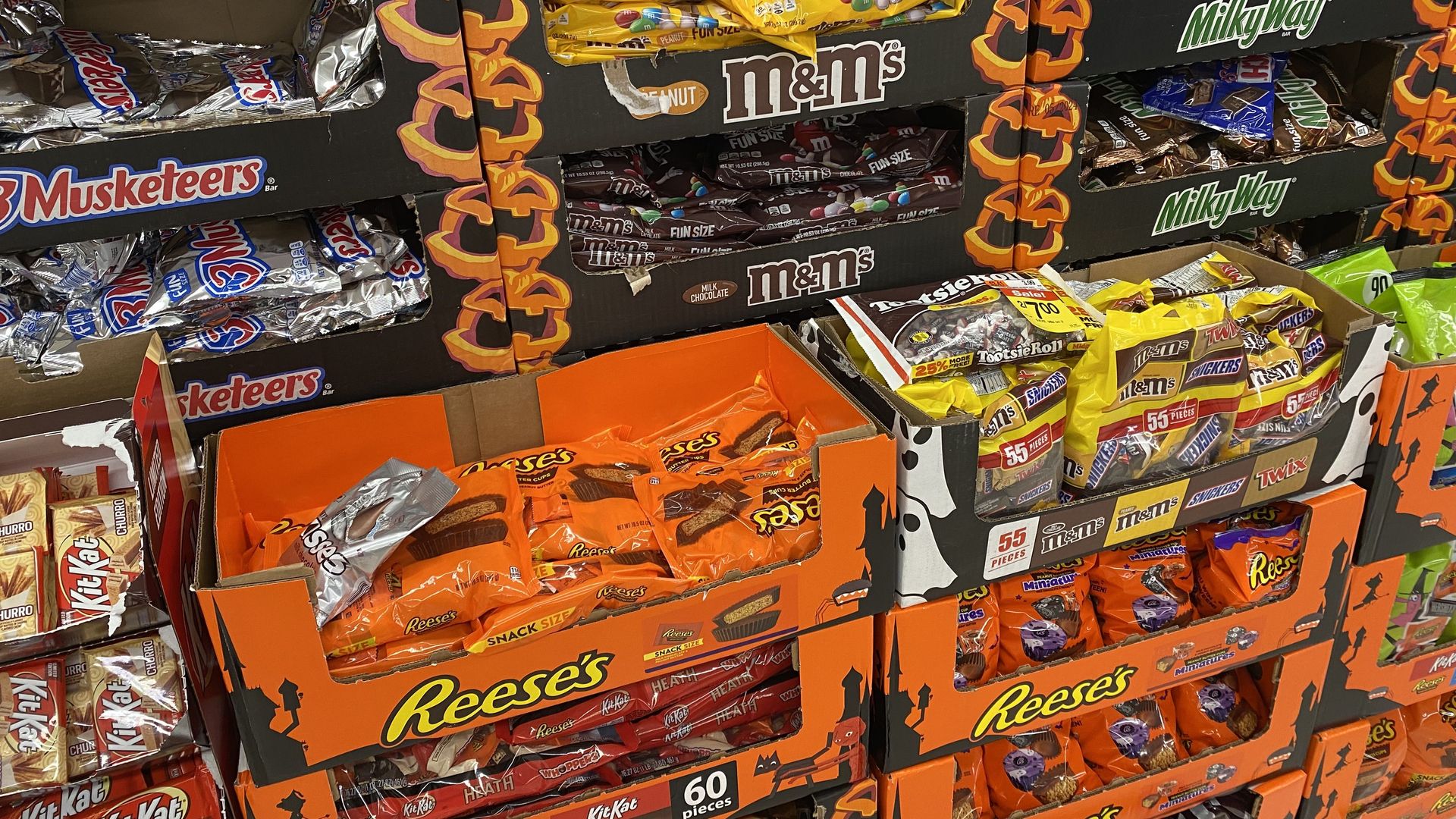 The photo above of a Halloween candy display in a suburban New York supermarket would be pretty unremarkable in October, or even September — but it was taken in July.
What's happening: The "Halloween season" — yes, that's a thing — got longer.
Before the pandemic, the fervor for candy and giant skeleton decor lasted for about six weeks and ended Oct. 31 — now it's 8 to 10 weeks or longer, said Christopher Gindlesperger, senior vice president of public affairs at the National Confectioners Association.
For the record, Oct. 31 is about 12 weeks away.
Folks are buying bags of Snickers, Reese's and the like, to eat now or maybe squirrel away for October, the cashier at my local Acme told me this week, whilst shaking his head in amazement.
The big picture: There are big bags of candy out there for sale. Enjoy! The candy industry definitely is. Gindlesperger said that the extended season has boosted sales in the industry.
🎃 Halloween is "hugely important," he said, adding "We call it our Super Bowl-slash-World Cup moment."
It also serves as the kick-off to a string of chocolatey holidays, all with their own long seasons— from Christmas to Valentine's Day and Easter. But did you think it ends there? Nope.
In 2016, the National Confectioner's started promoting June as "national candy month."
"That's taken off as something really special for our industry," Gindlesperger said, explaining his group turned the month into a "national awareness and advocacy communications moment."
Between the lines: Attentive readers may notice that nearly all the months of the year (whither May?) are now part of chocolate and candy season.
The bottom line: You don't need an excuse to eat a bunch of candy, but it's not hard these days to find one.
Go deeper