Looming sugar shortage could impact Halloween candy prices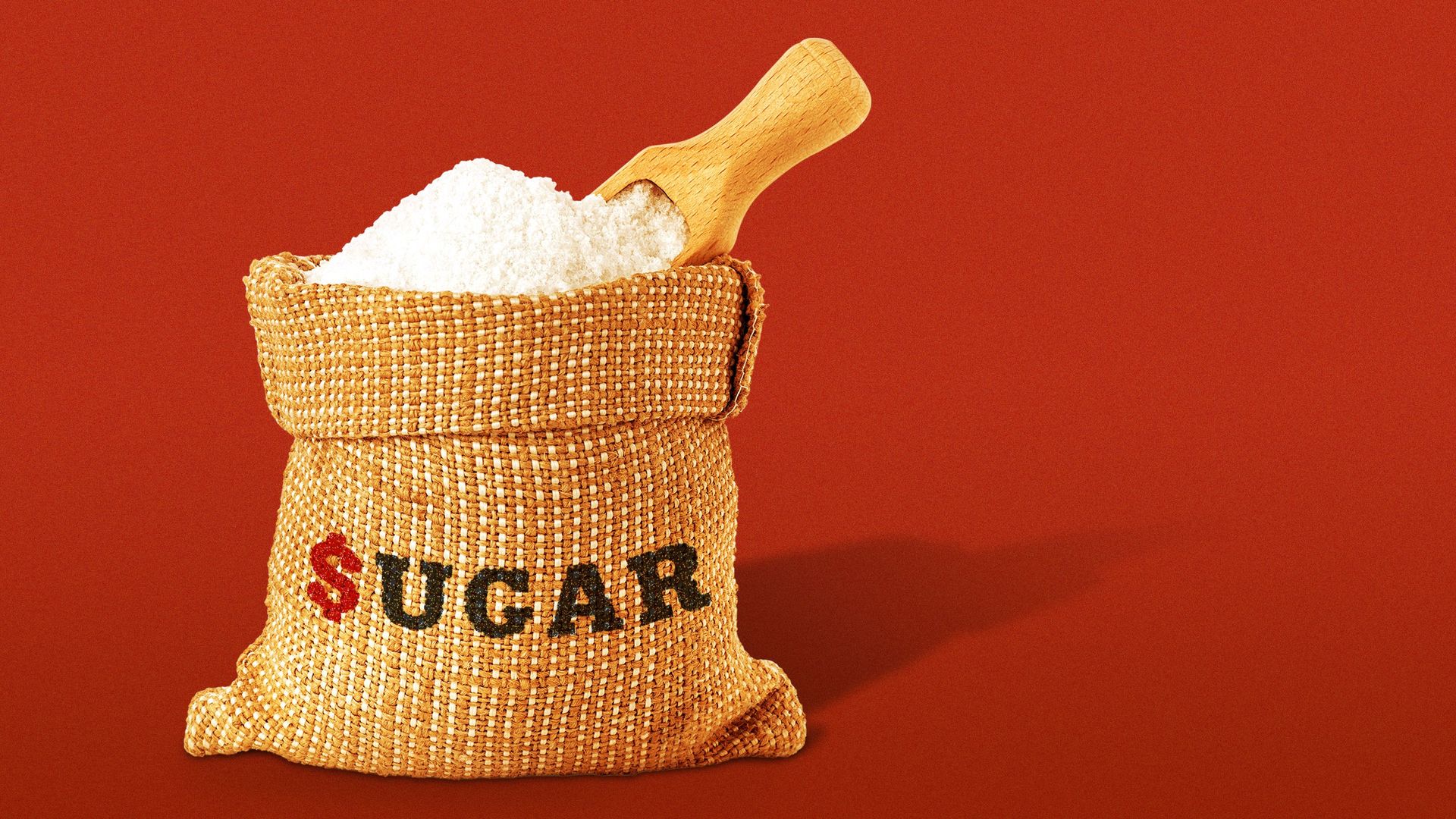 Expect everything from soda, baked goods and Halloween candy to cost more thanks to "sugarflation."
Why it matters: Sugar prices are on the rise and expected to keep increasing with tight supplies coupled with weather mayhem, experts told Axios.
"The intensity of the dry season that El Niño is set to influence this year could result in a 10%–15% reduction in sugarcane yield globally," said Nidhi Jain, an associate specialist at The Smart Cube, a research firm.
"Your sweet tooth may have to pay a pretty penny to be satisfied" because of the weather and increasing demand worldwide, Lisa Thompson, a savings expert for the Shopmium cashback app, told Axios.
The big picture: The nation's nearly 90-year-old sugar program is the root of the problem with its policy requiring 85% of U.S. sugar purchases come from domestic processors, the Wall Street Journal reports.
The National Confectioners Association is working with lawmakers to reform the program, Carly Schildhaus, spokesperson for the group, told Axios.
American businesses are forced to operate at a disadvantage, Schildhaus said, noting they pay two to three times as much for sugar as their competitors in other countries.
Rising food costs are impacting families, Schildhaus said, and "the U.S. sugar program only fans the flames on these increased costs, forcing American consumers to pay $2.4 billion to $4 billion more per year for food."
By the numbers: Sugar and sweets were up 11% in June compared to a year earlier, according to the latest Consumer Price Index.
Candy and chewing gum were up 13.2% year over year.
Carbonated drinks, which include soda, were up 9.1%.
Globally, sugar prices have surged 42% since June 2022, according to data from The Smart Cube.
Halloween 2023 candy prices
Between the lines: The sugar shortage could cause a Halloween candy shortage, which manufacturers have warned about in the past.
Last July, the Hershey Company warned it might not be able to "fully meet customer demand" for Halloween 2022 because of supply challenges.
Yes, but: This year the popular candy company is in a different position.
"Our production is busy and our warehouses are full. There is not going to be a shortage for Halloween," Todd Scott, Hershey's senior manager of communications, told Axios Monday.
"Most likely what consumers will sense this year is higher-priced Halloween candy, but there's a chance, given the sugar supply issue globally, that some candy manufacturers could fall short," Thompson said.
Go deeper