Heat wave redux brings "oppressive" conditions to 70 million people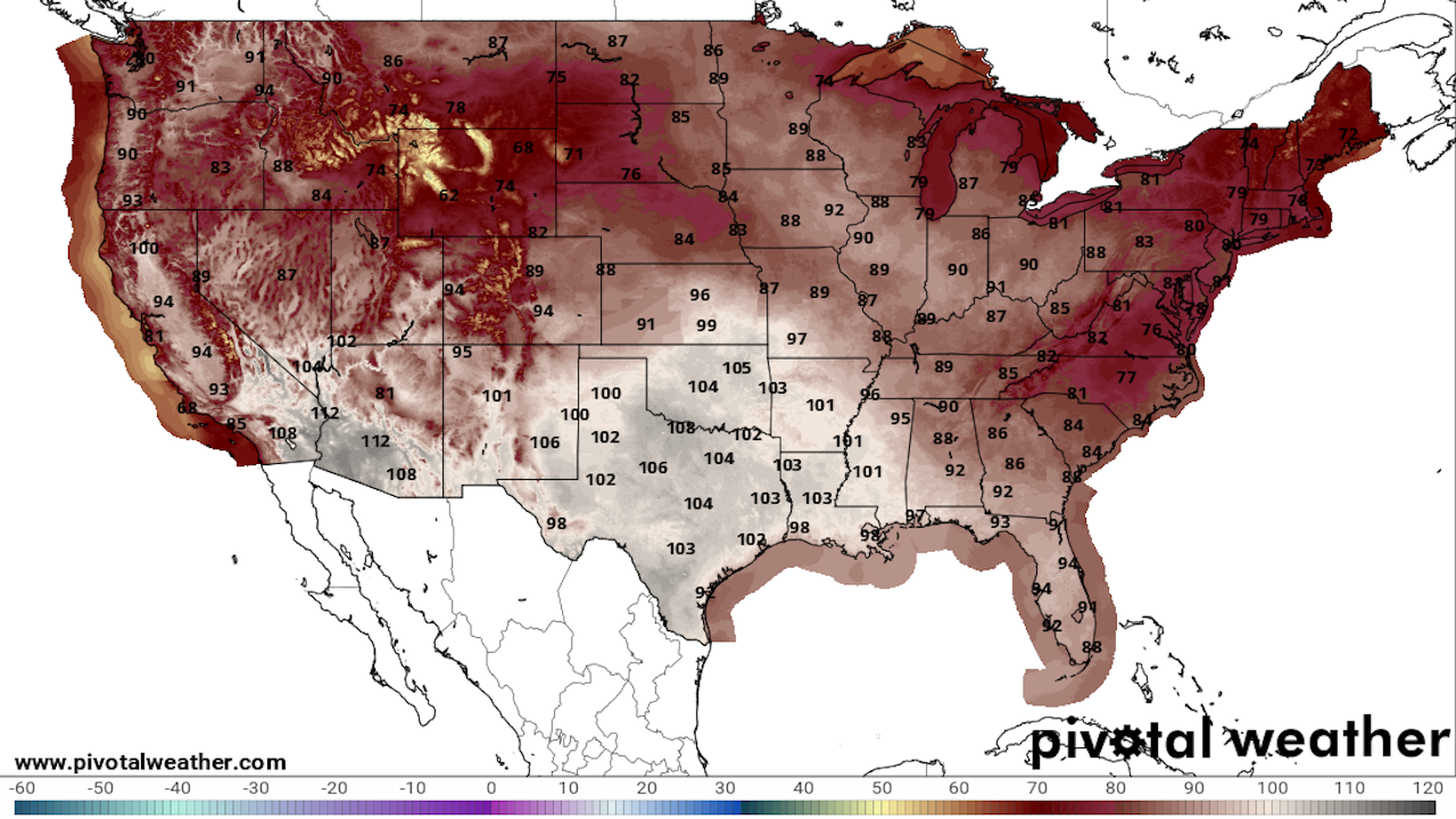 The heat wave that just won't quit is bringing dangerously hot conditions from the Southern Plains to parts of the Mississippi River Valley, Gulf Coast, and increasingly, the Southwest, through the weekend.
The big picture: Heat alerts are in effect for about 70 million people from Georgia to Kansas, as well as an area in Arizona and southeastern California.
The National Weather Service is predicting "oppressive heat" underneath the persistent heat dome across the South Central U.S.
The NWS warns of "extremely dangerous" peak heat indices of above 110°F across the Gulf Coastal states from this weekend into next week, posing major health risks.
"A few locations could see a heat index approaching or exceeding 120°F," the NWS stated.
What's next: Computer models show that the heat dome currently locking hot, humid air in place across the South-Central states will shift westward with time, pushing temperatures higher from Phoenix into California's Central Valley region.
Phoenix, which set numerous all-time heat records in July, is already back to highs exceeding 110°F for the foreseeable future, through late next week at least, per NWS forecasts.
The city reached a high of 111°F on Wednesday, which begins a new string of days with high temperatures of 110°F or higher.
The city already broke its all-time record stream of days with a high of 110°F or higher during 31 straight days. This beat the old record by 13 days.
It is possible that Phoenix will set a record high for the month of August, as will a number of other communities in the Southwest.
Context: Studies have tied the severity of the Southwestern heat wave to human-caused climate change.
Scientists have long known that climate change makes heat extremes more severe, longer lasting and more likely to occur, but the rise of attribution research has enabled more definitive statements to be made.
What they're saying: The NWS is warning about the heat wave's longevity, which is especially problematic since many areas have been experiencing similar conditions for about one to three months.
"The heat will be most persistent in the south-central U.S., where it may last through the end of next week with no relief," the NWS Weather Prediction Center stated in a Tweet.
It also highlighted the Southwest as an area of expanding and intensifying heat.
Threat level: One side effect of the heat wave and below average Southwest monsoon is the development of drought conditions in parts of Arizona and New Mexico.
In addition, drought conditions are forecast to expand in Texas.
Extreme heat is the country's biggest weather-related killer in a typical year, but it is often a silent one since heat-related deaths can be difficult to classify on death certificates.
One recent study estimated the about 60,000 people died in Europe as a result of last year's heat waves, illustrating the potential for large numbers of fatalities, especially for those without air conditioning access and who have preexisting medical conditions.
What's next: Projections from the NWS Climate Prediction Center show the warmer than average conditions across the southern tier of the U.S. are likely to continue through at least the end of August.
Go deeper:
The 15 hottest days, in the world's hottest month
Report: Record heat "virtually impossible" without climate change
Study: Climate change boosted July's heat for 81% of world's population
Go deeper